Designing window layouts might seem easy until you consider all the factors affecting window design. With most window companies, you can order any standard window sizes you want and lots of special shapes too. In this article, we explore the basic parameters for windows inside a room. Then we'll move outside to make sure the visual effect of your window choices is pleasing to look at from the curb.
You should start by picking a window style that fits your house design. Then you'll want to consider the views you want to capture through each window. Those looking into the neighbors yard might be smaller while windows that look out on your backyard or further, deserve bigger window. Consider how the room will be used and how the windows will support the activities with natural sunlight … and yes, you'll find a standard window size for almost anything you want.
At the same time, you'll want to consider how all the windows on any one side of your house look from the outside. You might find it worth making tradeoffs between different rooms. For example, you might remove one window from your dining room and add it to the living room. It's also quite common to add one or more custom window shapes to give your home more personality.
With new homes, when you're selecting your floor plan be careful. With homes selling for $500,000 or less, many of the windows on the floor plan might be optional. What does that mean? It means you have to pay extra to get all those windows. For my new house (excluding tiny bathroom windows), I had to pay for 4 of the 9 windows … really!
Guidelines for Window Sizes & Placement
There really aren't any basic window sizes, although builders will standardize to make ordering windows easier. And don't worry about the limited number of window styles. Most windows are actually a combination of several windows, grouped into larger window designs combining operable and fixed window components. Starting with 2 or 3 double-hung windows offers the combinations below and almost anything you can imagine. First let's review some of the guidelines for placing windows in a room:
With standard 8 foot walls, windows most often match the top of interior doors which are 6 feet 8 inches tall. This leaves a comfortable 16 inch gap between the ceiling and window top. With 9 and 10 foot ceilings, it's common to use taller windows that fill the space proportionately but beware of added costs if your windows require different framing for the ceiling above.
Windows typically start at 3 feet above the floor to allow furniture to sit below the window sill. Window sills can be lower but may require safety measures (window guards in a child's bedroom if lower than 2 feet; safety glass if lower than 18 inches off the floor).
More homeowners are opting for short windows up high for their natural sunlight, with space below for furniture. The dining room above is a great example of built-in storage matching the cabinets in the adjoining kitchen.
Windows & Doors from Start to Finish

Guide To Repair & Restore Wood Windows

Window Treatments for Beautiful Windows Idea Book

---
Bigger Windows Are Made From Smaller Window Components
When you look at a window, you probably think it's one window. Only picture windows have a single piece of glass. Even a standard double hung window has two pieces of glass, with an upper and lower sash. So most large windows are made up of multiple window panes, put together with different parts depending on whether the sash holding a piece of glass will move or remain fixed in place.
Video Showing How Windows are Made
Want to learn more about how windows are constructed? Here's a short video showing how MI windows are manufactured.
Fun Ways to Combine Windows
Now let's have fun with some window designs. We'll look at the various ways you can combine windows using a combination of standard (operable) window styles and fixed windows. Remember that windows should be proportional to room size and integrate well on the outside of your home, with other windows and house trim.
Line up multiple windows in a row with spacing in between or butt windows together. You can make them all the same size or change window sizes to form a step-up design. Some manufacturers will even build double and triple windows for you at the factory. Ask your contractor for an estimate and the cost shouldn't be more than 10 to 20 percent higher than the cost of individual windows.

Bow windows are a popular variation of this design. They can use 4, 5 or 6 windows arching out away from the exterior wall.
Place a fixed window in the center with double-hung or casement windows on either side for ventilation.

The bay window design offers angled side windows (90, 135 and 150 degrees are the most popular) bumping out to a fixed window. Bay windows are associated with Victorian architecture and first became popular in the 1870s.

Window grids can vary between the side and center windows. The center "picture window" typically focuses on where the best views are found when looking out.
With taller ceilings, there are many custom windows choices that can sit on top of a row of windows or stand alone. These custom windows include rectangular transom windows (see below), semi-circular, quarter-round or arched windows. Custom windows may be as wide as the center fixed window or the entire row of windows.
Walls of Windows a New Trend
In fact, taller ceilings are ushering in walls of windows. These started with patio doors that had more than two panels and now can extend the entire back wall of the living room to the patio beyond.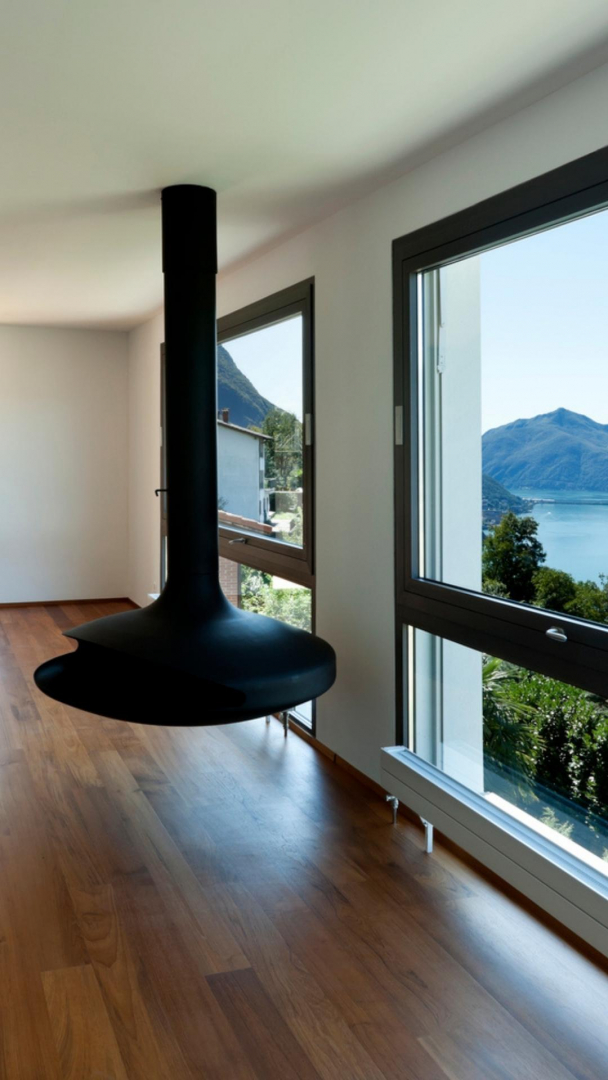 Specialty windows include ovals, octagons, circles and unique one-of-a-kind windows can add tremendous sizzle to a room if you've got the ceiling height and exterior that supports your ideas.
Do you have a favorite window?
Want to learn about more window choices for your home?
---