This kitchen window seat was a winner, adding seating and storage for over sized kitchen pots. The homeowner originally wanted to add a matching kitchen cabinet with open shelving on the angled sides.
We looked at the framing required around the cabinet to support the weight of 2 or 3 people sitting there, and explained how much space would be lost to frame and integrate 3 components. Several sketches later and everyone agreed that a custom window seat would provide maximum storage with a white cabinet painted to match the shutters.
Steps to Build a Window Seat
Bay windows are wonderful for bringing more sunlight into a room. There also more challenging to furnish so you get use of the space, so this window seat was a perfect way to add seating and storage. Here the steps taken to build this custom window seat (following photos below):
Framed the base to avoid having to move heating vent below the window. Note the center rectangle which is is the new heat vent.
Added the floor of the storage cabinet, placing it on top of the base framing.
Framed the cabinet, attaching it to the surrounding walls for strength. This design allows the entire opening to be used for storage by sliding pots and pans to either side.
Built the window seat top with a door that rests on the horizontal support framing.
Painted the new window seat with semi-gloss white to match the surrounding trim and shutters. Note trim on front that ties into the Shaker cabinet design.
Finished except for a coordinating cushion. Homeowner demonstrating how the door lifts to gain access to their new storage space.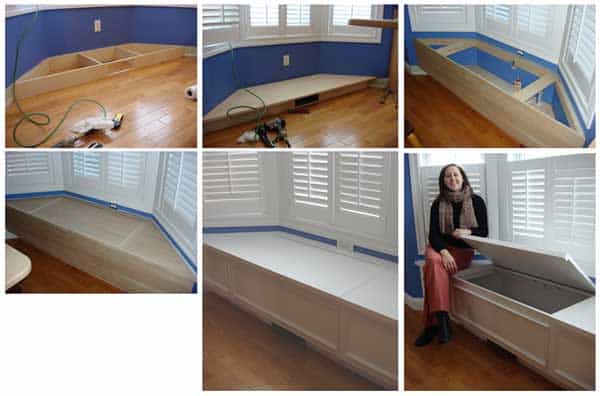 Other Places to Build a Window Seat
If you're looking for more storage in your home, you've probably got a great spot but haven't yet discovered it. Here are some places where we've seen window seats:
Any type of bay window is a candidate for a window seat like the one shown here.
Attic space with dormers that provide sides and all you need to do is build the seat to fit the space below the window.
Often there is unused space around a staircase or in an upstairs hallway next to the linen closet. If you've got a wide hall, maybe you can add 12 to 18 inch deep shelving/cabinets with a window seat tucked in?
Bedrooms with extra space offer an opportunity to build a window seat with bookshelves on either end.
Tell us your ideas for a great window seat or send photos to share here.