House windows play an amazing role in our homes and yet we often overlook them, or we fuss about decorating them rather than focusing on what makes them great. When you're looking at one house, you might not realize how many different window styles there are and what fun it is to mix several window styles like the homes (learn how to mix and match window styles) shown here.
Creative window combinations let you add windows in unique places where there may not be enough room for matching windows, where you want extra interior wall space for furniture or you want to make a personal statement. Done right, these special windows will enhance your home's curb appeal and make your home more cozy indoors with lots of natural sunlight.
Learn Your Window Personality
Everyone has their favorite home features and you guessed it, windows are at the top of my list because I love natural sunlight and great views. Spending lots of time indoors working on my computer makes windows important for me. Windows help me enjoy the outdoors even when I'm inside, and help me feel connected to the world around me.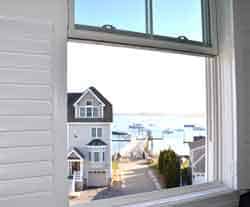 When we bought our condo, I thought my husband would love the view from the 4th floor but he decided to cover his windows entirely with shutters. He'd rather not worry about glare on his computer screen from the sunlight, and that's how I learned he doesn't need natural sunlight and great views the way I do.
We did agree that living in New York City wasn't a good idea because it's too dark, with the tall buildings blocking so much sunlight. We're staying in our condo and now that we've swapped home offices, it's time to decide if I should cut the shutters in half to get more sunlight.
Mixing Multiple Window Styles
Have you ever driven past a house and noticed an unusual window? It's actually nice to find houses with something unique that gives them a personality, something that says look at me. The house above was taken in Portsmouth, NH while the window collage below shows different sides of a house in Rye, New Hampshire. Rather than talk about creative windows, I wanted to show you what others have done to give their homes something unique or I wouldn't have stopped to take photos (okay, I do take a lot of photos and I like to think they're special).
So here's one house with multiple window styles on each side of the house. Some of the differences are the result of the house being built in multiple stages, so the original windows couldn't be duplicated at an affordable price. Some windows are original while others were installed when a new addition was added or repairs became cost prohibitive, and replacement windows were installed.
How Many Different Windows in One House?
Here's a list of all the different window styles I could find somewhere on this house – 8 different window styles in all, plus exterior shutters on one side of the house.
My favorite windows are the 6 tall, narrow windows that end with a pointed arch, like lancet windows in a church. When researching (see Types of Windows for Churches), it was interesting that these types of windows are built in pairs.
Above the lancet windows, there's one fan shaped window extending across 3 of the 6 windows.
The same lancet windows wrap around to the front of the house on the left side of the porch. On the right, and also the windows on the second floor, are 6 lights (upper sash) over 1 window pane on the lower sash.
The turret has an oval window on top and on the first floor, there are semi-circle fans over tall, narrow 12 lights.
Continuing clockwise, the 2-story porches use the 6-light over 1 window pane consistently, except for the center "picture" window on the first floor which has 10 lights on top of the fixed pane, picture window.
On the far right of the house (photo lower right), most of the windows are 6-lights over one. In the center section of the building the 2 windows are quite different – the entire window is made up of smaller panes, and they're not double-hung windows although it's difficult to confirm that they're casement (open by turning a crank) windows.
There's also one small, circular window that is different than the oval on the other side of the turret.
What's your favorite window?
Would you like to add a window, or make your current windows larger?