Quarter round molding is most often used to cover the gap between baseboards and flooring. My first experience came when remodeling a 100 year old Victorian. We tried but didn't quite get the floors level between our new kitchen-dining-family room and the family room next to it. That's when our builder recommended adding molding (quarter round or shoe molding).
What is Quarter Round Molding?
Many building terms are hard to understand and remember because the terminology doesn't provide any clues about the thing you're describing, like flashing or drip edge, Quarter round makes sense. It's simply one-quarter of a round piece of wood, with the width and height most often 3/4 of an inch.
This molding comes in lengths up to to 7 feet, so you can cut pieces to fit your project. Traditionally quarter round came in wood, either finger-jointed if you were going to paint it or solid wood for staining. There are many more options today so you'll want to pick the most cost effective one for your project (these examples found on HomeDepot.com):
Finger-jointed pine molding – comes 3 ways – natural, primed to accept a coat of paint or painted (white) to save you time.
Quarter round wood molding – comes in poplar, oak, bamboo and more.
Medium-density fibreboard molding – is available pre-finished with a protective coating.
PVC quarter round molding – is moisture, termite and split resistant. It can also be painted or stained.
Vinyl molding – like PVC molding, is moisture and rot resistant. It comes in primed (you can paint/stain) or pre-finished.
Laminate quarter round molding – comes with different finishes to match flooring, including hickory, pecan, oak,
Shoe Molding vs Quarter Round Molding
Similar to quarter round, shoe molding is another option you can use to trim along walls and baseboards. Like quarter round trim, shoe molding has a less pronounced curve that's a half inch wide instead of quarter rounds three-quarter inch width.
Both types of molding provide a smooth, professional look to flooring and countertops. They provide a nice transition between different materials and also hide gaps like my story above. Quarter round is a better choice when you want a curved edge that's well defined while shoe molding is good when you're looking for a more subtle look.
Quarter Round Match the Walls or Floor?
The biggest decision you have to make when installing quarter round or shoe molding is whether to match the color of the baseboard or the flooring. It's not an easy decision so I asked several interior designers what they recommend. They unanimously said quarter round molding should be painted the same color as the baseboard. It should not be stained the same color as the wood floor, as it should look like an extension of the baseboard, not an extension of the floor.
For more interior decorating ideas using trim, read our series Interior Trim Adds Spice to Any Room. Trim truly is a creative and inexpensive way to give your home more sizzle and personality.
PS In my handyman business we used this molding for lots of repair projects. For example, we used this molding to tame older linoleum flooring that was started to curl up along the edges. When my house flooded last year, the paint started curling up from the bottom of the kitchen cabinets. My insurance company paid to replace the cabinets but if you're not as lucky, quarter round molding will rescue you!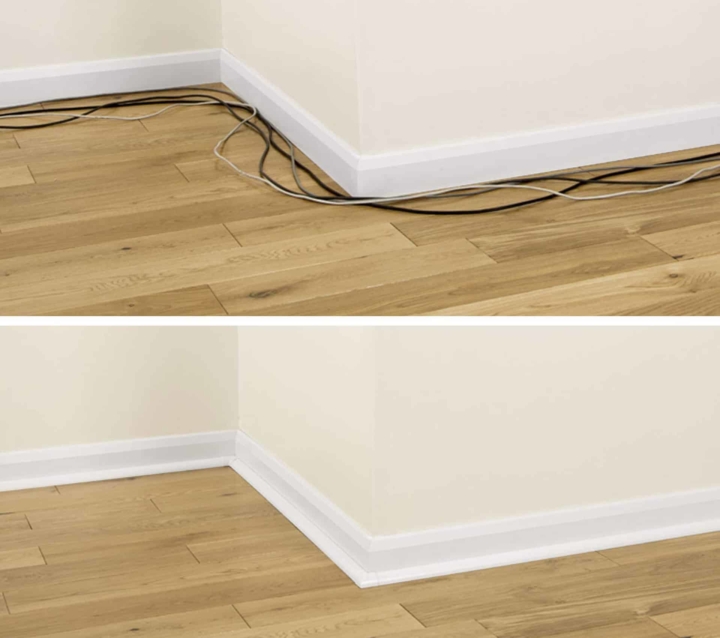 PS When updating this blog post, I found an amazing new quarter round product. It not only adds dimension to your baseboard, it also hides messy wires lying around your house. This is known in the industry as a "cable raceway" which really helps with our growing collection of electronic devices. The molding is super easy to install as there's sticky tape on the back because … you don't want to be nailing hidden wires. You can find this product on Amazon (comes in white and oak) and please let me know how you plan to use it.
---