Interior Trim Series: Cabinets and Built-Ins
Interior trim can add spice to every room from the ceiling down to the floor. Trim is functional when it covers the gaps where different building materials meet. This happens where the ceiling meets the walls or the walls meet the floor which is why we have baseboard trim. There are many interior trim ideas you can use as a decorating tool to dress up some of the simple features in a room like windows and doorways.
For the interior designer or Do-It-Yourself homeowner, finding the perfect "spice" for a room you already love isn't always easy. Having chosen furniture, window treatments, throw rugs, and furniture layout, the room may still lack the sizzle you want to create that perfect look. Interior trim is the perfect way to accent your room to put more focus on it's best features. Sometimes you simply need a small tweak to tie all you've done together, to achieve the desired results.
Interior Trim Ideas Add Sizzle To Your Home

Basic trim in every home includes the baseboard plus trim around doors and windows. All of this trim covers up the gaps where the drywall (also called sheetrock) meets the floors, windows and doors. After these basics, the most common types of interior trim are crown molding and chair rails but there are many interior trim ideas to consider when updating a room in your home.
This series of article provides a glimpse into the many choices you have to enhance your home's interior beauty.
When I've got a real project, I prefer any of the books from Taunton Press or Creative Ideas. I probably own half of them already, and will buy more as I remodel my home.
Once you find your favorite interior trim ideas online, these books provide context for understanding what you're considering for your home. That's because you can get into trouble when you only look at one decorating feature in isolation.
These books can help you understand how to pull together the multiple features in your space. And since I wrote this article in 2009, there are now many websites like Pinterest and Houzz, where you can find more interior trim ideas that will make your head spin. Here are my favorite books for interior trim ideas:
1001 Ideas For Decorating With Trim & Molding

Trim Idea Book: Walls, Ceilings & More

Architectural Trimwork: Plan, Design & Install

Expert Trim Advice from Start to Finish

Pick Interior Trim Ideas that Match Your Install Strategy
Once you find the look you want, your next decision is how involved you want to get in the installation. Decide if you want to install the trim yourself. Are you proficient working with wood and a compound mitre saw? There are new trim products with pre-finished inside and outside corners.
There are lots of options including this peel and stick" crown molding (shown below), found on Amazon. More amazing is a photo showing you can cut the molding with scissors … because it's not wood, it is polyurethane. As I haven't tried using this new trim, I'm honestly not sure what to say other than try it out. That's what I'll be doing soon.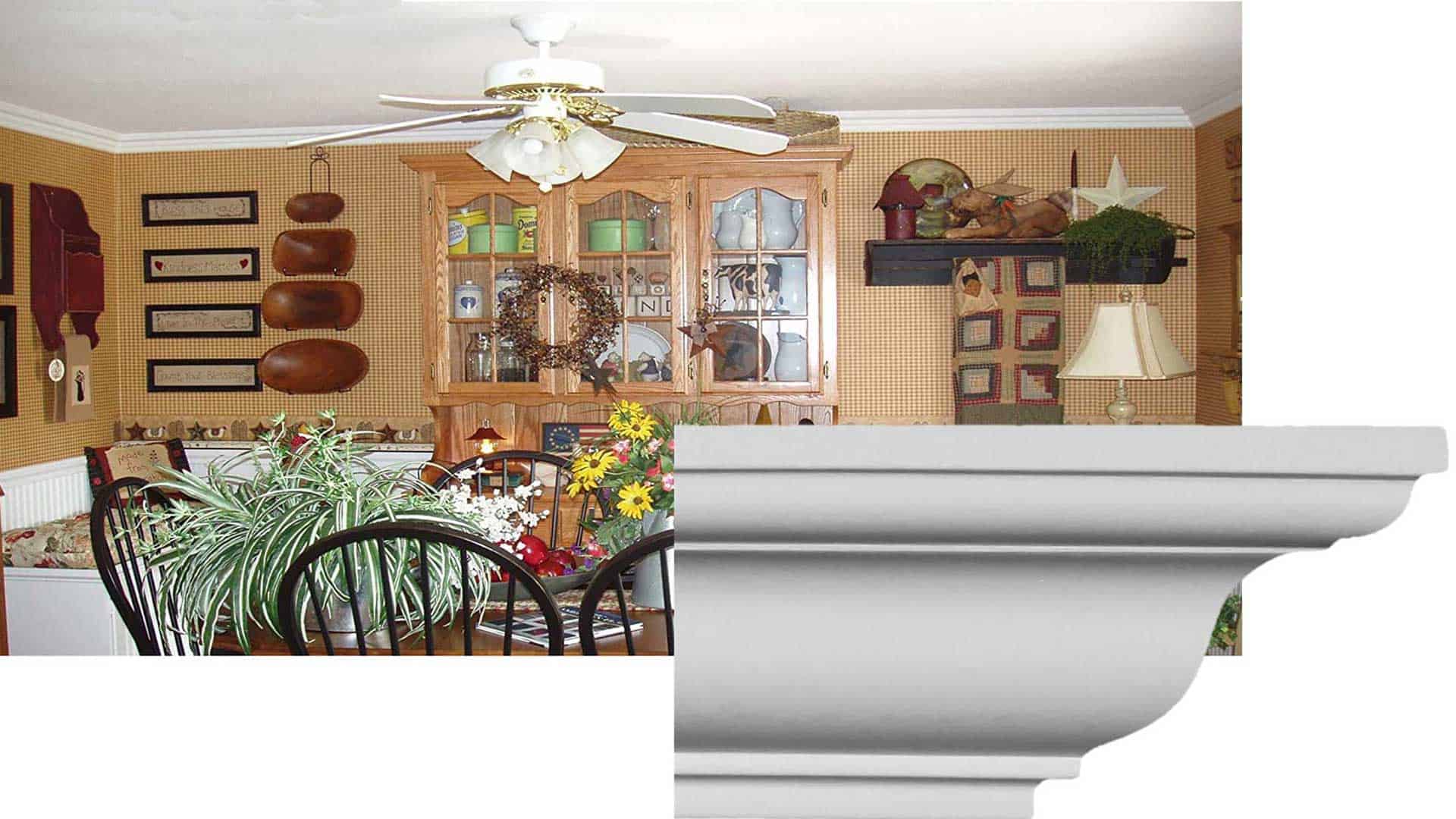 For more challenging trim installations, some contractors are flexible and willing to partner with you on a project. You need to follow their advice as they're going to be concerned about the finished product which includes your work.
In my handyman business, we often got calls asking us to finish projects that a homeowner started. When they realize it's not as easy as it looks and they don't have enough time (tools or skills) to finish it, it does make sense to call for help. We always felt good getting the job done, with one exception (click to learn about one of my most feared handyman requests).
For most do-it-yourself homeowners, you should stick to trim that will be painted. Once you've installed the trim, you can fill in the gaps with caulking to get smooth surfaces. If you're going to stain the woodwork, you're better off hiring a master carpenter as it's almost impossible to hide gaps and other mistakes with stain. Unless you're an amateur home carpenter with lots of experience using a compound miter saw, stick with designs that use more straight cuts.
Crown molding is challenging so if you're determined to install it yourself, find a company that offers pre-cut corners. When ordering these from somone like sosimplecrown.com, pay close attention to their recommendations for measuring and order extra because you will make mistakes.
PS Loved the simple yet elegant wall trim shared here. It's striking, fairly easy to install with straight cuts and functional as the wood is harder than drywall, protecting the wall from damage when the homeowner slides their desk chair back too far.
---