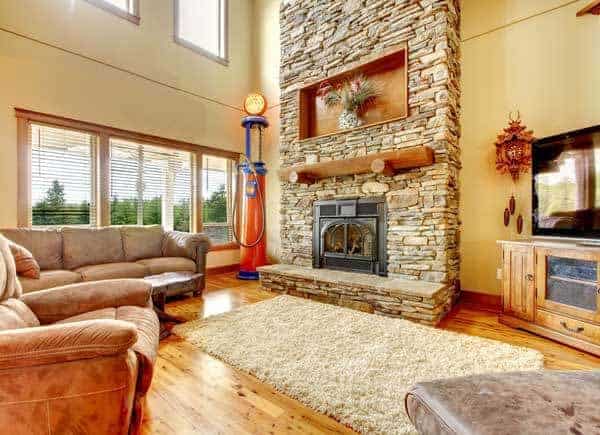 Homeowners tend to come in two groups: Those who have a fireplace, and those who wish they did. Even if it's old and completely out of commission, the hearth seems to have been the focal point in the living area, at least until super size televisions arrived. So it's time to give your fireplace a little attention and we've rounded up some fireplace ideas to start you thinking about what you want.
Most fireplaces consist of a few visible elements, which you might call the anatomy of a fireplace. There's the fire box itself, which might be a metal insert or a more traditional opening lined with fire brick. Some are even wood stove or pellet stove inserts with glass fronts, and some are gas units with realistic looking logs. The header and legs frame the fireplace, almost like a picture frame and the hearth is at the foot of the fireplace.
And then there's what many people call the mantle. Most fireplaces have some type of mantle, whether it's a full and separate header and shelf with mantel legs on each side of the fire box, or something all its own, such as a large shelf or beam mounted over the fireplace.
Here are a few fireplace ideas to help you enjoy your living room more. (Read: 6 Fireplace Ideas to Warm up Your Home)
Fireplace Ideas on a Grand Scale
The last thing you want is a room that swallows the fireplace. Unfortunately, that can happen in rooms with very tall ceilings or wide expanses of wall space. If the fireplace seems miniature when compared to the rest of the room, you can beef it up and help it take back some of the attention it deserves. 
Framing out a fireplace gives you lots of options. You can add decorative millwork, stone or brick cladding on each side of the fireplace. Whatever fireplace ideas you pick, they need to make the unit visually grow to fill as much wall space as you like — even to the ceiling.
Design Built-In Storage
There's little reason not to use the space over a fireplace for something more than a place to display candles and other decorative items.  Depending on the style of the fireplace and available space, you can add storage above the fireplace for a TV, or other items.
Be sure to check local codes before committing to this type of project. Storage over an open-flame fireplace might not be permissible, but it should be ok with a gas fireplace.
Ideas to Make a Non-Working Fireplace Glow
It's increasingly common to find homes with a fireplace that's been decommissioned. Maybe the chimney is unsafe and can't be repaired, or insurance premiums are too high. There are lots of reasons why a home's fireplace might no longer hold a fire … so you'll want to look for fireplace ideas that create the feeling, without the fire.
You can create a captivating glow with a few candles on the hearth or inside the firebox. If this is uncomfortable, try some of the new battery-operated candles. The shell is real wax, and some of them have an authentic- looking flicker that makes them almost indistinguishable from the real thing unless you're looking down inside the candle.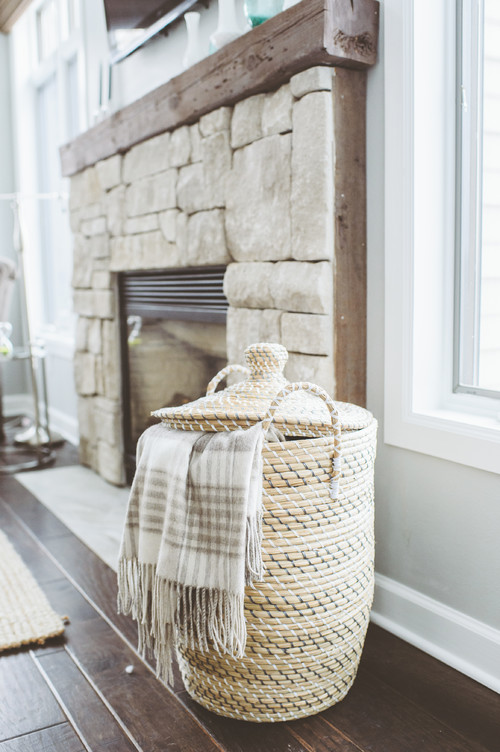 Give an Ugly Fireplace a Makeover
We've all seen them — unattractive looking fireplaces that are more vintage-sad than vintage-cool. Maybe a precious owner used knotty pine for the mantle, but your style is more modern. Or maybe the brick or tiles don't mesh with the room. Focus on the elements you have to work with and you're sure to find new fireplace ideas to turn that ugly duckling into a swam. 
That may mean replacing or covering up one element like adding a layer of new tile over dated-looking tile. If there's brick, you can paint it or cover it with a facade of stone. (Read: Painting a Brick Fireplace) Think of the fireplace as the fire box alone, and you'll begin to see lots of options.
Don't Skimp on Artwork
Fireplaces usually have a presence in the room, so be sure the artwork you choose won't get lost. Creating a balanced look means you'll either need large artistic elements over the mantle, or groupings of smaller ones.
Mirrors are a great addition, but almost anything that suits your taste will work. You might choose a large painting, or a collection of smaller ones. Maybe you have collectibles that can rest in clusters on the mantle. You can create a perfectly uniform look, or opt for one with items of varying sizes. Just remember to keep what's above the mantle balanced with the fireplace below it. That way, the wall won't look top-heavy.
Great Fireplace Ideas for the Holidays
One of the best things about having a fireplace is using it as your anchor for holiday decorations. Mantels and hearths are a natural for almost any decorative element you want to incorporate, from swags to stockings, and everything in between. Dressing up a fireplace with seasonal decorations can be a lot of fun, and you don't need a winter holiday to do it. Halloween, Thanksgiving, and even the 4th of July have their own special themes.
If your home has a fireplace but it's just not as attractive as you'd like, there are plenty of options. The fire box is the only working element that you see anyway. (Read: Tips for Making Your Fireplace More Efficient) Everything else is decoration, whether it's a massive wall of stone or a traditional mantelpiece, and that means you can turn your favorite fireplace ideas into a place you love to call home.
The weather is cooling off and it's time to start thinking about fall decoration. What plans do you have for your fireplace (we've got more great fireplace ideas on Pinterest)? We'd love to hear about it!