Ceilings are one of the most overlooked opportunities to add just the right decorative touch to your home. While it's true that many ceiling choices must be made when a home is first built, if you have ceiling height there are a lot of things you can do later.
Where you might think trim work would make small rooms feel even smaller, the reverse is true. The phenomena of "geometric illusions" often makes a room appear larger and wider. Long horizontal lines create the impression that a room is longer or wider while vertical lines can make a low ceiling appear higher than it actually is.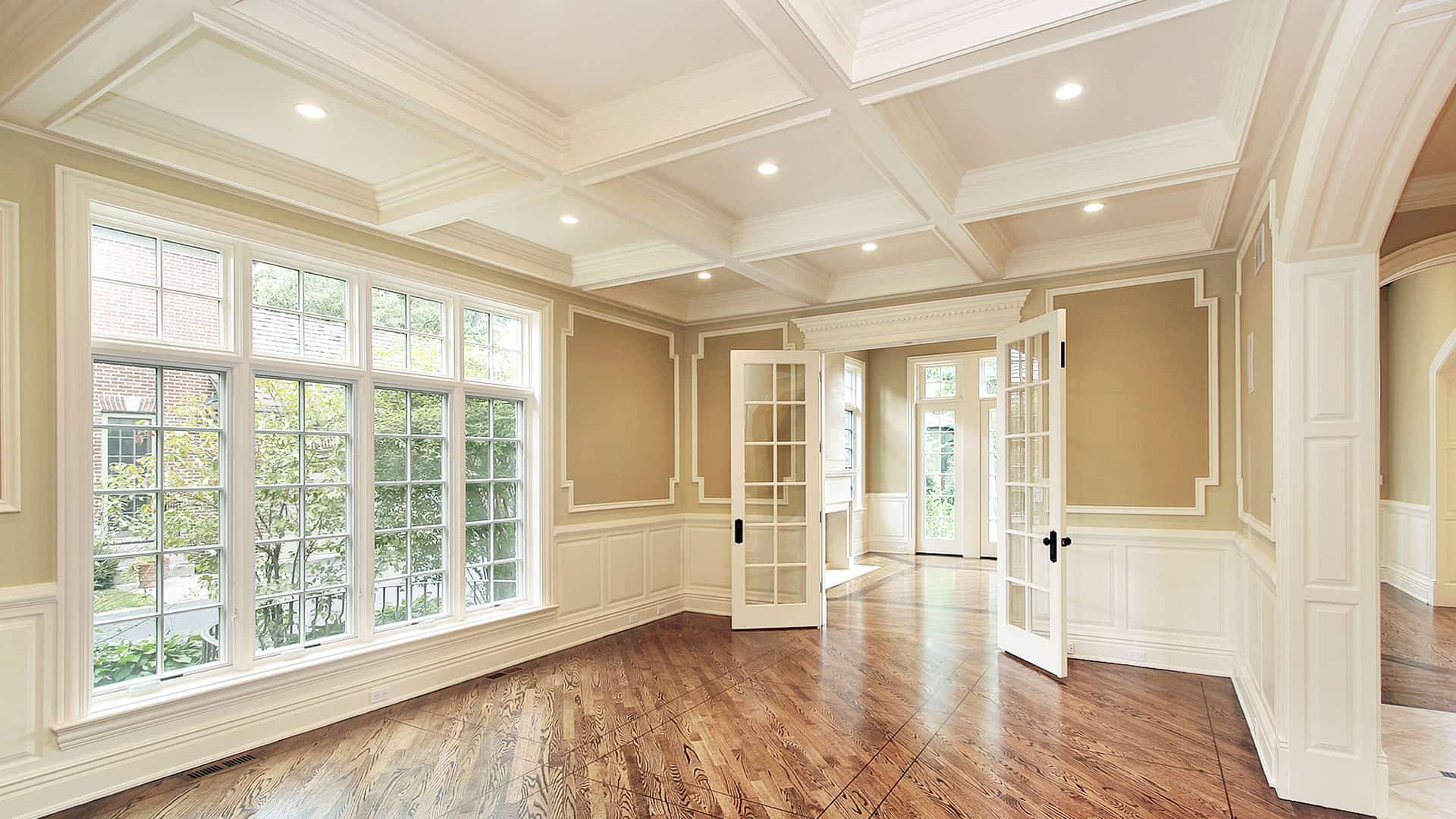 Ceiling Treatments Add a Special Look
The ceiling is the largest surface in any room making it ideal for trim detail. Crown or cornice molding is used frequently to create give an elegant look and yes people even put crown molding in bathrooms. There are many choices for enhancing your ceiling and in addition to adding a touch of decoration, remember trim began as a tool for solving construction problems. If your ceiling isn't level for instance, crown molding can distract the eye by creating a more pleasing look.
One important decision to make at the outset, is which white to use for your ceiling and trim throughout the house. While it's fun to pick different wall colors for each room, it's also important that rooms in a home flow easily, from one room to the next. By using the same color for all ceilings and trim, you create a cohesive feeling. Don't make the mistake of picking different white colors as there are 100s of whites to choose from. Stick with a single white and avoid confusion when touching up the ceiling or trim anywhere in the house.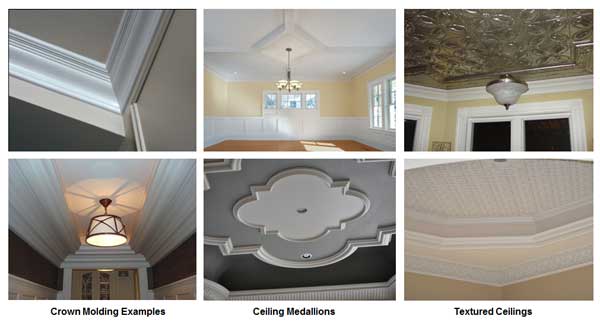 Here are the most common types of ceiling decoration. You'll want to use ones that suit your personality and the style of your home. You should also maintain a balance through the house, i.e. crown molding in a powder room makes sense when the nearby living spaces have crown molding.
Crown Molding – provides a decorative transition between the walls and the ceiling. Crown molding is also placed above windows and crown molding on kitchen cabinets has become very popular.
Cornices – refers to the ornamental trim at the top of the wall, or outside your home, the trim just under the roof. It can be a single piece of wood or built up from multiple pieces of trim. The term is also used to refer to a window or similar "cornice box" built to sit on top of a window or hide curtain hardware.
Ceiling Medallions – are often found at the center of a room, frequently with a light fixture below. Often associated with the Victorian era, size and detail reflected the importance of the room and status of the homeowner.
Decorative Beams – can hide support beams, plumbing or electrical materials. More often they are built for decorative purposes and finished with molding that hides any gaps.
Archways and Doorway Trim – with today's open room floor plans, it is quite common to trim out doorways that in fact, don't contain a door (see above right). These doorways can then be wider than a door and arched, sometimes including decorative columns to extend one's view of the space surrounding you.
Tin Ceilings – originated in North America in the late nineteenth century, when manufacturing processes could roll out thin sheets of tinplate, copper and other metals that were stamped with decorative patterns. They are gaining popularity again with many more designs available.
Want more decorative trim ideas to give your home more personality? This article is part of a series on interior trim …
---