The year end holidays are magical. Too often we're so busy we run out of time to walk around the neighborhood or visit local holiday events. So for those who love dazzling holiday lights but might not see them in person, here are some gorgeous lights you can enjoy at your leisure.
Holiday Lights for Outside Your House
The Chinese love lights and it's believed they discovered the first natural "firecrackers" when throwing bamboo stalks into a fire. Chinese lanterns have a long history too, dating back to the Eastern Han dynasty (25 to 220 AD). They used bamboo to create frames for candles and by stretching silk or paper over the frame, it created a hot air balloon effect.
It's truly magical to experience trees wrapped in lights. These are magnificent so you know it took ladders and a lot of time to create this glowing path through the trees. If you've got a tree in your front yard, maybe it's time to dress it up for the holidays. You can also add landscape lighting to enjoy all year long, and new LED lights let you change colors for each holiday.
Don't have great big trees in front of your house. Each year they're coming out with more holiday lights. The forest below is made up of 6 foot high, white birch trees that anyone can buy … 1, 2 or 3 will add a nice twinkle to your home.
Maybe you don't have much space to store large holiday decorations. The luminaria below are small and the bags can be folded when not in use. They are easy to set up and use battery operated tea lights making them practical for every homeowner.
Using Holiday Lights Inside Your Home
One of the best places to get holiday decorating ideas is local community events with Christmas trees and/or tablescapes designed by decorators. Here are some of the best ones found this year. They showed many new ways to use fairy lights to add glamour to your home.
The reindeer tree was lovely but what I want you to look at is the shimmering wall behind the tree. If you have a wall you don't like (under construction maybe?) or want to create a special place for holiday photos, you can use some sheer curtains and fairy lights in front.
More fairy lights and this time they were magically woven through the table centerpiece, not just this table, but more than ten tablescapes. These holiday lights are inexpensive now (LED when new were very expensive) and you can find ideas everywhere, for Christmas and all through the year.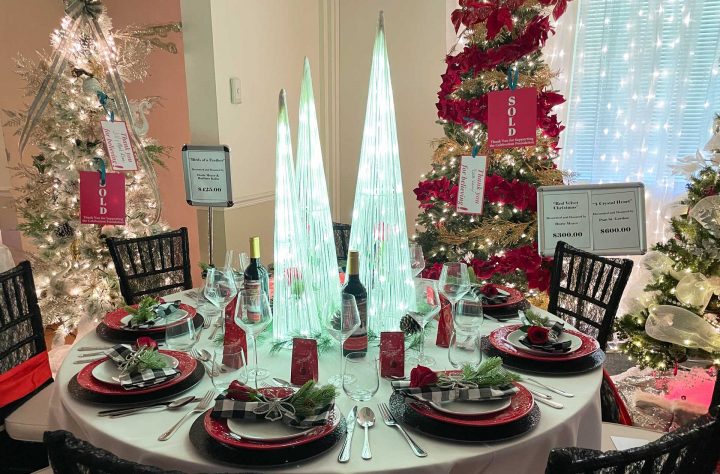 Saw these trees at Home Goods so I know they didn't come with the lights. It's a perfect example of adding fairy lights to what you already have … in almost any room of your house. Maybe it's time to swap your kids night lights for fairy lights?
Wishing you and your loved ones, a wonderful holiday.
---