Thanksgiving tablescapes are more than a nice tablecloth and your best dishes. Tablescapes like landscaping, bring together many different colors and textures by using lots of decorating accessories to create tables with incredible personality. You can create tablescapes on a budget by using your existing glassware plus gifts from nature. Skip buying and storing things. Instead go for a walk and collect brightly colored leaves, pinecones and more. Grow your own pumpkins or buy them.
One of my favorite tablescapes uses pumpkins that you spray paint to match your color strategy. Here we have white pumpkins combined with white candles and dinner ware, tying the entire design together. Use an orange, seasonal table runner under the pumpkins and wrap branches of red, orange and yellow berries around the pumpkins. Love how they've also used apple cider in glasses at each place setting to add more color.
Thanksgiving Tablescapes with Glassware
With an assorted collection of vases, hurricane lamps and miniature candle holders, you can create different tablescapes for each season and holiday. The colors of your accessories will change the mood of the table, from vibrant and cheery reds and oranges to more subdued pinecones and fall leaves. You'll find it easy to shift colors as you move from Halloween, to Thanksgiving and then Christmas.
Another one of my favorite tablescapes uses glass, white candles and a variety of nuts (can be eaten when no longer part of your decorating scheme). You can place this glassware on the dining room table, fireplace mantel, coffee table and wherever you want to add a touch of holiday spirit but remember to never leave lit candles unsupervised.
More Formal Thanksgiving Tablescapes
Every family has their traditions, so why not make Thanksgiving tablescapes a new tradition. Here are a few formal tablescapes that include not only a centerpice with lovely colors, but extend the decorating to each place setting. Don't you love the simplicity of the leaves wrapped with twine, around the napkins.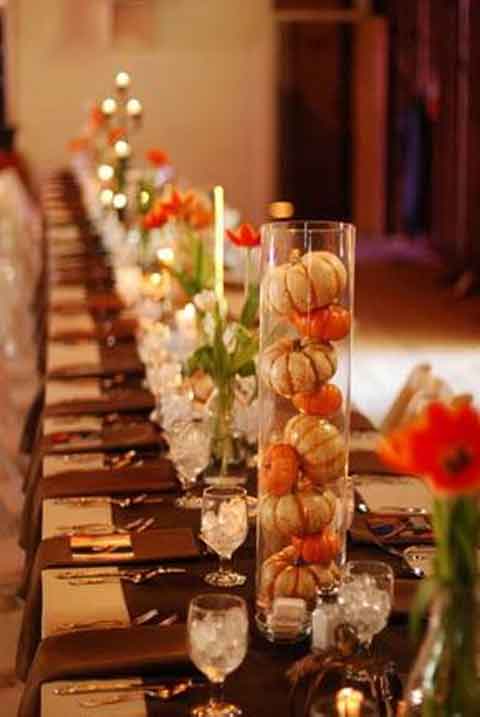 PS We've got lots more ideas to spice up your Thanksgiving celebration, a wonderful time to share with family and friends.
---