Every holiday tradition helps us create memories we can enjoy for many years. Luminarias are a popular holiday tradition in Mexico and across the southwest part of the US. We don't see them as often in the northeast because we spend less time outdoors during the winter.
My memories of luminarias are from holidays spent in Arizona where my father retired outside of Phoenix. We went out walking most evenings to enjoy the beautiful lights that lined not only neighbors sidewalks – many lights also lined the neighborhood streets. It was lots of fun singing Christmas carols and meeting friends and neighbors of my parents.
Luminarias with Special Meaning
When hearing about the luminarias for Newtown on Christmas eve, 2012 … this felt like something special. It was a way for people around the world to join together to honor those lost and support a grieving community. What's also special is the way they turned something very sad into something wonderful, with people coming together in a positive way, something we're losing in the US.
What's really special too is that Newtown, CT continues to celebrate the lives lost with a silent stroll each Christmas because this was a community tragedy. You can learn more about Sandy Hook (History.com's summary), the lives that were lost and how parents have found positive ways to memorialize their children (TheGuardian Remembering the 26: How Familes Honor Sandy Hook Victims Five Years later).
Here are just a few of the non-profit organizations started as a result of Sandy Hook:
Sandy Hook Promise – focuses on protecting children from gun violence.
Safe and Sound Schools – want to provide safe and secure schools for their children, educators and help other communities do the same.
Ana Grace Project – supports arts education with a "Love Wins" curriculum, which supports a stronger social and emotional environment for students and staff.
… and so many more projects to make this a better world for everyone!
It is my hope that as we approach the holidays, you look for new holiday traditions, especially ones that bring neighbors together and build stronger, more connected communities (read: How to Create a Food Basket to Donate). With that hope, we share the history of luminarias as a holiday tradition.
History of Luminarias, a Christmas Holiday Tradition
Luminarias first appeared in history around the 16th century. They were used to guide people to midnight mass on the last night of Las Posadas (Spanish word meaning lodging or inn). Las Posadas is a nine-day celebration which began in Spain, although it's now a holiday tradition celebrated primarily in Mexico and the southwest part of the US.
The 9 days represent the 9 months of pregnancy and the last night represents Mary and Joseph's search for lodging in Bethlehem. The original lights were bonfires and today's family traditions continue as holiday lights on rooftops, walls, sidewalks and driveways of individual homes, to guide travelers (or guests) to their destination.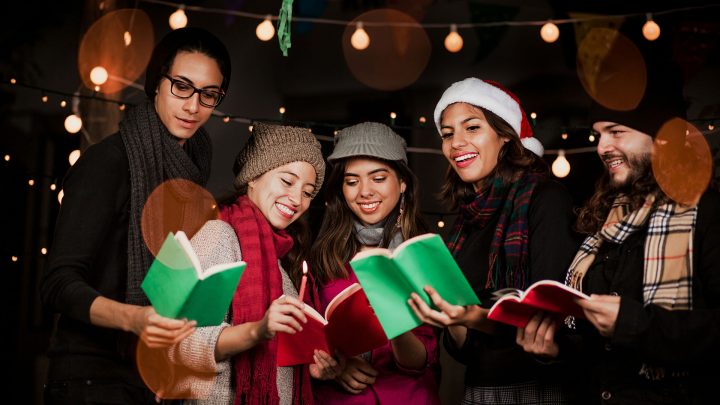 A Southwest Holiday Tradition
The tradition extends beyond the luminarias. According to Wikipedia, there is a Las Posadas procession led by someone carrying a candle and they stop at each house where someone living there responds by singing a song to recognize Mary and Joseph. This sounds very similar to another family tradition, Christmas caroling around your neighborhood to share your holiday spirit.
There are many variations of this holiday tradition — people may play a part, like an expectant mother riding a real donkey, children may carry poinsettias, musicians may be part of the procession and Christmas carols will be sung. In some homes and towns, the holiday tradition has the procession leading to a star-shaped pinata with fruit and candy hidden inside.
Luminarias Today as a Holiday Tradition
The most common type of luminarias (also called farolitos, the Spanish word for little lanterns) are brown paper bags filled with sand for stability and a tealight candle. As luminarias have gained popularity as a holiday tradition, more products have made it to market and they've expanded beyond Christmas. You can also get bags for Halloween, July 4th and almost any outdoor event.
Paper Luminaria Bags, 100 Count
12 Luminary Bags & Tea Lights
Plastic Luminary, Different Patterns
You can make your own luminarias by buying lunch bags, tealights and sand (kitty litter also recommended) at your local grocery store. Others make luminarias by punching holes in used metal cans, i.e. soup or vegetable size cans work well. You can also search for your favorite colors, cut-out bags and more choices than you can imagine online. If you're not comfortable using real candles, there are electric and battery operated lights. For more luminaria ideas, visit our Pinterest board.
Remember the holidays are about creating memories. While it's fun to carry on the holiday traditions you grew up with, it's also fun to add a new holiday tradition to your family's list each year. We hope you consider adding lumiarias to remember loved ones no longer with us, and help build stronger communities around the world.
Do You Have a New Holiday Tradition?
When not writing blog posts or taking photos of cool things to share here, I try to share some of the most special things going on in my life. Here are holiday traditions shared here on Home Tips for Women:
Holiday food baskets – seemed to be the best way to share with my granddaughters that many kids like them don't have enough to eat, especially during the pandemic.
Gingerbread houses – a tradition started when my youngest was 6 years old and didn't want to sit at the piano. I've migrated from making the gingerbread by hand, to my lovely KitchenAid mixer and this year … I bought kits as my granddaughters don't care.
Holiday Activities with Your Children – are even more important to get them away from the electronics! Here I share all sorts of things I did with my boys years ago and now I'm revisiting them with my granddaughters.
---
Lights in general are gaining popularity, maybe because LEDs last longer. Here are the Chinese lanterns displayed at Dazzling Light show in Orlando, FL this year.