Do you own a smart phone? Do you type text messages or use voice-texting? Do you turn your radio on by talking to Alexa? It's fascinating that we're talking less to humans and more to things like phones and other smart devices. You might think smart lighting is simply light fixtures you can turn on and off via your smart phone but it's a lot more.
You're able to talk to these devices because of their integrated computer chips. They respond to your verbal requests. They also work with apps that can send commands to turn the coffee maker on or unlock a door. Smart lighting is joining these devices with chips that listen to your verbal or programmed requests.
Smart Chips Deliver Smart Lighting
The "smart chips" that enable smart lighting can be found in many different products. So we want to share some factors you'll want to consider when picking new lighting products for your home.
Smart lighting products have either voice recognition capability or they connect to a communication hub. You should pick one home automation platform like Amazon or Google, for all your devices.
Consider how quickly you want to automate your home. If you want to experiment for a few years, then some standalone smart light bulbs might make sense. If you're looking at automating faster, consider using smart chips that support multiple products.
None of these products function in isolation. Light bulbs get screwed into light fixtures. Light fixtures connect to a home's electrical system through an outlet or they can be hard-wired inside the walls. The lights are turned on and off by flipping a light switch, a verbal command or an automated action sent from a smart home app.
So let's look at the different ways you can add smart lighting to your home.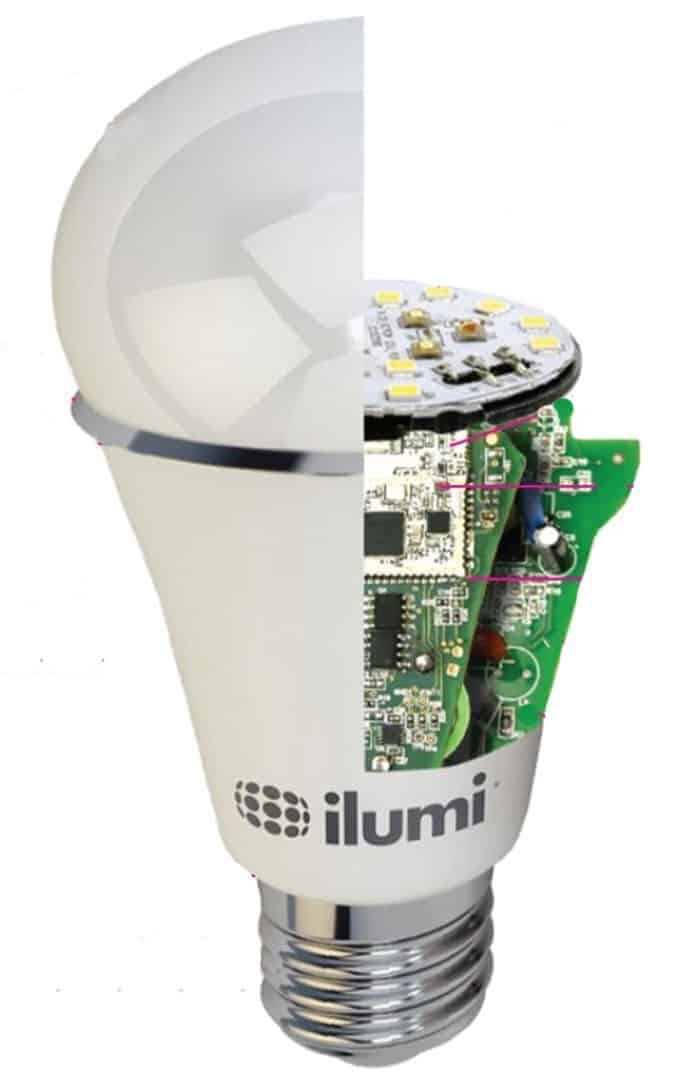 Smart Light Bulbs
If you search "smart lighting" you might assume it's all about smart light bulbs. The bulbs screw into your existing light fixtures. You can start with one or two smart light bulbs with built-in communications or a starter kit that includes several bulbs plus a hub or bridge device to communicate.
The Philips Hue LEDs appear to be the most popular in this category. But there are more choices. Do you want the ability to dim the lights or maybe you want bulbs with color? One warning though – when smart bulbs are turned off via the light switch (no power), they aren't able to receive messages.
Smart Lighting Fixtures
We traditionally have picked lighting fixtures based on how they look in our home. They have to fit in with our decorating style … and now there are more things to consider. Do you want to control how bright or dim the lighting is? or maybe you want to dabble with colored lights?
It's also important to take time when picking the WiFi communication protocol your new light fixtures work with. You'll want a single smart device language and making this decision can get confusing. There are options from Amazon, Google, Apple, Bluetooth, Zigbee, and more. This article provides a great overview of today's Protocols for Smart Home Devices.
Smart Lighting With Smart Switches & Outlets
Smart switches and outlets can control different types of plugable devices. Many devices (televisions to computers, printers and more) stay on 7×24, just so you can operate them using a remote controller. These energy vampires cost you money because they continue to draw (and waste) electricity around the clock.
A smart switch on the wall (or switch that controls a smart outlet) might be a better solution for your home to reduce energy consumption. Who wouldn't like a lower electric bill?
What's Next in Smart Homes?
By now you realize that buying new light bulbs won't be easy. If you're not ready to do more research, experimenting with a few smart devices might be your best strategy. You can discover what you like … and what you don't like. Then you can map out a smart strategy for your home, one that will help you pick your communication protocol.
We've only begun our journey to creating smart products for the home. Here are other articles you might find interesting:
---