When buying a new house, many people decide to complete one or more home renovations before moving in. Few existing homes are truly "move-in ready" or maybe you want to personalize the house, to make it your own. Or you're a savvy homeowner buying new construction and want to avoid the outrageous upgrade prices charged by your builder.
After waiting 9 months to close on my new production house, there was lots more work to do before I could move into the house. In fact my three big projects lined up with the industry norms identified in most articles about remodeling a newly purchased home. It's much easier to tackle any/all of these project when you don't have to move furniture or empty cabinets.
Painting – held till after the closing because the only builder upgrade was $1,000 for a single color (used 5 interior colors). They also wouldn't tell me the paint finish (picked satin for the walls) which was important to me. A great decision given the number of problems found with the builder's painting.
Kitchen and bathroom renovations – were planned because the builder upgrade prices for cabinets were exorbitant. I was able to design my own kitchen and upgrade to a higher grade of cabinets for the same price. Get the details in my article Replacing Cheap Kitchen Cabinets.
Flooring – was replaced with wall-to-wall tile at less than half the cost quoted by the builder. After watching the tile installation in the master bathroom, I also knew my tile was installed right versus builder tile work.
Wondering how much time is needed for home renovations before moving in?
Timeline for Home Renovations Before Moving Into My New House
The question many home buyers have is how quickly you can complete these home renovations before moving into your new home. If you're able to order products early and schedule sub-contractors one to two months in advance, you should be able to complete all of these projects in about two months.
So here's the timeline written for the insurance company adjuster the day after my brand new house flooded.
August 2018 – contract for floor plan and lot, signed with builder.
September 2018 – work on the house began with a target closing date of Feb 1st (120 days). Below is the first photo sent by the building supervisor showing in-ground plumbing completed. Next would be a plumbing inspection followed by pouring the slab.
Closing slipped multiple times from February to March, April and finally …
May 3rd – closed on house as otherwise I'd have to start paying storage for tile, cabinets & personal belongings.
Week of May 6th – demolition done, removing cheap cabinets and "builder free" flooring. My new cabinets were delivered May 8th, and floor tile and baseboard on May 10th.
Homeowner tip #1 – When you're planning home renovations before moving in, you've got to order your materials early. This will protect your installation schedule as once you have to slip one task, the domino effect can add significant time to your overall schedule.
Week of May 13th – had walls painted with satin paint (builder uses flat paint which hides imperfections better).
Week of May 20th – started installation of floor tile. They ran over and needed a second week.
Week of May 20th – with the tile delay, the cabinet install got pushed out to the end of July. We did have to unbox the cabinets though, as the window for reporting defects to manufacturer is limited.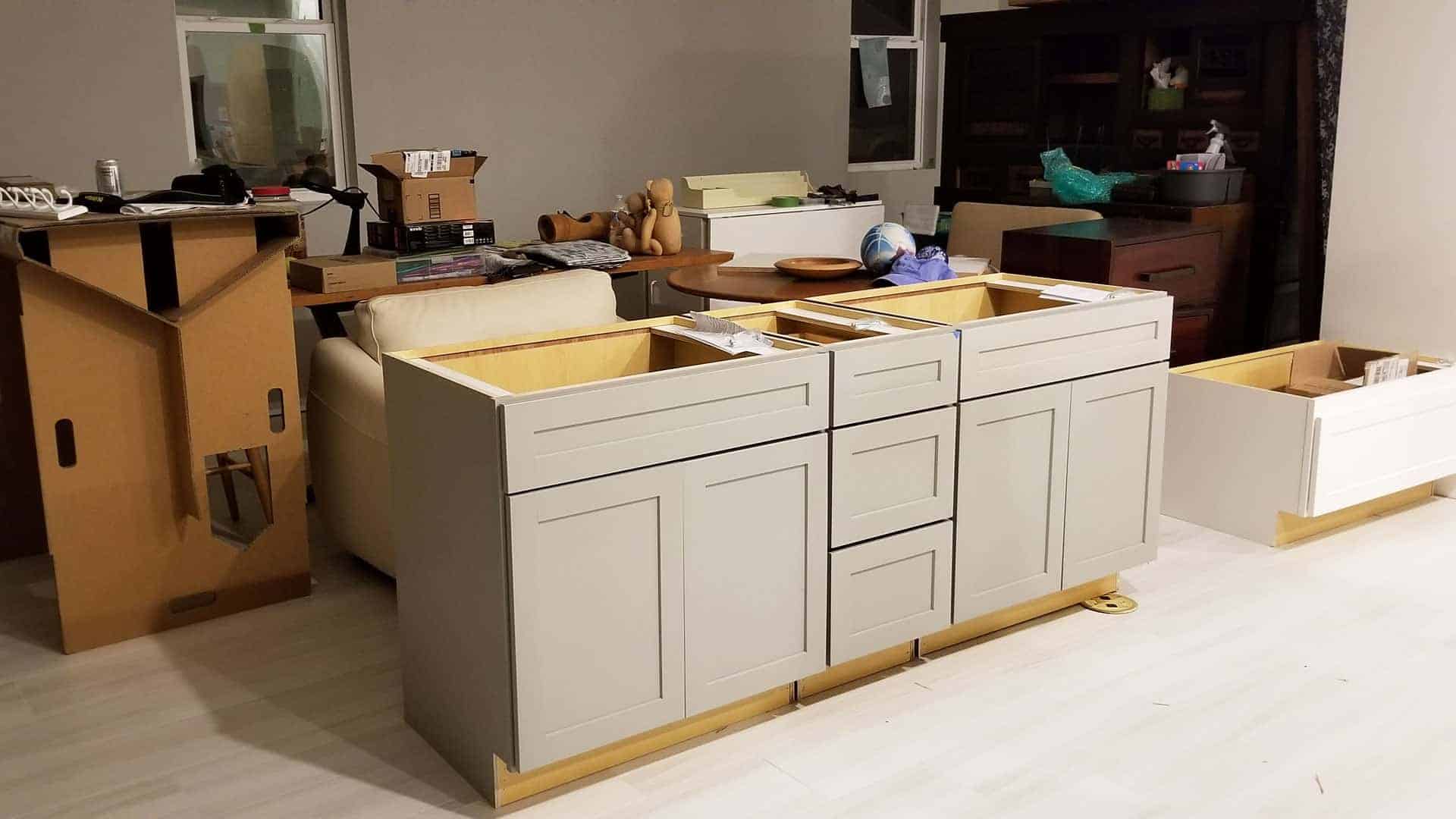 Saturday, 5/25 – my personal belongings were delivered. Most of the boxes with fabric were placed in the quilt room. Important furniture was moved into the great room while other boxes/furniture were left in the garage.
Homeowner tip #2 – Home renovations before moving is a juggling act. You have to schedule materials, sub-contractors and … you've got to decide when to move your furniture into your new house.
Week of 5/27 – the tile installation guys removed the toilets. My son had to open and close the house for the last 2 days, as I had commitments in Boston.
Thur, May 30 – took the auto train to Washington DC. Visited friends as I drove to Boston. My 3 week paralegal class at Boston University started on Monday, June 3rd … and skipping ahead to when I returned to …
Sunday, July 21st – arrived home in Florida.
Week of July 22 – cabinets were installed in the kitchen, 2 bathrooms, my home office and mud room.
Week of July 22 – handyman re-installed toilets to make it easier for everyone working at the house.
July 31st – appliances were delivered and installed, except … With no water in the kitchen island, the dishwasher and ice maker weren't hooked up.
August 16th – had to wait an extra week for countertops as the quartz I picked is popular and they ran out. The countertop installers also put the sinks in, plus the faucet and soap dispenser for the kitchen sink.
Week of August 19th – haven't had time to find a plumber so let my handyman install faucets. Everything needed is outside the walls and my technicians in NH did lots of these installations.
Monday, August 26th – we replaced all the damaged cabinet parts and added some extra cabinet features.
With the home renovations before moving in completed, August was used for furniture deliveries and subsequent repairs when parts were missing or didn't meet my quality expectations.

Samsung repairs – were needed for the refrigerator and gosh, the dryer lint basket was impossible to open.
Master bedroom set – was delivered by Matter Brothers.
Bunk bed for my granddaughter's bedroom – came from Rooms To Go.
City Furniture – brought the dresser for the guest bedroom, along with a lamp for the nightstand.
Crate & Barrel – delivered a combination coffee/side tables, beautiful wool rug, sideboard and two leather ottomans.
Bought and assembled several pieces of DIY furniture. They included a bookcase in the master closet, a craft tower in the quilt room and a small bookcase for the printer/paper in my home office.
So you can see I've been pretty busy and house was 98 percent done when I left for Maine on Wednesday. For the last two days I've been talking to the water mitigation team, my son and the field adjuster and I'm exhausted, so that's it for today.
---