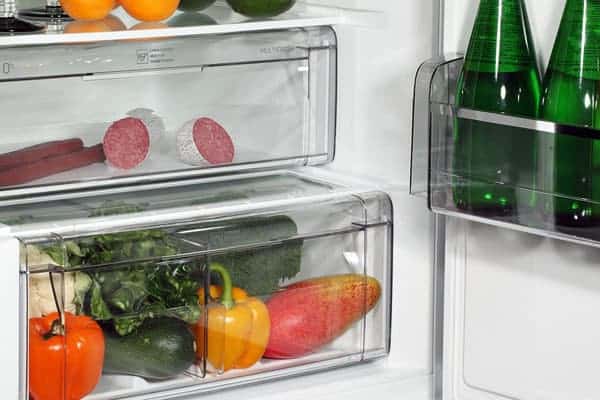 If you've never bought a refrigerator, you might not know where to start. You may be aware of today's refrigerator styles but not know what they're called, or what features come with each. You might have a preference for certain refrigerator brands but many people start with google.
So we started where you might, with a google search for "how to buy a refrigerator?" Skipping the paid ads (top and right hand column), here are the articles found and summarized below. This overview will help you learn more about refrigerator styles, features, sizes and repair history. Most manufacturers offer the same/similar styles so we'll only note that only one of the many refrigerator brands, GE, was found on the first page of search results.

Refrigerator Brands Mean What?
There was a time when consumers had much more brand loyalty than exists today. You also knew that GE appliances were manufactured by General Electric, an American company. Today you simply don't know who's who. For example, the GE Appliance Division was sold to the Chinese company Haier (read: NYTimes article, GE to Sell Appliance Division to Haire for $5.4 Billion).
Whirlpool Corporation is the world's largest appliance manufacturer. Much of their growth has come from buying brands once made by other companies. These include refrigerator brands like Roper, Maytag, KitchenAid, Jenn-Air, Amana plus other appliance brands.
The best way to check out refrigerator brands is to look at their repair history (see what one home appliance repair technician has to say on this topic). When I started looking for my new refrigerator, I learned that many regional appliance stores didn't carry the Samsung brand because they hadn't built up an adequate supply of repair parts or service technicians. This is a good way to gauge product reliability, by talking to local retailers that not only sell the product – they also service the products they sell!
Websites That Discuss Multiple Refrigerator Brands
There's an overview of the top 10 search results below. What's more important is what each site focuses on like refrigerator styles and what they don't discuss. That's because marketers know we make decisions based on emotion, so websites sell products based on how they look (style and features). But if you value your time, you don't want to waste time pulling things out of your refrigerator to find what you want, and no one wants to waste time on repairs.
That's where Home Tips for Women plays an important role. We research our articles to provide you with a more comprehensive overview of key topics, to save you time making important homeowner decisions. We know very few people have the time to review 5 to 8 articles, to collect the information needed to make an informed decision. We give you with checklists to help you collect the most important information needed to make your decisions, beyond the obvious refrigerator styles and sizes.
Website (all .com)
Capacity
Measurements
Energy Efficiency
Repair History
Style
Features
ConsumerReports
X
X
X
sub'n
X
X
CNET
X
X
X
X
HouseLogic
X
X
X
Lowes
X
X
GoodHousekeeping
X
X
BestBuy
     catalog of refrigerators they sell
GEAppliances
 X
 X
X
X
PCMag
high level
X
X
Refrigerators.Reviewed
in-depth reviews by brand/model, plus reviews
Housewares.About
high level
X
X
ConsumerReports.com: Refrigerator Buying Guide
This guide is 4 pages, and their challenge is to share enough information to demonstrate their expertise … but not enough to make a purchase, because they want you to subscribe. The first page has the best information but it's not laid out to make your research easy.
Storage capacity – consider your buying habits (weekly or bulk purchases) when picking among various refrigerator sizes but don't be fooled by "claimed space" which doesn't equal usable space (read: Refrigerator Sizes: What They Really Tell You).
Measurements – check measurements and don't forget to factor in the door swing.
Energy – agree with recommendation to focus on Kwh used per year, vs Energy Star ratings which are getting more complicated and confusing.
Refrigerator styles – full page reviewing styles, plus a note on other refrigerators designed for smaller spaces, including a "column refrigerator" that doesn't include a freezer.
Features – seeing more high-end features are being included on the "most affordable models".
Price – liked recommendations to negotiate for price reduction, including asking local retailers to match online prices.
Repair history is tucked into their paid subscription content. Overall quality is graphed by manufacturer, plus owner feedback on the specific models tested by Consumer Reports. What surprised me was a conflicting story about Samsung. Consumer Reports gives them high rankings versus feedback gotten from numerous appliance stores, who've chosen not to carry Samsung because they lack an adequate network of repair parts and services.
NET: Refrigerator Styles, Sizes & Buying Guide
CNET starts out describing the various styles and provides the range of refrigerator sizes and cost per style, which clearly shows that larger capacity requires the newer, and more costly refrigerator models. They counter this by giving "… a general rule of thumb is that you'll want 4 to 6 cubic feet (cu. ft.) of refrigerator space per adult in your household, along with a little bit of extra contingency room."
They explore a number of new features to look for, leading into smart refrigerators with touch screens and built-in WIFI. What was truly intriguing was the concept of smarter energy efficiency, where new models can track their energy consumption and take advantage of lower energy rates.
House Logic: How to Buy a Refrigerator
Similar to CNET's article, this site reviews the different refrigerator sizes according to style, listing average width and relative energy efficiency compared to other styles. They explain how the US Department of Energy has raised the energy efficiency standards that appliances must meet, and recommend replacing the old refrigerator you've relegated to the garage.
They list a number of features and functions you should get, along with warnings about the added cost (purchase and electricity) for the door ice dispenser and fast-cooling compartment's.
What surprised me was the recommendation to not get an extended warranty. The reality is your refrigerator, unlike any other appliance in your home, works constantly. That coupled with all the new features, especially the in-door water and ice dispenser, means there are a lot more repairs than your traditional "freezer on top" models.
Lowes: Refrigerator Sizes & Buying Guide
Lowe's provided the best overview of current refrigerator trends, organized well in just two pages. They start with a more complete list of the many refrigerator styles including the new counter-depth option. This is followed by a list of organization focused features, and the most popular features.
Good Housekeeping: What to Look for When Buying a Refrigerator
This article did the best job of laying out the steps to take when shopping for a refrigerator:
Measure the space available for your refrigerator, including space for air to circulate.
Check the space available for refrigerator doors to swing open.
Pick your refrigerator style based on how you'll use it, with pros and cons for each style.
These steps were followed by information on keeping your refrigerator clean, avoiding repairs and reading the Energy Star label.
GE Appliances: Shopping Guide for Refrigerators
GE's guide is well organized, and supported with some excellent details for key steps in the buying process.
Measure for your new refrigerator, including a warning about checking door sizes so you can get your new refrigerator into the kitchen (tips for measuring old & new refrigerator sizes).
Water dispenser and ice maker, to remind you this requires a water line be installed if your existing refrigerator doesn't have one.
Type of refrigerator.
Energy efficiency.
Capacity.
Features.
PC Magazine: How to Buy a Refrigerator
They cover the basics about storage capacity and measuring the space available for your new refrigerator. From there they review styles, starting with the smallest (drawers and compact refrigerators that fit under the counter top), up to the French door models which offer the most capacity.
And then it's time to talk about energy efficiency, and they've got a fun calculator to help you estimate how much you can save in annual electricity costs, with a new Energy Star refrigerator. So for my side-by-side refrigerator with an estimated 20 cubic feet, it costs $121/yr to operate in Arizona versus a new refrigerator that could cost as little as $58/yr.
Refrigerators.Reviewed: Refrigerators Tested by Experts
This is my first visit to this site, and it's quite impressive. My first reaction is the site is much more friendly than Consumer Reports (learn how they test refrigerators), and their scoring system helps you see which refrigerators are best in class today. One of my favorite features is where they show you the five products most similar to the one you're researching, to make it easy for you to compare and narrow down your choice.
Housewares.About: Before You Buy a Refrigerator
About.com lays information out in an easy to use manner, with a series of questions you need to answer:
Are there installation limitations?
What type of refrigerator can be installed?
Which refrigerator style do you prefer?
What capacity does your family need, so you pick one of the best refrigerator sizes?
Features and other considerations
We hope you find this information helpful in picking among the many refrigerator styles, so you can enjoy your kitchen more. We'd love to hear (leave a comment below) what your top requirements were and what refrigerator you ultimately bought.
Here are a few more articles we've got to help you pick the right refrigerator for your house.
---