We spend a lot of time in our kitchens. That means we're constantly looking at our appliances, big and small. So when do we buy new appliances? And how many homeowners know where to get the best deal when buying appliances?
One of your appliances fails and repair costs are so high that it makes more sense to replace it.
You want new appliance features, like the ice dispenser in the refrigerator door.
You want to replace older appliances that aren't energy efficient, knowing you'll save on your electric bill every month.
You'd rather replace older appliances on your schedule versus dealing with an emergency like no refrigerator over Thanksgiving weekend.
Most important is predicting when you want to buy appliances and preparing ahead. You don't want to get stuck like I did, with a dead refrigerator on an island. We had to pay top dollar for a refrigerator we wouldn't even look at in the store, because it could be delivered today!
When Buying Appliances, These 4 Steps are Key
Most people don't go out and buy a car in a day. So why would you buy a refrigerator in one day? You'll spend more on the car if buying new. You'll own most of your appliances longer than one car. So doesn't it make sense to take time to get the best product for your home, lifestyle and budget?
The steps below will help you prepare as appliances don't last forever. A friend knew she'd need to replace her HVAC system within one to two years. She identified the system she wanted and found two companies that sold this system AND offered financing. When the time came, all she needed to do was make two phone calls. So here's what you want to do:
Identify when you'll need to replace each appliance. Read: Budgeting to Replace/Upgrade Interior Home Components.
Research so you only buy what's important versus marketing sizzle.
Research the operating costs and repair history of appliances so you know their true cost over the years you'll own it.
Give yourself time to compare prices! As quite often a sale isn't really a sale
When Buying Appliances Makes the Most Sense
Knowing when to buy appliances seems like half the battle when it comes to getting the best price. Some months are better than others and knowing when the sales are makes a difference. So here's what the landscape looks like after merging the best ideas from several websites include ConsumerReports.com (it's like a puzzle).
When new models of large appliances role out, retailers discount old models to make room for new inventory. For most major appliances this happens in September/October aND for refrigerators, new models come out in May.
January is when many retailers discount to clean out inventory that's hard to keep track of. You might get a better deal but flexibility is key as the selection will be more limited.
Holiday weekends are when all the retailers have sales, sales, sales! It's like Black Friday all year long –  President's Day, St. Patrick's Day, Memorial Day, Labor Day, Columbus Day and even some minor holidays.
Negotiating your best deals will be more successful on weekdays (no crowds) and at the end of the month because most people have sales quotas to meet. If you're going to try this, you'll want to review MoneyCrasher.com's article, 11 Effective Negotiation Tactics to Score a Great Deal.
Buying on line follows the same schedule as brick and mortar retailers. You'll find more good deals year-round, with less work than phone calls and driving to local stores. Just be careful to factor in delivery and installation costs which many retailers include in their price.
Regardless of where you ultimately buy your appliances, you'll find great tools to analyze prices online. My favorite tool is PriceSpider.com, which I found when buying a refrigerator, described in 5 Tips for Buying a Refrigerator. Here's an example of the information you'll get from them, along with the names of companies selling the appliance you're looking for.
The Best Places to Buy Appliances
Let me be up front here. I have a strong bias to working with local/regional stores that deliver much better service to homeowners and contractors. This is based on my experience running a handyman business in southern New Hampshire for eight years.
Let's focus in on appliances with two real homeowner experiences. First was when I bought a refrigerator in June of 2015. And a week ago, when I went shopping with my friend Maria who was buying appliances for her new house in Mesa, Arizona.
Tina's experience buying a refrigerator.
Tina (that's me) did her homework on the type of refrigerator needed (Read: Researching Refrigerator Sizes, Styles & More). My priorities are ice, energy efficiency and repair history as I don't have the time or patience to deal with problems. We happened to be at BestBuy for something else, and found a Samsung refrigerator we liked. Imagine my surprise then when I visited Spencers, a local appliance retailer. They didn't sell Samsung at the time!
Two quick phone calls to the New Hampshire appliance companies I recommended in New Hampshire validated Spencer's position. One of the companies didn't sell Samsung and the other had just restarted. The problem unknown to the public (you and I) was that Samsung was slow to set up their parts supply network and trained service technicians.
So I didn't buy Samsung but did buy Korean, a Lucky Goldstar refrigerator (above).
Maria's story buying appliances for her new house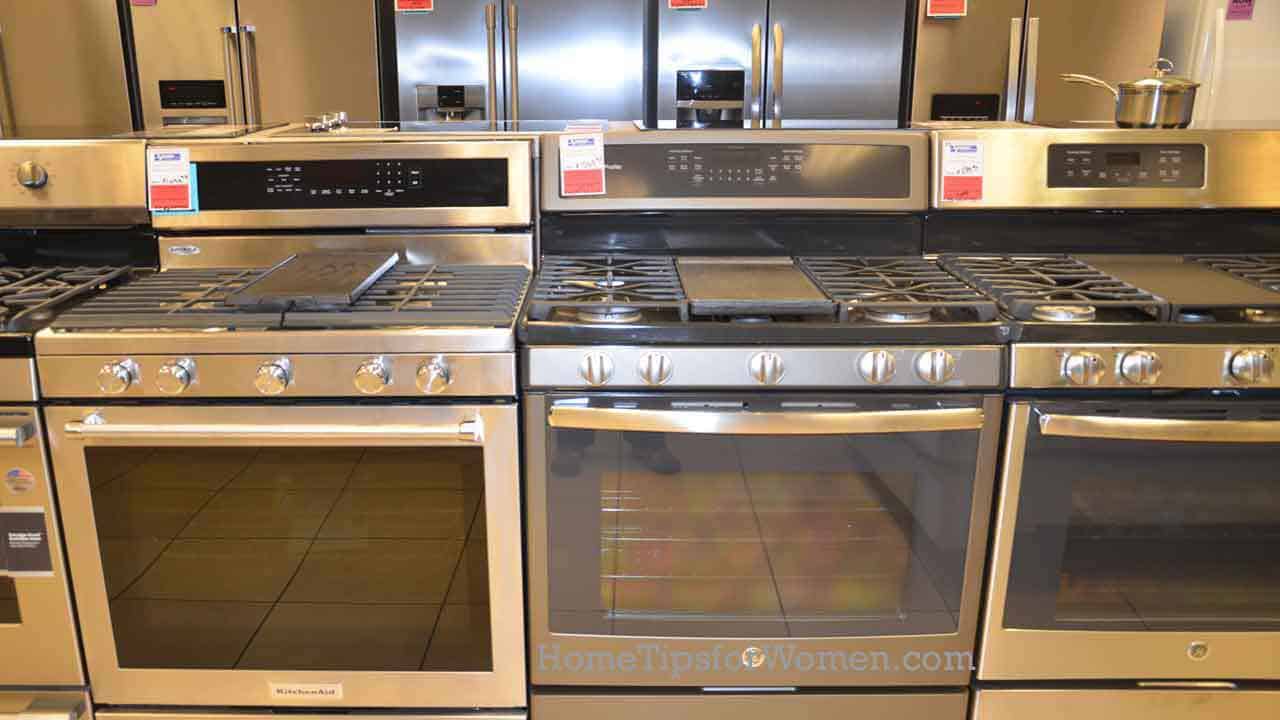 Maria has a lot of changes to make to her new spacious but dated house. She's ordered lovely white cabinets, so she had a strict budget for new appliances. She made some tough decisions about the appliance features she wanted, in order to save money. For example, she decided to forego the water and ice dispenser in the refrigerator door because her ovens are what's most important to an "Italian cook".
She thought she'd gotten the best deal from Home Depot (click for invoice), with their President's Day 20% sale on appliances. She didn't have a lot of time to shop because the movers were coming Tuesday and the closing on the condo being sold was Wednesday. I convinced her we needed to visit Spencers (click for invoice) and went with her.
Maria is thrilled, saving more than $1,500 plus an upgraded dishwasher. This took two hours and what else did we learn? Spencers told us the top 3 appliance repairs. They also recommended skipping the 5 year maintenance plan for the range hood, a savings of $60 for a $179 product.
Do you have a story about buying appliances?
---