Estimating home repair costs is challenging when you can't see the extent of the problem. At my handyman business, repair rotted window sill is a top handyman project. What might look simple when you start, can get complicated when you remove the rotted wood and find any hidden damage. The sad part is most wood rot could be prevented if home owners understood that routine (yearly) maintenance is critical to protecting their home.
When it rains, people cover up to stay dry. We know a brown bag disintegrates when it gets wet. When your home gets wet because of cracked paint or gaps which allow water to get into the wood, similar damage begins and can go unseen for years when hidden beneath the surface. By doing an annual inspection up close, you'll find these problems early and avoid the need to repair rotted window sill.
This article illustrate the various degrees of wood rot damage found by handyman technicians working for my handyman business. Starting with "routine maintenance" to prevent these problems, more complicated repairs increase in cost to where the window has to be replaced along with the framework holding the window in place.
Repair Window Sills Where Paint Cracked or Peeling
Home owners know they have to paint their homes periodically. What many don't realize is certain parts of a home's exterior need more frequent maintenance. Any wood trim that sticks out further than siding, has flat surfaces like window sills or is close to the ground where splash back occurs, are more vulnerable to wood rot. These areas should be inspected every year and repaired (scraped and painted) as soon as damage or potential exposure to water like cracked paint, is observed.
Pockets of Punky (Soft) Wood Mean It's Time for Repairs
When water makes contact with wood, it creates an environment where fungi and mold are able to grow because the wood provides a source of food. As long as the moisture remains, the breakdown of wood continues and it is mostly invisible, hiding behind paint or going deep into the wood.
Let's look at how repairs and related costs to repair a rotted window sill change as wood rot is left to continue over time:
Small cracks or chipping paint on the window sill can be handled easily by scraping all loose paint and applying a high quality exterior paint … in under 30 minutes assuming you have the tools and materials (you want to include getting materials out and cleaning up).
One or two small (golf ball size or smaller) pockets of rot can be cleaned out to remove all damp wood, and filled with a product like Bondo (normally used for repairing cars, forms a nice hard surface) which is easy to sand and paint … in

under 60 minutes

if you have the materials.
When wood rot damage is more extensive (photo above right), you need to remove and replace one or more pieces of exterior boards. While technically, you should remove the window to replace the sill (3 to 4 hrs), most handymen will replace the sill in place … typically 1.5 to 2 hours, plus shopping.
Repair Rotted Window Sills When Rot Moving Up Vertical Trim Boards
While most wood rot starts at the window sill, the length of time the damage is ignored will affect the amount of damage that needs to be repaired. Where the damage in the photo above is large, it fortunately has not extended to either side of the vertical trim board. It also doesn't appear to have affected the window sill. The repairs are likely to include replacing the vertical board, and hopefully just cleaning out any punky wood on the sill underneath in 30 to 60 minutes plus shopping.
This type of repair is common when replacing the window sill, so together the repairs would take 2 to 3 hours plus shopping time as there are no standards for thickness of the window trim. When we replace window sills and other wood trim that is most prone to wood rot, we recommend using a composites like Azek which has no wood content. The material costs more but eliminates the worry associated with not doing the required annual maintenance to avoid a repeat of the problem in 5 to 10 years.
Rot on Window Jambs Surrounding Window
The photo above shows more extensive wood rot, and in fact required a new window as the damage extended into the jambs, the wood support pieces holding the window. While technically you can rebuild the window, the labor costs exceed the cost of a replacement window. Only with very old homes where the owner wants to preserve the authenticity of the architecture, do we rebuild windows.
When you look at a window you see the front of the window, the glass and the trim surrounding the window. These trim pieces are decorative, but more important they cover the gaps between the window and the siding to form a continuous weather barrier meant to keep water out. When moisture extends past the trim (window sill and/or vertical trim) boards, the wood rot starts to compromise the wood structure that holds the window.
Repair Rotted Rough Framing Around Windows
They say a picture is worth a thousand words and that is certainly true for this story. A customer with Masonite siding ignored black spots all over her siding which told us the problem had been there for 20/more years. The photos tell the story of this window repair where the entire rough opening inside which the replacement window would sit, had to be rebuilt. Each of these repairs is unique so providing typical estimate repair times is not practical … you simply don't ever want to get into this situation!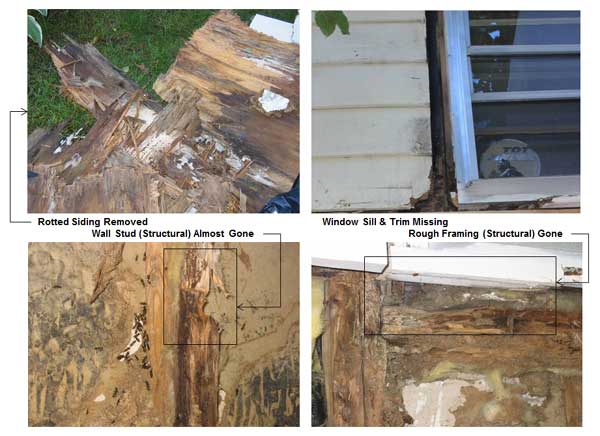 The sad part of this story. Even with these photos, the customer continued to deny they had extensive wood rot and structural problems. We boarded up the window and siding below the window so we could review the damage the next morning, and together with the customer, determine the best strategy addressing technical requirements and budget. She declared there were no carpenter ants and it was a simple siding repair job that could be done by a local handyman.
Want more tips on finding and repairing other wood rot problems?
---