Windows are a very important feature of your home. The problem is we don't really look at the windows but rather we look through our windows to enjoy the view and windows bring natural sunlight into our homes. Because we seldom look at the actual window, it's quite common for wood rot to continue for years until it gets noticed, and then it's not surprising that a new window is needed.
Painting windows takes more time given the multiple pieces of wood, so people may defer this work without realizing that painting any exterior wood is how you protect the wood from damage. While most of the window structure can be painted on the same schedule as your house (frequency depends on paint quality, application and your local weather conditions), window sills need more frequent maintenance. That's because soot in the air sticks to the sill, trapping water/moisture and so the wood rot starts.
Proper Maintenance for Your Windows
Unfortunately many homeowners neglect inspecting exterior wood trim at least once a year. What might be  an easy repair becomes very costly when significant wood rot occurs and requires not only the trim but also the windows to be replaced (illustrated below). The water penetrates through the protective paint and the wood rot begins. Once wood rot starts, it moves in all directions and most of the time, you won't see the problem even with a visual inspection.
The best way to protect against wood rot around windows is to perform an annual "spongy" test by gently prodding the wood sills. If they aren't firm, you have a problem that should be addressed right away. As it takes a lot of effort to climb a ladder to inspect windows above the first floor, you can save time by making this part of your annual window cleaning project.
Here are examples of the type of damage resulting from repairs being delayed for multiple years. When they were finally made, both the trim and the windows had to be replaced. By scheduling routine maintenance and taking care of repairs as soon as you see a problem, you will reduce your home maintenance costs significantly. This will enable you to invest in home improvements to enhance your lifestyle and increase the value of your home.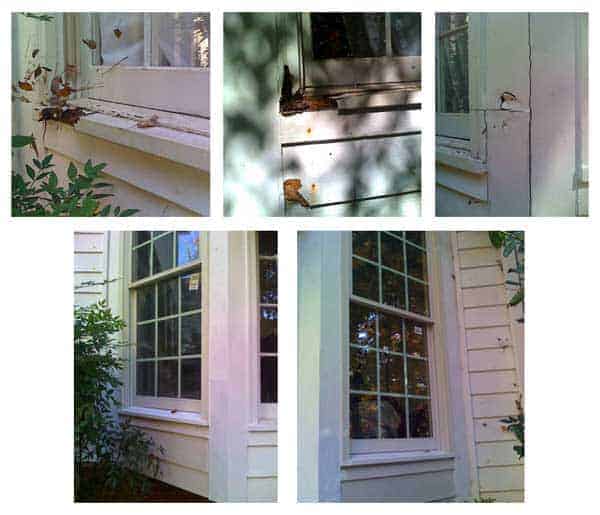 Read the rest of our series on water damage and wood rot repairs …
---