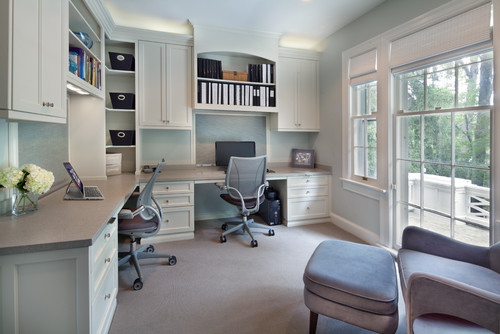 Your home management style helps determine whether your home runs efficiently, or if you're just getting by. You don't have to keep a perfectly organized home office to manage it well; you just need a system for keeping track of what you've got, and what needs to be done. (Read: Home Office Remodel, or Home Office Furniture?)
If you find yourself searching for paperwork and forgetting when bills and other obligations are due, then you might need to step up your game a bit. And even if your system seems to work just fine, there are probably a few tweaks you could employ to make it even better. 
Here are two styles of home management that work well, even though they seem radically different on the surface. 
Managing Your Home the Super Organized Way
The super organized home manager knows where to find the manual for a vacuum cleaner purchased three years ago, and she knows at a glance when every bill is due. Need a tape measure to determine the length for new curtains? There's no searching necessary, because it's right where it should be. 
The super organized home manager has a place for everything, and everything is in its place. She might have a dedicated home office, or at least a desk with a filing system where important paperwork is stored. 
The benefits of being a super organized home manager include less stress and less work. What appears to be a job in itself is actually a time saver in the long run. When you put important paperwork where it belongs and have a pre-set spot where everything goes, you'll spend less time scrambling to find the things you need or remember when things are due. 
A super organized home manager keeps a schedule much the way a secretary does in a busy office would. Yearly home maintenance, due dates for insurance premiums, and reminders for projects and appointments find a spot on the calendar. (Read: Home Maintenance Checklist Saves Money)
This style of home management works well for people who like being organized and prefer having things orderly at all times. People with a more casual nature might find this system too rigid, and fall off the wagon, so to speak, in a short amount of time.
The Casually Efficient Home Management Method
Organization doesn't require converting a bedroom into a home office. For the more casually efficient person, any area will do as long as you can keep track of your home management responsibilities. (Read: Making a Home Office Work for You)
A simple notebook or cork board with notes can keep you on schedule for bill due dates, appointments, and home maintenance. A calendar on the wall might seem old fashioned. But placed in an area where you'll see and use it often, can be just as efficient as the most elaborate computer program. 
The casually efficient person still keeps track of important paperwork. Maybe insurance policies are stored in a binder, and product manuals, birth and marriage certificates, and mortgage paperwork are in a plastic tub. in a closet. As long as you know where to find what you need, you don't need a special shelf or drawer in a pristine home office to stay on top of managing your home. 
Don't forget about the all important "junk" drawers. If you keep them cleaned out regularly, you'll still know where to find the tape measure, envelopes, stamps and other items needed to run your home. 
Home management styles are as varied as the people who use them. The important thing isn't choosing one that appears to be the most efficient on the surface. What's important is finding a method that suits your personality and lifestyle. 
Why not spend some time this year getting your ducks in a row and creating a home management strategy that you'll still enjoy using years from now? It doesn't have to be like anyone else's; it only has to work for you.