What's in your home office, or do you even have a home office? The concept of a home office isn't new – it's actually quite old. When the US economy was based on agriculture, homes were also where business with a room fore the business owner to hold meetings and deal with paperwork.
At Boston's North Shore Design Show last year, one room was decorated like one of these old fashion home offices. The simplicity of this home office is amazing and yet, highly functional – desk for paperwork, some bookshelves and drawers, a bench for visitors and my favorite, a wall rack for coats, umbrellas and even a saddle.
Home Offices Don't Need Lots of Space
When I started my first business, we created a home office in what might have been a baby's room, about 5 x 7 feet or 35 square feet. It wasn't big enough for a full size bed but it held 2 desks comfortably plus some file cabinets for storage, and there was a closet with shelves. 
This tiny bedroom was fine for my first year of business. Then I moved to a "real office" with a large space that even with 5 large desks, bookshelves, lots of files cabinets and a conference (our old kitchen table) table, was spacious. With 700 square feet, it was TOO big! But I didn't realize the downside of too big until I moved my office back home, to a family room with only 220 square feet, which was a perfect size.
When you have TOO MUCH SPACE in a home office (or any room or house), you fill it up with stuff you don't need. This also makes it harder to find the stuff you do need!
Every Home Office Needs …
This article was prompted by the latest Remodeling Cost vs Value Report (www.costvsvalue.com) which continues to tell us that remodeling a home office has the lowest payback (42.3%) when you sell your home. As I'd recently taken photos of a great home office remodel by one of my local remodelers, Greene Construction in Newburyport MA (watch the video), I decided to dig deeper and try to understand why the payback is so low. 
Some of the most important home office features aren't always easy to come by. Natural lighting is important so when you're carving space out of a room like a dining room, try to include at least one window. Green plants and some personal photos or artwork help you enjoy the time you spend in this space, so it's not just the home office furniture but the ambiance you create (Making a Home Office Work for You).
So here's a comparison of what went into Remodeling's home office (12 x 12 feet) versus Greene Construction's home office which was slightly smaller at 9 x 12 feet.
| | | |
| --- | --- | --- |
| Home Office Features | Remodeling.com's Home Office Design | Home Office by Local Remodeler |
| Space | 12 x 12 ft or 144 square feet | 9 x 12 ft or 108 square feet |
| Display space |   | 18 linear feet (glass shelves)  |
| Bookshelves | 24 linear ft of closed shelving; 16 ft open shelving  | 9 linear feet  |
| Desk top | 20 linear ft of laminate desk top  | 26 linear ft of laminate desk top  |
| File storage | Estimate 6 to 8 file drawers  | 3 file drawers  |
| Other cabinet storage | Divided cubes over each desk  | Corner storage, base with lazy Susan  |
| Other improvements | Room rewired for computer, fax machine, other electronic equipment, cable and phone lines; commercial grade carpeting | Wiring run through channels below laminate desk top; did not change homeowner's carpeting |
| Cost | $27,292 national average (higher in New England) | $11,345 in Newburyport, MA |
| Value 2013 | $11,911 (lower in New England) |   |
| ROI | 43.6% (lower in New England) | 80% estimated |
Great Home Offices Don't Have to Cost a Fortune
What's fascinating about these 2 home office remodeling projects is they both convert a potential bedroom into a home office that may, or may not appeal, to prospective buyers. Remodeling.com appears to have used commercial grade office furniture for their home office while Greene Construction used semi-custom kitchen cabinets, and I absolutely love the lazy Susan in the base corner cabinet. 
For Americans who are relatively mobile, custom built-ins for a home office might not make a lot of sense because they might not be easy to move, or they might not fit the perfect room or space in your next home. My first investment in home office furniture was back in 1996 when I purchased 3 bookcases and a coordinating desk top (rests on top of a shelf in the bookcase) from Techline.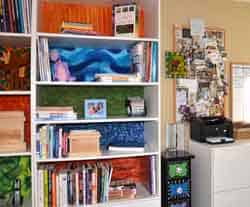 Yes, these bookcases were first used in my quilt room and now they're in my home office. This furniture is so versatile that we've purchased more bookcases, and matching white file cabinets that serve as the base for my desk, with a sheet of white melamine for the desk top. With my love of color, and of course my quilting fabrics, the backs of my bookcases are bright and cheery, which makes it easy to spend long hours in my home office!
There's a right solution for each of you, so when you want to create the perfect home office, be sure to think about what you need now … and 5 years, 10 years or even 20 years from now. Just like a wardrobe made up of clothing you can mix and match, you might want flexibility in the home office furniture you buy as my original bookcases have worked equally well in 3 different houses (California and New Hampshire) and 3 different rooms in my current condo as my husband and I keep swapping rooms.
What's important is picking home office furnishings that fit your lifestyle today and forever, so if you move, pick modular pieces you can rearrange in another room, or another house!
What's your favorite home office feature?
Are you collecting home office ideas on Pinterest (here's my board)?