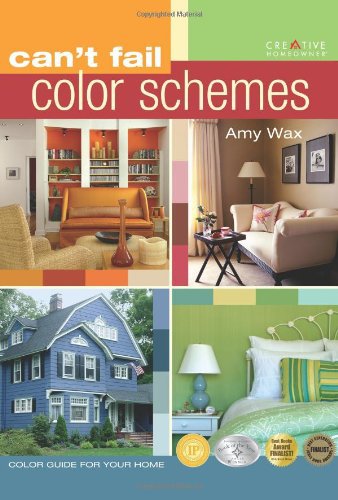 We're all good at some things, and should admit we're not good at everything. Picking paint colors is not something I do well. So this article explains the basics about picking exterior paint colors, but you won't get color recommendations. Just the opposite, as I hope to show you why a color consultation with an interior designer/decorator might be one of the smartest investments you ever make as a homeowner.
That's right, very few of us can pick just the right colors without some help. If you're determined to pick your own exterior paint colors, then there are some great tools you can use from Amy Wax, an artist and color consultant. She's written a book, Can't Fail Color Schemes, published by one of my favorite publishers for home related books.
Amy has also created The Color911 app, which Architectural Digest called a "can't live without decorating app", along with rave reviews from many other home experts. In fact many interior designers use this app which makes it easy to coordinate colors throughout your home … or wardrobe.
Building Materials Can Influence Exterior Paint Colors
Picking exterior paint colors isn't as easy as you think. A common mistake homeowners make is picking colors and other accessories in a vacuum. For example, you pick a beautiful front door with beautiful carved glass, hardware and then the light fixtures fight the door for attention. I've also seen siding and roofing colors and textures that clash, and these aren't easy problems to fix. And of course most homes sit near other houses so you'll want to consider how your house colors will fit with your neighbors.
So here are the features you need to consider when picking your exterior paint colors. You'll have more flexibility if you're building a house. If you want to change the color scheme for an existing house, you'll want to plan the timeline for when you'll replace your roof, siding, etc. More important, many materials have a limited number of color choices which you need to consider in planning your home's curb appeal.
Roofing color and texture as some shingles are a solid color, while others have quite a bit of color variation.
Siding color and texture, which can appear rather flat or provide visual interest with the materials used from wood (wood like), brick, stucco to decorative stone facades.
Windows can dress up your home, with trim around the windows and even shutters. The good news is you can paint vinyl windows. You'll want to think long and hard about this decision, as painting windows isn't a one-time decision, as they'll require maintenance to keep them looking great.
Exterior doors from the front door to the garage door, offer an opportunity to make a statement in a different color
Many homes have decorative trim, which can be painted to give your house more sizzle. The most common exterior trim features are the fascia boards just below the roof line and simple corner boards. There are lots more trim options like the ones shown here from Azek.com.
One last word of caution when picking exterior paint colors. Lighter colors reflect more sunlight than dark colors, which absorb heat and fade which makes touch ups more challenging. Just like indoors, you'll need to pick a paint sheen from flat to glossy. Most homeowners use flat paint for walls and semi-gloss/glossy paint for columns, railings and other exterior trim.
How Many Exterior Paint Colors Does a House Have?
You might think you're done after you've picked one color, but hold on … that's the easy part. Your house will appear flat and lackluster if it's only one color, so you'll need to pick 3 or 4 colors to give it the curb appeal you want. To illustrate how big an impact exterior paint colors can have on your home's look, here's just one example from Benjamin Moore's website.
It's the same house but each one has a different palette of exterior paint colors. The top photo shows a darker green house with light colored trim, and a contrasting door. The second photo uses a lighter color for the siding, and the trim is darker. The door stands out nicely and coordinates with the flowers.
So good luck picking your paint colors and don't be afraid to ask for help, as it's the end result that matters. You're going to invest a lot of money and/or time painting your home, so you want to enjoy it for many years.