We're all good at some things and should admit we can't be good at everything. Maybe you studied art or interior design in school and love picking paint colors. But I suspect most of you reading this article are like me … and picking paint colors for my houses isn't something I do well. This article explains the basics about picking exterior paint colors, but you won't get color recommendations. Rather I hope to show you why a color consultation with an interior designer/decorator is a smart investment.
Working with a color consultant can save you time, money and stress from colors that don't wow.
Paint colors should be coordinated with other home features to create the overall look and feel you want.
Buy the best painting tools you can afford and they'll last for years when you take good care of them.
Working with a Color Consultant
That's right, very few of us can pick just the right colors without some help. If you're determined to pick your own exterior house paint colors, there are some great tools you can use from Amy Wax, an artist and color consultant. She's written a book, Can't Fail Color Schemes, published by Creative Homeowner, one of my favorite publishers for books focusing on homeowner topics.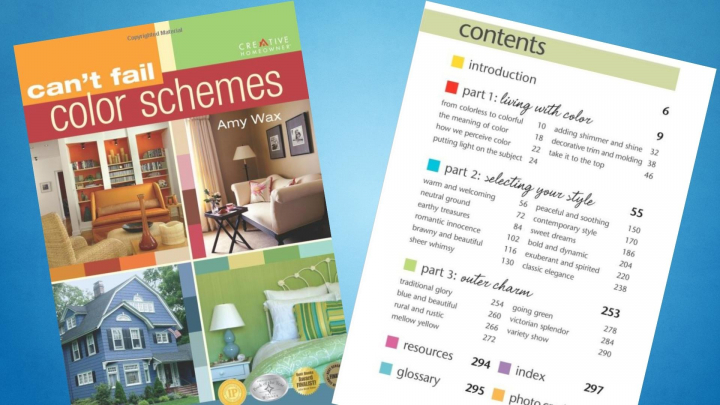 Amy has also a Color911 app (check out some of the newest features below) which Architectural Digest called a "can't live without decorating app", along with rave reviews from many other home design experts. In fact many interior designers use this app which makes it easy to coordinate colors throughout your home, helping you pick interior and exterior paint colors.
Why do I think color consultations are so important? When moving from my Victorian house with a red kitchen to a condo at the beach, my husband said we had to paint over the beautiful, deep cherry walls. We fumbled badly until I finally turned picking colors over to my interior decorator in New Hampshire, Jen Myers.
We tried three different blue colors before we settled on this rich sea blue for the living room and upstairs loft. Worse was the bold orange I picked for the stairway … which was so bad, I called Jen for help a few days later. Once she picked the sand color, I paid someone to paint over it quickly because I couldn't take any more "what were you thinking" comments. So I always consult with Jen on colors, even though I've moved to Arizona, and now Florida. We've learned to do color consultations with a tablet!
Building Materials Can Influence Exterior Paint Colors
Picking exterior house paint colors isn't as easy as you think. Your choices are endless if you have wood siding but some siding materials don't provide you with endless set of color choices. The good news is you can paint most siding materials as long as you follow manufacturer guidelines. But wait, one reason to use a vinyl of fiber cement product is to lower your home maintenance costs so take time to pick a color you can live with for a long time.
One of the most common mistakes made by homeowners is picking colors and other accessories in a vacuum. For example, you pick a beautiful front door with beautiful textured glass and hardware. Then you find the perfect light fixtures but wait, will they coordinate with the door hardware?
I've also seen siding and roofing colors and textures that clash, and these aren't easy problems to fix. And of course most homes sit near other houses so you'll want to consider how your house colors will fit with your neighbors.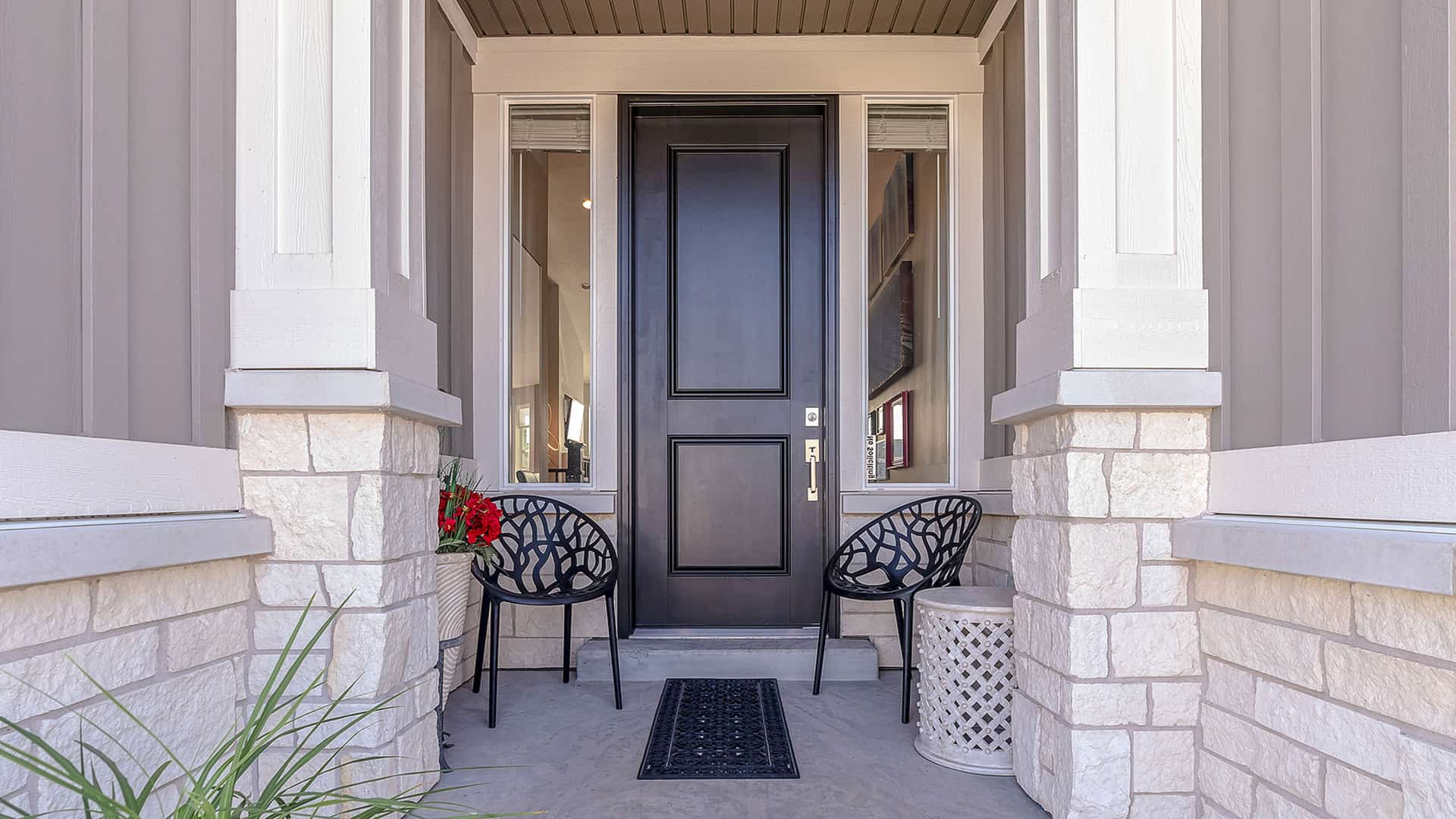 Coordinating Exterior Paint Colors with Siding, Hardware & More
Here are the features you should consider when picking your exterior paint colors. You'll have more flexibility if you're building a house. If you're changing the color scheme for an existing house, plan the timeline for when you'll need to replace your roof, siding, windows and/or exterior doors.
Pinterest is a great resource for finding exterior house paint colors, materials and decor to give your home curb appeal that reflects your home and lifestyle. Many materials have a limited number of color choices so factor those into your planning … and while it doesn't happen often, colors can be discontinued after a few years.
Roofing color and texture as some shingles are a solid color, while others have lots of color variation.
Siding color and texture, which can appear rather flat or provide visual interest with the materials used from wood (wood like), brick, stucco to decorative stone facades.
Windows can dress up your home, with trim around the windows and even shutters. The good news is you can paint vinyl windows. You'll want to think long and hard about this decision, as painting windows isn't a one-time decision because they'll require maintenance to keep looking great.
Exterior doors from the front door to the garage door, offer an opportunity to make a statement in a different color
Many homes have decorative trim, which can be painted to give your house more sizzle. The most common exterior trim features are the fascia boards just below the roof line and simple corner boards. There are lots more trim options like the ones shown here from Azek.com.
One last word of caution when picking exterior paint colors. Lighter colors reflect more sunlight than dark colors, which absorb heat and fade making touch ups more challenging. Just like indoors, you'll need to pick a paint sheen from flat to glossy. Most homeowners use flat paint for walls and semi-gloss/glossy paint for columns, railings and other exterior trim.
How Many Exterior Paint Colors Does a House Have?
You might think you're done after you've picked one color, but hold on … that's the easy part. Your house will appear flat and lackluster if it's only one color, so you'll need to pick 3 or 4 colors to give it the curb appeal you want. To illustrate how big an impact exterior paint colors can have on your home's look, here's just one example from Benjamin Moore's website.
It's the same house but each one has a different palette of exterior paint colors. The top photo shows a darker green house with light colored trim, and a contrasting door. The second photo uses a lighter color for the siding, and the trim is darker. The door stands out nicely and coordinates with the flowers.
Tips & Tools for Painting Your Home's Exterior
Painting your home's exterior is a big (really BIG) job, especially if your house is two or three stories tall. Think about what it takes to climb up and down a ladder all day, and work safely from a ladder. When I owned my handyman business we used scaffolding to repair/replace siding, paint house exteriors and more. But my technicians worked from ladders/scaffolding every week and that's rarely true for homeowners.
If you're determined to do your own painting, you can rent scaffolding. The other big decision is whether you'll use a paint sprayer and that's a big decision so if you're considering this, you'll want to read TheSpruce.com's article, Should You Paint a House With a Sprayer or Brush? I love my paint sprayer for crafts where all I need to do is place what I'm painting inside a painting tent … and spray!
When I owned my handyman business, we rented equipment that we didn't use often. Of course we also learned that these tools aren't well maintained so I can't recommend renting a professional paint sprayer. You should buy the best sprayer you can afford (check out those sold on
HomeDepot.com
). If you've got spindles to paint, you'll probably want to use a
painter's mitt
to save time covering up nearby shrubs.
For my one-story stucco house, I'll either hire a painting company or … stick with the more traditional brushes for trim and cutting in around the windows. A roller works best for the walls and minimizes the time spent on a ladder (here's my shorty ladder that I love).
---
Good luck picking your paint colors and don't be afraid to ask for help, as it's the end result that matters. You're going to invest a lot of money and/or time painting your home, so you want to enjoy it for many years.