You've  been thinking about a new entry door since you bought your home and yikes, that was a few years ago. Maybe you found a door you like, but have no idea where to find one like it? You love your old house and the front door tells a story. You'd love one of the front door styles with more glass for the added sunlight it brings into the house. You're not alone so in this article, we offer tips on how to pick the perfect door for you and your home.
In many ways your front door represents your home's personality and the family that lives there. It's important that your front door compliment and enhance the overall look of your home, and it should fit into the neighborhood too. Here's a fun exercise to discover what front door styles will work best for you.
Drive down your street and identify the houses you most admire.
Drive down the street again and write down their personality you feel each house reflects.
Do this again and focus on the front door and see if the front door styles match the personality of the house.
Now you're ready to pick a new door for your home as you should easily know if it the style of the new door should be casual, traditional, formal or unique.
Front Doors: What are Your Functional Requirements?
Doors are also functional. You've narrowed down the front door styles you like. Now it's time to identify the additional requirements your door needs to satisfy inside the home. You might want a new front door that's energy efficient. Many hallways tend to be dark so when you're replacing an exterior door, it's a good time to review your options for bringing more sunlight indoors.
Here's a list of functional front door requirements for you to pick from, as they aren't all obvious when looking at front door styles:
Picking Front Door Styles
You might think it's easy to pick your front door style but it's not. There's the door panel and many more components you can change and/or add to the panel. When you want more sunlight, you can add glass panel(s) in the main door on one or both sides of the door. If your house can't support that big a change, you might be able to add a transom window over the door.
Take a photo of your house and print it. Audition different door styles by cutting them out and placing them on the photo of your house.
While looking at door possibilities, you will be tempted to pick one that stands out from all those around it. That's good marketing but you might buy (pay) more than you need or want. Use the exercise above to pick your new door.
Look at these Thermatru doors (my handyman business installed hundreds of these doors). You should already see how they each satisfy different requirements. When the door is the focal point, it makes sense to pick a door style with more detail, using the texture of wood or integrated glass to create a door that captures the eye. If your door plays a supporting role then you can use a simple door style and put more of your budget into the surrounding trim (see the columns in front of the door at top) and/or landscaping.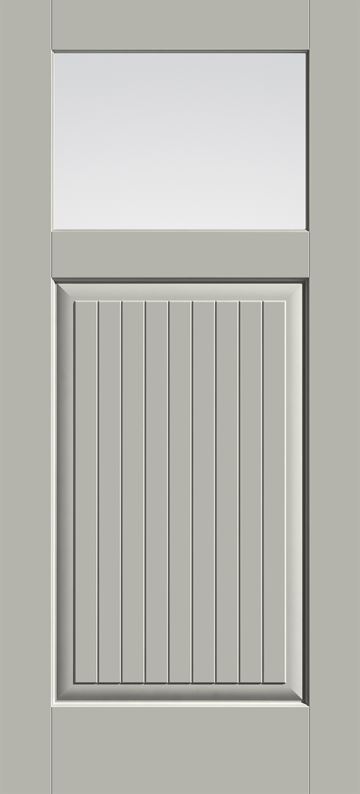 Once you understand the basics, you can build different front door styles to fit your house and the look you want to create. Sidelites and transoms are wonderful because of the added sunlight you get indoors, which is where you spend most of your time.
Decisions You'll Make When Buying a Door
After you've picked your door style, there are more decisions to be made:
Installing an Exterior Door Isn't Easy
Proper installation is critical to avoid problems with water damage. The job requires professional carpentry skills so the door functions properly and remains weather tight. Here are reasons why you might not want to install your own door
We've got lots more tips about the many doors in your home. If you're researching front door styles and related topics, these are the best articles to check out:
---