Caulking is a skill every homeowner should develop. Knowing how to caulk isn't an obvious skill the way most homeowners recognize they should learn how to paint a room. Caulking is more important than painting. The investment is manageable with caulking tools that are fairly inexpensive and you can practice on small projects until you master the are of caulking.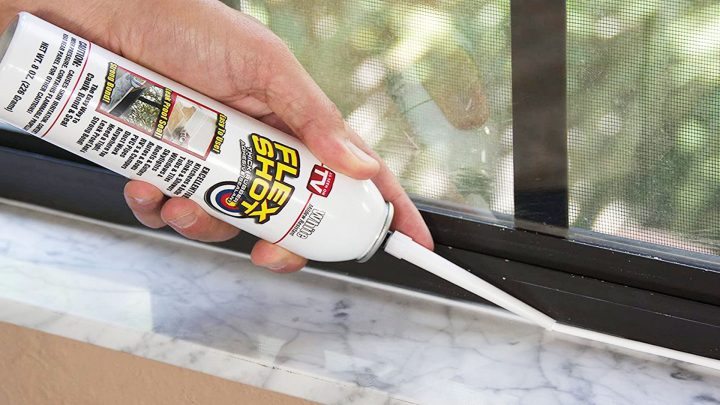 Maybe you've noticed cracks where your windows don't quite meet the walls or in my house, there are gaps where the baseboard trim doesn't meet the floor. Caulking is the magic material that closes the gaps in your home against water, air and if that's not important enough, insects!
Hmm, maybe I should get out my caulking tools and fill those gaps? Well I have to admit, it's just not at the top of my priority list. It might be next on your home maintenance list so let's get to work giving you the information you need to master caulking as a homeowner, from your first project and the caulking tools you'll need.
Reasons to Learn How to Caulk
Why learn to caulk? Like learning to read and write, homeowner skills that help you maintain your home and make repairs will save you money and protect the investment you've made in your home. Of course this requires an investment of time (practice) and money (tools) so you should pick which tasks you want to do yourself … and those you'll pay a handyman to do.
Caulking is a homeowner skill worth learning because there are so many different places in your home to caulk. Before you paint a room, it's important to check the caulking around doors and windows and replace what's cracked or leaving gaps. It's even more important to insure the caulking around windows and doors on the outside of your home aren't compromised, to keep water and air out.
Your kitchen and bathrooms also need caulking to prevent water leaks. Caulking tools aren't expensive and when you're comfortable using them, you can make these repairs quickly and avoid bigger problems. Families with young children splashing water out of bathtubs should be especially vigilant as often, as many small caulking jobs for my handyman business turned into major repairs when we had to remove flooring and replace the underlying sub-floor and sometimes, a few floor joists.
Picking Your First Caulking Project
Caulking takes a little more skill than drawing a hopscotch board with chalk. That's because we want it to look nice and more important, last for a long time. Sidewalk chalk drawings are fun but we expect them to get washed away when it rains.
Give some thought to your first caulking project and invest in a good set of caulking tools because they're not expensive and you'll use them more than you can imagine.
Use the easiest caulk to work with, an acrylic latex caulk.
Pick a project that doesn't need you to run a long bead of caulk, i.e. a bathtub is more challenging given the length of the back wall.
Ideally a project that's not at eye level means the caulk doesn't have to be perfect. Caulking the base of a toilet is a good example and it provides stability. You'll want to leave the back of the toilet uncaulked so you can spot a leak quickly.
If you're a perfectionist, it will also help if you practice applying a bead of caulk to carboard which you can throw out. Want more help? We've got an article, Learning How to Caulk, that will walk you through the process, step-by-step.
Buying the Best Caulk
Buying caulk for a small project might seem trivial until you get to the aisle and see how many different types there are to pick from. That's why it's important to know which project you're going to use the caulking for:
Location – is very important, and specifically if your repairs are to your home's exterior or indoors.
Gap size – will affect the solution you pick. When the gap you're filling is more than 1/4 inch, you should first place a foam backer rod (shown below) in the opening. For help with the right size backer rod, RoofOnline has a table that lays out backer rod sizes. Open cell rods are less dense making them easier to work with while closed cell is better for use outdoors.
Temperature – is important because some types of caulking are meant to withstand extreme temperatures, and if you don't get the right caulk, you'll have to replace it sooner.
Moisture levels – are always a consideration outdoors, and in certain areas of your home like the kitchen and bathrooms. Using a product designed for high moisture areas will improve adhesion and durability.
Application – is about understanding the job you're trying to accomplish, so you pick the right caulk for the job. Ideally you want to use the easiest caulking to apply and whether you plan to paint over the caulk.
Now that you've identified what's important for your caulking project, click over to our article, Caulking Confusion: Too Many Types of Caulk. It provides an overview of the most common caulks on the market plus tips on picking the best one.
Caulking Tools: Start with A Caulking Gun
Like paint brushes and rollers that you use when painting, you use a caulking gun to apply caulking that comes in tubes with a plastic tip. A good manual caulking gun that's easy to use (sorry but I still feel like they're made for men) will make the job go more smoothly and save you time.
For fun, I've left the original description below that I wrote about caulking guns several years ago. I must admit I've never made friends with my caulking gun so I love all the new caulking tool alternatives shown in the collage above. Looking forward to trying out the new plastic caulking can.
Traditional caulking guns work well when you've got a lot of caulking to do … but you'll need some practice before you get comfortable using them. Spend more for one that operates smoothly to make the job as easy as possible.
Squeezable caulking tubes are perfect for repairs and small projects like re-caulking a sink. Don't forget to buy the right caulking or you might have to redo things too soon.
Rigid plastic caulking cans are something I discovered when updating this article and looking forward to using this instead of a caulking gun.
A cordless caulking gun is sure to be adopted by painters and others who apply hundreds of tubes a year. Most homeowners won't need this tool unless they're tackling a major home renovation.
Inexpensive caulking guns have a cradle to hold the tube of caulk or adhesive but these tend to jam more easily than professional caulking guns. Still manual, a professional caulking gun that's easy to clean is almost entirely open in the middle with two metal rods extending above and below the push mechanism. Other features to look for include:
A continuous plunger rod – you don't need a notched rod, which is important for thicker materials like roofing tar.
A swing out piece of steel that punctures the seal inside the spout, where it meets the tube of caulking (cardboard tubes).
The pros recommend using a utility knife to snip the end of the tube, not the cutter on the caulking gun.
Other Caulking Tools You'll Need
Your biggest expense is the caulking gun. There are just a few other small caulking tools that will make the work easier.
Caulk scraper/removers are useful to get rid of the old caulk. Of course you can also use your 6-in-1 painter's tool or putty knife if you've got one you really like.
You'll need a utility knife to cut the tip of the caulking tube … but you've probably got a few of these.
One of the optional caulking tools is a finishing/smoothing tool but honestly, the pros all use their fingers so I figure one less tool saves you money and time looking for it.
You'll appreciate painter's tape to save cleanup time, paper towers to quickly remove drops of caulk and a bowl of water to wet your finger before smoothing the caulk.
Caulking Tips & Tricks for Beginners
To find out more about caulking around your home, check our other articles in the series:
---