Appliance manufacturers have been riding the stainless appliance trend for over a decade, and recent attempts at other finishes have never taken off. That may be changing with the GE Slate Appliance finish.
In the kitchen, gray topped the list of the fastest growing color schemes last year. Slate-hued products complement that design trend. The charcoal-hued finish was originally developed to reflect nature's influence on design, and it provides a perfect understated look that suits today's contemporary and transitional kitchens. The warm dark tone seamlessly blends with its surroundings, rather than announcing its presence as sometimes seems the case with stainless. In a kitchen designed to take its place in an open-concept home, Slate may be a better choice, and it certainly warrants a closer look.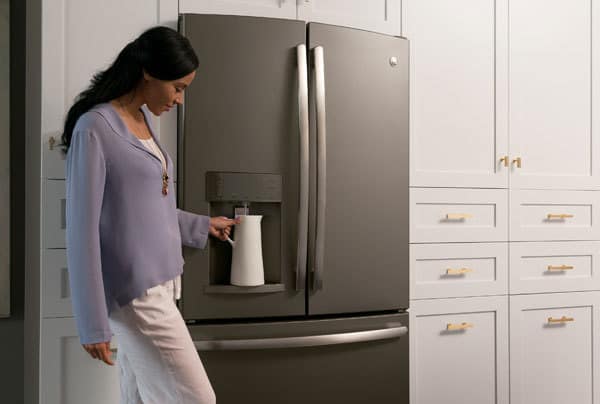 GE Introduces the Slate Appliance
There are other distinct advantages to Slate Appliances. The finish has a natural resistance to fingerprints, smudges and dirt – something stainless finishes have proven all too susceptible to in family living situations.
Last year GE Appliances joined with faucet manufacturer Pfister™ to offer the slate finish in a full complement of kitchen appliances as well as kitchen and bath faucets. Pulling in a slate-finished faucet along with appliances creates an inviting and integrated look.
GE first introduced Slate appliances in 2012, and its success has led them to expand its Slate offering to include built-in products such as wall ovens, slide-in ranges and cooktops. It appears that this new finish is here to stay for quite a while.
Pros & Cons of Getting a Slate Appliance
Should you be considering Slate appliances for your new kitchen or kitchen makeover? Here are some things to consider:
Budget: Slate is a premium finish, much as stainless was when it was first introduced. You have to decide if the sophisticated look will make enough of a difference in your kitchen to warrant the extra cost.
Staying Power: Those of us who are old enough to remember the once-popular Coppertone finish have been burned by trends that faded long before the functional capability of an appliance. People who have chosen other finishes that came out after stainless have had trouble getting replacements because they were discontinued once those finishes failed to generate interest and sales. The good news is that the Slate appliance finish is neutral enough to have staying power even if the trends change. Also, people are starting to get tired of stainless, which makes Slate a real contender to play a role in kitchen design for a while.
Brand Choice: Currently only GE offers appliances in Slate. That means that if you want this finish, you are currently limited to GE appliances. While the company has a well-deserved reputation for quality, you may have to sacrifice features or capability because they are not available from GE. However, GE keeps expanding its slate appliance line, which is a good sign for the future.
Lifestyle: The Slate appliance finish is much more able to stand up to family use. The darker tone and matte look minimizes fingerprints and smudges. One of the most common complaints about stainless is its tendency to need frequent cleaning to remove the evidence of little fingers. However, note that the handles still have the glossy look that shows every smudge.
Versatility: With the older Tuscan style kitchens, stainless appliances offered a nice contrast to the rich dark cabinetry and countertops. That pop of brightness broke up the look and was welcome. The Slate finish, instead, provides more of a background feeling. It doesn't call out to you, but blends in with both dark and lighter cabinetry.
Cutting-edge Style: Slate is a new and unexpected look for appliances. If you want a kitchen that is a step ahead of style, Slate can help give you that look.
As you can see from the photos, this new Slate appliance finish certainly has its appeal. But before you make a final decision, be sure to determine if it actually is the best option for the kitchen you are creating. Stainless will stay safe for many years to come, but sometimes safety is not your first goal. This new finish has the potential to change the way kitchens look, particularly as other manufacturers start exploring their versions of this new finish.
The most important thing to remember when shopping for appliances is that beauty is more than skin deep. Look for the best combination of functionality and features available within your price range, and investigate every company's reputation for quality and durability. (For more information on buying kitchen appliances, we encourage you to read our blog: "Budgeting to Replace/Upgrade Interior Home Components.")
And maybe you will determine that Slate works for you. It's definitely a welcome addition to the generally limited finish options, with the exception of retro styling, that are available in kitchen appliances today.
If you're planning more kitchen changes than new appliances, here are some of our best articles on remodeling kitchens:
Photo credits to GE appliances.
---