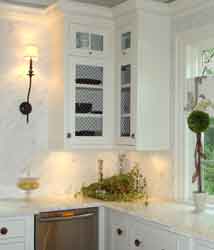 Homeowners don't realize how much cabinet hardware is in their kitchen, until they decide to replace their drawer pulls and door knows and count them. My kitchen has 21 door pulls, 14 drawer pulls plus 1 matching bar for dish towels, for a total of 36 pieces of hardware.
All pulls and no knobs? That's right as you get to mix and match — round knobs, long pulls or even latches like the upper cabinets like the kitchen shown here. There are many ways to combine styles and then you've got to choose a finish, a pattern and where on the doors/drawers you'll place the hardware.
Making these decisions is challenging because kitchen cabinet hardware is both functional and decorative, like finding the perfect necklace to show off a new dress.
Pulls Versus Knobs
Once you've decided to add hardware to your cabinets (some cabinets styles don't require hardware), you'll need to decide on pulls versus knobs. There's no right or wrong answer, it's what you like and some homeowners use both styles.
Knobs on doors and pulls on drawer
One style on the base cabinets and the other style on wall cabinets.
You'll find more choices in knobs. While cabinet hardware knobs began as simple round pieces of plastic, metal or wood, you will now find cabinet knobs in thousands of shapes, sizes, materials and color to create just the look you want.
Thanks to Kitchen-Cabinet-Hardware.com for their sample  knobs and pulls.
Kitchen Hardware Finishes
You can already see the enormous variety of designs you have to pick from. Once you've decided on pulls versus hardware knobs, the next decision is the type of metal and it's finish. This is an important decision when it comes to your budget as basic chrome hardware starts around $1.00 per piece while nickel and bronze will cost more with prices starting around $5.00 per piece. What seems like a simple decision can cost several hundred dollars given the number of pieces you have to buy for a kitchen or bathroom.
We've illustrated some of the most common finishes above but there are even more choices. You'll find cabinet hardware in these finishes and remember, you might then feel the need to match light fixtures, faucets plus electrical outlets and switches for an integrated look and feel.
Wood – while not hardware, is the original material used for cabinet knobs and today you can find colorful choices for the kitchen, bathrooms and other home uses like hooks for children's jackets and backpacks.
Porcelain and vintage glass – more commonly used for door knobs, will be found more easily in antique stores although Pottery Barn and Restoration Hardware carry them too.
Chrome – looks has a polished mirror finish and is long lasting. You'll need to wipe off finger prints but it doesn't tarnish easily making maintenance fairly easy.
Stainless steel and nickel (1, 6, 8) – are common finishes for those wanting a modern, contemporary look for their kitchen. Nickel won't rust, fade or weather, offering brushed/satin for a dull finish or polished nickel for a high-gloss shine.
Bronze (4, 5) – is a finish found on brass and zinc, offering a rich, luxurious look slightly lighter than black and variations offer a hint of light, an amber hue or copper undertone. Bronze hardware can create an old-world feeling although more contemporary designs exist.
Brass (7) – has a distinct gold look that can be finished in several ways depending on the look you want. Antique brass is more subtle with an aged look while polished brass has a shiny, vibrant look.
Copper – has a reddish tinge that complements modern and traditional spaces.  Copper is typically seen on brass but can be used on zinc and other metals, dipping the base metal in a copper flash to create the look you want, i.e. plated black and brushed for an antique look.
Black (2) – is a color and mentioned along with other finishes, it seemed to belong here. Black offers many finishes from matte to glossy, and is typically applied to brass or a powder coated finish over iron.
Pewter (3) – is a great choice when you want an intricate designs because pewter is a soft metal, and easier to work. Anne at Home offers one of the best pewter hardware collections.
Have fun picking your kitchen hardware and we'd love to get a photo to share here!