When you move a lot (14 houses and counting), you assume finding places for your furniture, wall hangings and accessories will be easy … but it's not. It can take some creativity like moving our amazing kitchen tansu (Japanese chest originally used as kitchen cabinets) into the master bedroom, for the required wall space. We've gone from a red color scheme in Portsmouth, NH to ocean blue in Hampton, NH (above) and picked an earthy color, orange for our home outside Phoenix, AZ. The challenge is what coffee table decor to use.
You see I'm not really the decorator. I'm a quilter and love bold colors. Sometimes my ideas work really well, and other times they're a total failure like the orange walls in the stairwell that everyone hated. After listening to comments for months, it was time to get help from my friend and interior decorator, Jennifer Myers.
Jen's still in New Hampshire, so I posted these photos here to get started. Then we jumped onto Facetime to finish the project, and the conversation is continuing via text messages as she's better at deciding what to put in these hurricane lamps. She knows more about my furniture than I do, and she created the original ones for me. I still love them, but now she says it's time for something new … and I trust her more than myself when it comes to decorating.
Not Sure Which Coffee Table Decor is Best?
So here's my journey to finally wrap up my coffee table decor, with help from Jen. Once we picked the orange accent color for the living room, I found candles at Michael's in Mesa, AZ (still learning my way around Phoenix). I knew the sand didn't look right but they didn't have bags of the natural potpourri that would mimic my desert landscape.
So here's what my coffee table decor has been for about six months, until I unpacked a few more boxes of quilting supplies and look what I found.
A gorgeous obi (we lived in Tokyo for three years) in orange, which I originally bought to decorate our apartment for Halloween (LOL). In fact there were two of them, so I laid one obi out on the coffee table and the other one, as a table runner on the dining room table.
Jennifer saw immediately that the obi didn't work. Rather than being restful, your eyes bounce back and forth between the two patterns, as you see the geometric rug under the glass table.
Here's the lovely piece of ceramic artwork I found at the Fountain Hills Art show. If you love it as much as I do, you'll want to visit the artist's website (he lives in Santa Fe, New Mexico), KentKraussStudio.com, where you'll see lots of beautiful pieces although I didn't find this exact one.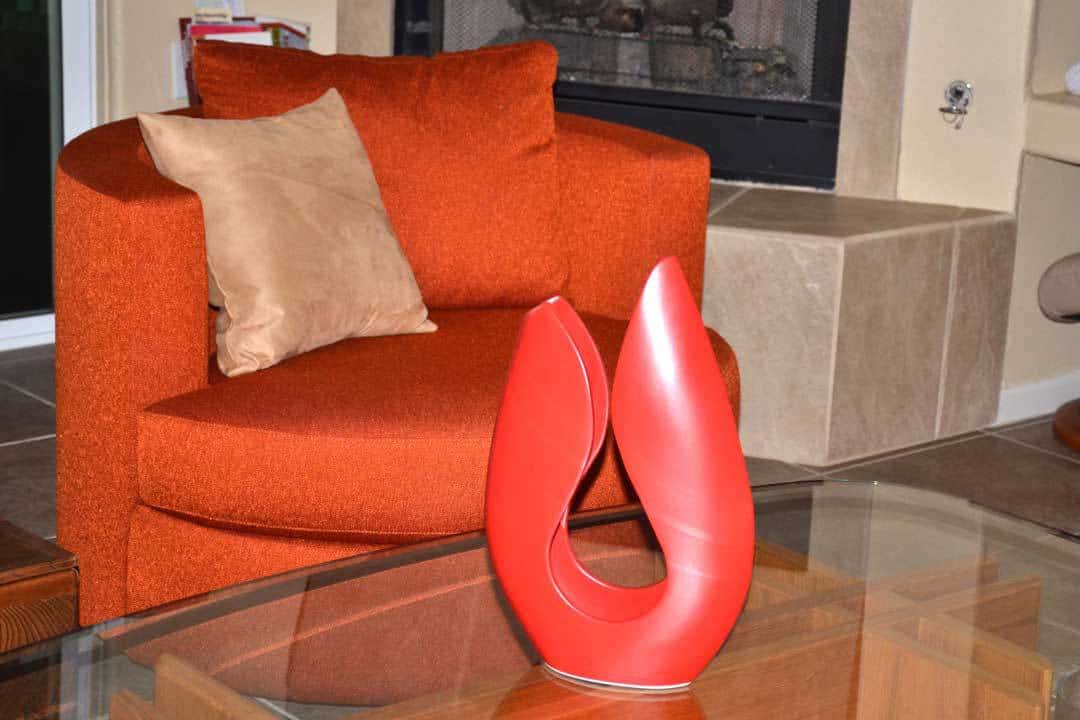 My concern was that the solo piece might not be big enough for the table? If that was true, then I had made sure I could swap it for these equally lovely candlesticks … but I had to do this right away, in order to avoid having them shipped?
Why Home Professionals Are Worth Their Fees
And without missing a beat, Jennifer said she'd combine the new art with the two smaller hurricane lamps and they're perfect … almost. She's given me lots of ideas but I've got to go shopping, so check back to see the final coffee table decor scheme!