Dawn asked "Do you handle this type of job? A realtor in southern New Hampshire, she has a Formica countertop that needs updating but doesn't want to spend the money to replace it." What she didn't explain was the purpose for the update. As she's a realtor, it likely is an update Dawn recommended to help sell a house. We've replaced many kitchen countertops for homeowners preparing to sell their houses, so we've got experience working with laminate countertops.
Ask Tina Series: Emails Written While Running My Handyman Business
First I explained that my only experience with laminate countertops involved:
Trying to repair lamiate surfaces years after they'd suffered damage that continued to erode. Generally if the medium density fiberboard (MDF) underneath is sound, you can reattach the laminate and/or repair small nicks. We haven't had much success fixing laminate countertops that have water damage to the MDF underneath the laminate.
Replacing the entire countertop for homeowners remodeling their kitchens who decided they needed help to finish faster.
Here's what we did for one homeowner who called my handyman business in panic mode. She had a big party planned at her home the next day. They were remodeling their kitchen and were sure they'd get it done in time but that didn't happen. The new laminate countertops had been ordered and were waiting to be picked up at Home Depot. Then they realized the countertops wouldn't fit in their car … so they were desperate.
Given the short notice, I had to drive an empty van to Home Depot the next day, because my technician's vans are full of tools and materials. My handyman technician met me there to inspect the countertops. It was important that he had have everything needed to complete the installation by 5pm that day, when guests would start arriving. We drove to the customer's house and unloaded the countertops. There were three pieces, including one corner piece already connected (see above) by Home Depot. It was challenging working around food preparation for the party … but we got the job done just in time!
3 Options for Updating Laminate Countertops
I've always liked giving homeowners options and letting them decide which one is best for their situation. Here's my initial feedback that I sent back to Dawn in an email:
Re-laminate – Assuming your existing countertop surfaces are in good shape, we could install new laminate to the top and sides of your countertops. It is however, a labor intensive process requiring special tool bits. It's expensive though because of the time it takes to do the job right. You can review the steps involved in this article, How to Re-Laminate Your Countertops.
Replace the laminate countertops – If you can find a stock laminate countertop color/pattern that you like, this might be cheaper than you think. If you have a corner, with measurements, Home Depot will cut and attach the pieces so they're "factory joined".
Shortly after this initial dialog, I learned about a new paint developed for laminate countertops. So I sent Dawn an email explaining:
Paint laminate countertops – There are some new paints made to cover laminate countertops. The video below shows the steps you need to follow and they're very similar to any painting project. While Modern Masters only offered 5 colors (charcoal, canyon brown, desert sand, pebbled ivory and quarry stone) when I wrote this email, you shouldn't have any trouble finding something you love today (see choices at HomeDepot.com).
Handyman Customer Service
Dawn, I hope I've given you enough choices to make a decision about how to update your laminate countertops. Let me know what you'd like to do, and if there are any unusual situations. If you want to move forward, here are the things we ask customers:
Can you send us a few digital photos of the kitchen and close-ups of the countertops? If there are problems, please try to capture those in photos too.
Can you take measurements of each countertop piece? This will help with estimating how many square feet need to be painted or replaced. Here's a video that shows how to measure your laminate countertops. If all your countertops are straight and not too long, you can sometimes find discounted tops at bargain prices.
How Much Do Laminate Countertops Cost
When laminate countertops came out in the 19402, they were the modern day substitute for wood, tile and stone countertops. They fell out of favor as being cheap and tacky as granite and other stone-like materials came to market at affordable prices. Today's laminates (Formica and Wilsonart are laminate brands) have improved considerably and remain popular for homeowners on a budget.
While laminates can cost less than other countertop materials, today there are laminate countertops that are more expensive than budget granite (read: Comparing Economical Countertop Materials for a Kitchen Remodel). So it's more important to look at where the costs come from and these apply to all countertop materials.
Material costs – Some materials like laminates are priced by the linear foot. Other materials like quartz are priced by the square foot. Just make sure you're comparing apples to apples.
Extra material costs – You'll focus on the countertop surface but you also need to consider if you want a four inch backsplash. Another cost factor is edging which by itself can get really pricey. Corners are another cost factor when buying countertop materials … but you can't avoid them so make sure they're in your calculations.
Labor to remove old countertops – This is one area where homeowners can save by doing this themselves but don't forget to

research how you're going to dispose of the old countertops

. Have you got access to a truck so you take them to your town dump?
Labor cost to install new countertops – If your walls are relatively straight and the floors are pretty level, this work shouldn't cost that much. Using a labor cost of $30 to $30/hr, with 8 hours to install 30 linear feet (one corner, plus 3 other pieces) would cost around $300.
Plumbing costs – If you're replacing your sink and/or faucet, that will add to your project costs.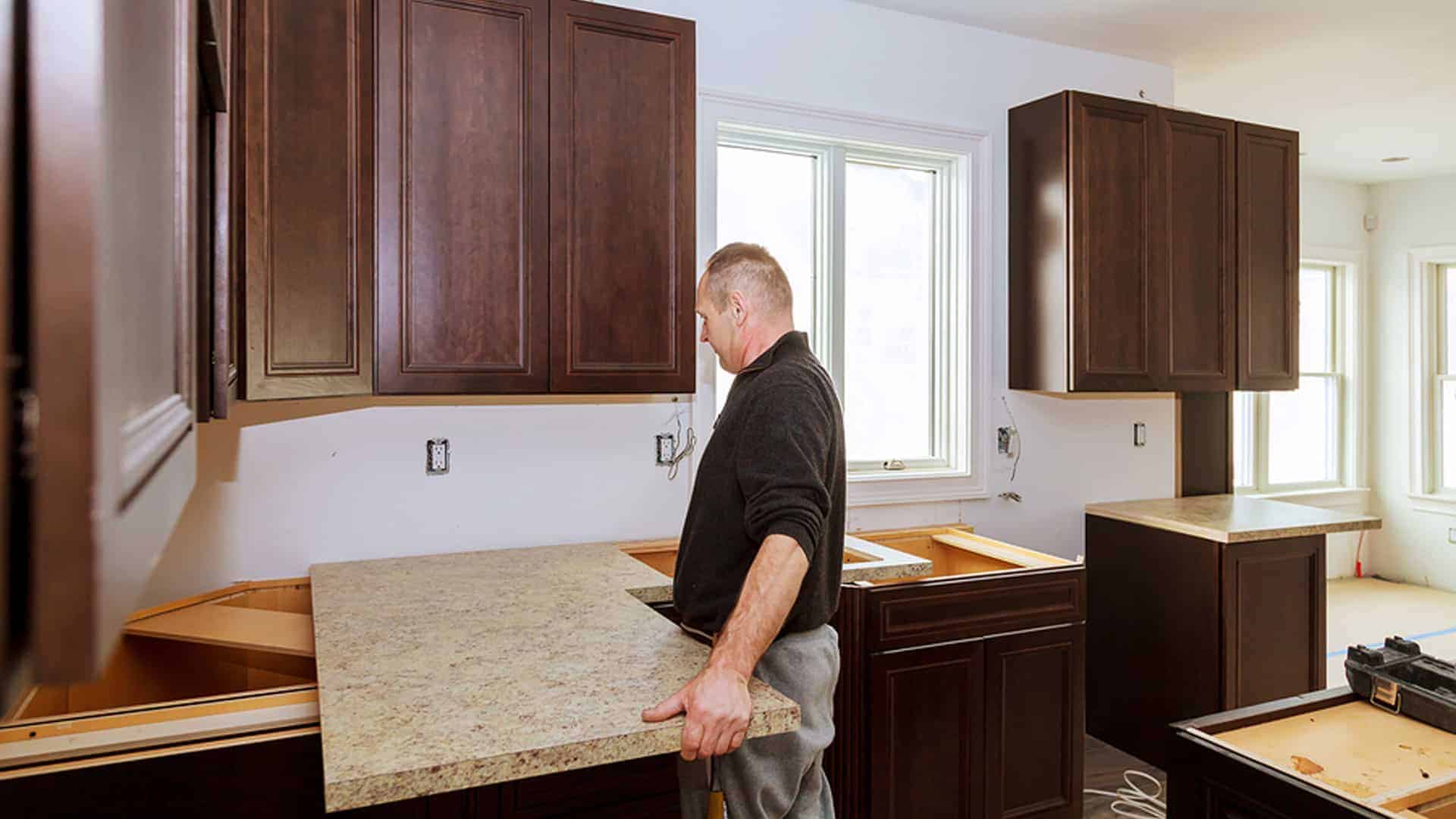 Want to continue researching countertops? Here are some other articles we'got to help you:
---