No kitchen remodel is complete without new countertops. Everyone seems to be in love with granite countertops and they are beautiful but you've got to maintain them. Engineered stone is an alternative to granite and you don't have to seal these kitchen countertop materials (it's done during the manufacturing process), so some people prefer them.
But you might be wondering what other kitchen countertop materials are there to choose from? If your budget can handle something more expensive, we've got some beautiful countertop materials for you to think about.
With this post, we'll cover high-end countertops that you don't see every day. Some are quarried while others are manufactured. They all add something extra that you probably won't see in your neighborhood.
Quartz Countertop Materials for Your New Kitchen
Quart countertops (above) were introduced in the 1990s, growing in popularity ever since. It's actually harder than granite and thus, more durable as it won't chip or crack as easily. That makes it nearly indestructible.
When my house flooded we had to remove the countertops first, and then the base kitchen and bathroom cabinets. The owner of StoneWorld explained that because quartz is manufactured, it doesn't have the seams that run through granite. Thus quartz was more likely to handle removal and re-installation.
An important benefit of quartz countertops is they're easy to keep relatively bacteria free because the material isn't porous like granite. This also means it so it resists staining much better than granite, marble and concrete. Be careful though with cooking pans, because quartz countertops can be damaged by excessive heat. You need to use heating pads at all times.
Soapstone A Great Choice in Countertop Materials
Soapstone is generally gray, sometimes dark and sometimes light. Depending on where it's quarried, it might also have a bluish cast. Darker soapstone can occur naturally, but more often, it's been treated with oil. Untreated soapstone is usually soft, pale gray and the oil deepens the color.
Soapstone is a popular material because of it's resistance to stains, chemicals and bacteria.
Unfortunately, soapstone isn't as hard as some other stones, so it will be easier to damage. Care includes regular oiling, especially for the first year that you own it. Common mineral oil is fine. Don't use olive because it turns rancid.
Eco-Friendly Countertop Materials from Recycled Glass
Recycled glass is absolutely unique, every single time. The reason is the fabrication process. During manufacturer, broken bits of recycled glass are blended with a binder, typically a resin or concrete. Pigments may be added to the binder to tint them, giving color to the background material.
Once it hardens, the surface is polished smooth to a high shine. Some recycled glass looks very much like a terrazzo floor, but you can customize the colors. It's non-porous, so it doesn't require a sealer.
Recycled glass care is pretty straightforward — wipe it down with a damp rag and buff dry with a soft cloth. This is a tough material, but it's not impossible to damage. For example, just as heat can crack a piece of glass, you can damage your countertop if you set down a hot pan.
Copper Countertop Materials Add Warmth to a Kitchen
Copper comes in so many patinas, or none at all. You can opt for the bright, new-penny shine of a sealed copper countertop, or go for one with a darker, warm patina. Some manufacturers can treat copper with high heat to create vivid surface colors in abstract patterns, and some offer a hammered finish with softly bumpy texture.
Care varies depending on whether the metal is sealed, and whether it's got a special treatment for color effect. It's a very soft metal, so it can scratch easily. For this reason, many homeowners opt for copper with a patina. Bright, perfect copper might not look perfect for long.
Remodeling Your Kitchen with Calcatta Marble
Marble is another great choice for countertops. Like granite, different marble comes from places throughout the world.
Calcatta marble is quarried in Carrera, Italy, which helps some people confuse it with Carrera marble. So here's how to tell the difference: Carrera marble is a more gray-toned stone with less prominent veining. Calcatta marble is usually paler, often bright white, and the gray veins are more distinct.
This is an ideal stone for kitchen countertops if you want a white-on-white look, and it also contrasts beautifully against dark espresso-toned cabinets. Marble is porous so it always needs a sealer to prevent damage. Its heat resistance is one of the best going, though.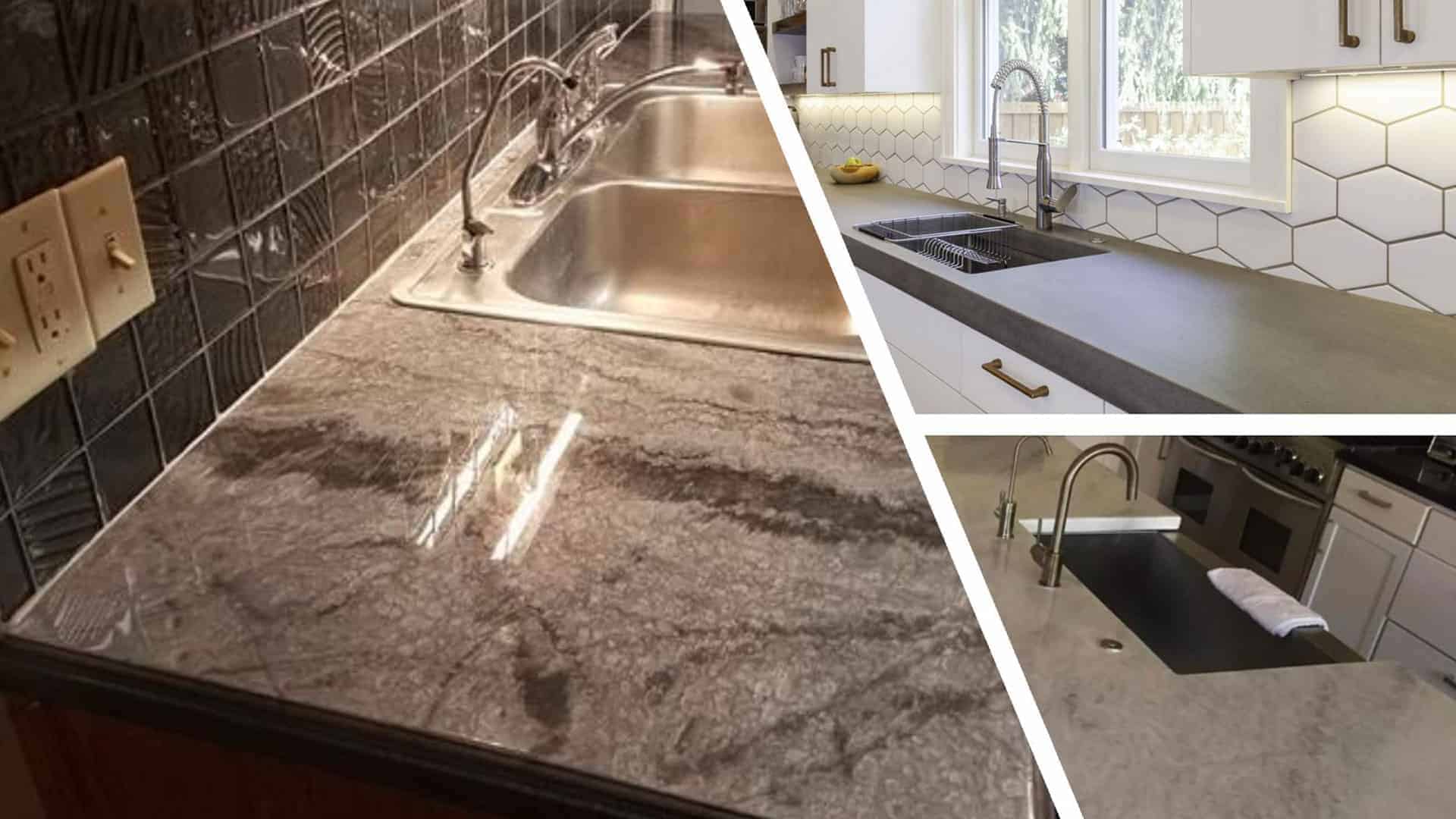 Concrete Kitchen Countertop Materials
For kitchen countertop layouts with unusual shapes, concrete is a great solution. By using pigments, stains and dyes you can create counters with great color and visual texture. You can also embed stone, tiles or silicone chips to create unusual visual images unlike any other countertop materials. In essence, you get to design your own counter top which means it's unique to your home.
Concrete is scratch and heat resistant, although it requires sealing to prevent staining. Yes it's very heavy which is why it is constructed in place.
Stainless Steel Kitchen Countertops
If you love stainless steel appliances, then it's not hard to imagine using a matching stainless steel countertop. It's stain and heat resistant, and non-porous which makes it naturally antibacterial and easy to clean.
And remember than stainless is the choice of professional chefs because of these properties. The down side is stainless shows fingerprints and may get dented or scratched over time.
Are you dreaming of a custom kitchen with a countertop that no one else on the block has? One of these might be just what you're looking for. If you have some ideas of your own, we'd love to hear them!