… part 2 in Series of 3 Articles on Contractor Estimates
We're talking about contractor estimates to make the dialog between homeowners and contractors more comfortable. You see most people have heard contractor horror stories. Sadly many of the problems leading to these stories are partially due to the contractor, and partially due to the homeowner. Few people want to own their problems, so they make the contractor the scapegoat.
My nastiest homeowner problem started with a call from Kathleen about a rental property needing the shower replaced before her first tenant arrived … in less than a week. My estimate was for 10 hours if there were no problems. It was a nasty job because the shower wasn't attached to the wall. Kathleen seemed comfortable when the job went to a second day, asking us to replace the toilet and shower hardware. The job took 14 hours and Kathleen signed invoices at the end of each day.
My nightmare began when Kathleen started accusing me of deceitful practices – 1 technician when she expected 2 (our techs always work solo), a higher hourly billing rate that she thought was reasonable (explained when job scheduled and printed on invoices) and the complaints went online, and involved her credit card company … and that's all you need to know right now.
You see I've been the victim of a homeowner who accepted the work, and then didn't want to pay and it wasn't fun … or fair.  So I ask that when you hear a contractor story, remember there are an equal number of homeowner horror stories but we tend to keep those inside the trades (read a few of mine at Free Estimates are Perfect on the Phone).
So where does the mis-communication begin? 
Different Types of Contractor Estimates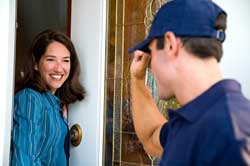 So the question then is when should you get an estimate, and when should contractor estimates be free? A more important question is what exactly do you think should be included in a free estimate? There are some interesting dynamics that go on here between homeowners and contractors, which can create a breakdown in communications during the job and that's not comfortable for either side.
Wikipedia defines "Estimation as the process of finding an estimate, or approximation, which is a value that is usable for some purpose even if input data may be incomplete". 
No where in the definition is an estimate defined to be a fixed price, although many homeowners assume it's the price they will pay. During the second year running my handyman business, I had a customer who got upset when the job I'd estimated at 36 hours, took 38 hours. We framed and installed a patio door, custom built and installed a barn door into the storage room over their garage and a few smaller projects. I was thrilled that my estimate was so accurate, and bewildered at the homeowners anger. In response I learned to always add contingency, so you'll see my estimates give a range of 1 to 2 hours, or 2.5 to 3 days.
So what types of estimates, and sometimes free estimates, should homeowners look for.
Ballpark estimates for minor repairs can be provided over the phone, allowing homeowners to decide if they're ready to go forward with a project at this time. Even for large projects, these preliminary estimates "are often made in less than two hours. The expected accuracy is no better than within 20-30%" according to RSMeans in their book, Successful Estimating Methods: From Concept to Bid.
Preliminary square feet estimates can be calculated based on square feet of added space.  Builders and remodelers can use costs from similar projects they've done like garage additions, adding a second floor to your home or custom homes they've built. When I built one house, I wanted to add 4 feet to one end of the house so I could have a large, neo-angle bathtub for my boys … but decided I could only afford 2 extra feet.
For home maintenance and small repairs, you want to build a team that includes a plumber, electrician, handyman and HVAC (heating, ventilation and air condition) to handle these projects for as long as you own your home. By investing time interviewing these home professionals and checking their references, you'll build the confidence to call and schedule small projects easily. You'll save time calling around and avoid the stress of inviting unknown contractors into your home. A benefit you might not recognize … contractors will work harder for you when you make them part of your team and treat them like a professional.
When one of my handyman customers, a single woman and business owner, emailed me about replacing her hot water heater, I told her this was a job better done by a plumber. I gave her a recommendation for a plumber and through a few more emails, convinced her to schedule the job and not waste time, hers or any plumbers, with a formal estimate. 
Small project estimates that require measurements and/or materials ordered, will need an onsite visit at the beginning of the job. Good contractors can give you a labor estimate over the phone and when you meet, they should be prepared to help you select a new front door or window style, taking measurements to place the order. They are working for you and you should expect to pay for this time, although it might be bundled into the final bill.
When Contractor Estimates are Required
Here's the truth. For contractors, time is money. And there's a well known saying, you get what you pay for … so what do you really think you're getting with free estimates? Here's what I think is fair to expect and understand that every builder, remodeler and contractor has a process that evolves based on their experience.
Homeowners should expect contractors to qualify them during an initial phone call, and you should have your own questions.
Have you determined the scope of your project? You may not have completed plans or finishes picked out but there needs to be proof that you're committed to following through on this project.
Do you have timeline and budget expectations … and you should be willing to share them? Your discussion might end here if you want your addition done this year and your remodeler can't accept any new work until next year.
How did you find them? And how many other contractors are you talking to? Builders are getting smart and the good ones aren't interested in you if you're talking to more than 3 or 4 companies – this just says you're looking for a bidding war and noone wins in this situation.
Once your plans are done, including specifications for products and finishes, builders and remodelers can develop a final or bid estimate. At this point in the discussion, contracts outlining each parties responsibilities are also needed as they affect the estimate. With this information, your general contractor is able to get estimates from their subcontractors for plumbing, electrical, HVAC, tile installation, carpentry, painting, etc. 
What questions do you have about contractor estimates?