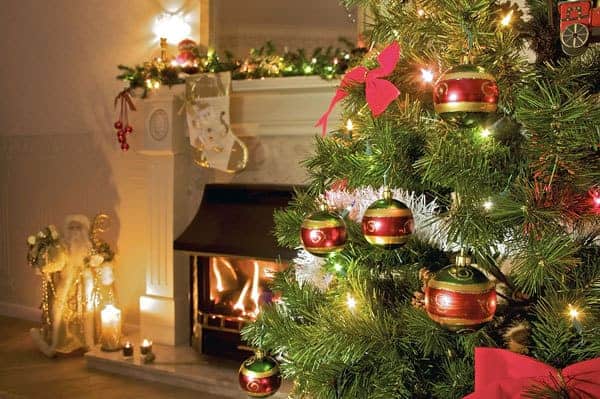 The holidays are a magical time. We decorate our houses with a Christmas tree, buy and wrap gifts and do lots more cooking. The EPA estimates we generate about 25 percent more household waste between Thanksgiving and New Year's Day, or about one million extra tons. That's why holiday recycling is so important, when you realize:
33 million live Christmas trees are sold in North America.
An estimated 2.6 billion holiday cards are sold in the United States.
Half the paper used in America is for packaging and wrapping consumer products.
Holiday Recycling Tips
While recycling is great, even better is when you eliminate the need to recycle by buying and using less of anything. It might take a little extra planning but you'll save time and money in the end, making it worth the preparation.
| | | | |
| --- | --- | --- | --- |
| | Use Less | Reuse | Recycle |
| Christmas cards | Use electronic holiday cards | Reuse holiday cards (fronts). |  Recycle old cards as gift tags |
| Christmas trees & wreaths | Use artificial tree & wreaths | Buy a potted tree and plant after the holidays (real versus artificial?) | Many towns pick up & mulch trees and wreaths |
| Food | Plan portions to minimize leftovers |  Remember your reusable shopping bags; compost food waste | Send leftovers home with guests |
| Gifts | Give fewer gifts & buy local (saves gas) | Include rechargeable batteries with electronic gifts |  Re-gift things you don't use |
| Gift wrapping | Use gifts that require little packaging | Wrap gifts in old maps, newspapers, Sunday comics, kids' art work or easy to reuse gift bags | Recycle & buy recycled wrapping paper |
| Holiday lights | Use LED lights to save energy | Store lights and reuse every year | |
First we buy the presents and then the wrapping paper. Somehow we find time to wrap all the presents that Santa brings, and it's fun watching the kids rip the paper off their gifts. Depending on the size of your family and the number of gifts, your living room fills up with wrapping paper. The next morning as you begin cleaning up, you start to wonder what options you have for recycling paper … the wrapping paper.

Holiday Recycling Starts with Buying the Right Products
You might think wrapping paper is like any other paper, and that's not the case. You definitely want to check with your local recycling organization (private or government) to see if they allow wrapping paper in their recycling program.
Wondering what's wrong with wrapping paper? Here are some of the problems, and it's a good reminder to think through all types of products before you buy them.
Wrapping paper may contain things that can't be recycled. While dyes, plastics, non-paper additives like gold and silver are pretty, maybe you can skip them in favor of the environment.
Try to use minimal or no sticky tape when wrapping gifts as tape that remains on the paper causes problems when recycling paper. This will make it easier to reused the paper so if you're interested, you might also like to learn the Japanese diagonal wrapping style which makes this easier.
When buying wrapping paper, consider buying paper that's made from recycled paper. You'll also find it interesting that as paper is recycled, the fibers become shorter causing the paper to be thinner.