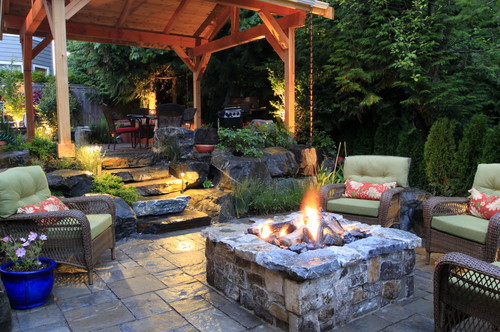 Summer might be over, but there's still plenty of time for outdoor entertaining. With clear skies and cool weather, relaxing on the patio or deck might be even more inviting than it was midsummer. 
Heat can make the difference between an outdoor area that's comfortable and one where you and your guests would rather not tarry. While most of the heat generated will naturally be lost, you can improve on what you've got and make everyone more comfortable. 
A Patio Cover Makes Outdoor Entertaining Cozier 
If your patio or deck doesn't have a cover, think about using a seasonal one when the weather turns colder. It can be a temporary structure made of a steel frame and canvas cover, or you might also think about a permanent pergola. When the weather is nice and warm, the pergola can stay bare. In the autumn, you can install a canopy and even curtains, which help block wind and hold in heat. 
Watch out for flowing fabrics, though. If you use a heat source outdoors, be sure fabrics can't accidentally be blown into the fire or heat element. 
An Outdoor Fireplace is Warm and Inviting 
Is there anything as literally and visually warm as a fire? Outdoor fireplaces and fire pits are very popular now, and they can be as simple or elaborate as you like. You'll have more freedom if you have a patio, but there are also varieties that are safe for use on a deck. There's even a small, tabletop fire box that you can use seasonally. (Read: Outdoor Living Trends: Firepits and More)
Arrange seating around the fire, but be sure to keep it well clear of the flames. Winds can boost a fire, and they can also blow fabrics and objects into it. Keep a fire extinguisher handy just in case, and think about using a protective screen around or over the open flames.  
Patio Heaters Offer Warmth for Outdoor Entertaining
Patio heaters are amazing things. Usually propane fueled, they give off plenty of heat to help extend the seasonal use of your patio or deck. Most models are quite tall and have a topper that directs heat down. Some are smaller, and meant to be used on a tabletop and with their new popularity, there are many styles to choose from. 
Propane heaters need a bit of extra care. If knocked over, they could catch fire. Look for models that aren't top-heavy, and be sure they're located well out of walkways. Maybe you haven't seen these heaters in people's homes yet. You've definitely seen them in restaurants, and caterers use them extensively to extend their outdoor season for weddings and other events. Theses heaters were a life saver for my son's wedding, when a nor'easter swept through New England in October.   
Ceiling Heat Keeps the Outdoor Party Going
If you don't like the idea of an open flame or freestanding heaters, there's another option. Ceiling-mounted outdoor heaters are out of harm's way, and they force warmed air down. They look similar to baseboard heaters, but they're designed for outdoor use. 
Some ceiling heaters use natural gas or propane, and others are electric and more akin to space heaters that you'd use indoors. They're slim and long, so you can mount them on a covered porch and not have to worry about people accidentally bumping into them. Some models are also safe as wall-mount units. 
Textiles Add Another Layer of Warmth
Textiles can help make your deck or patio more comfortable, too. Think about thick, padded cushions on benches and chairs, and blankets for bundling up if it's really cold. A nice outdoor rug underfoot also helps keep outdoor living areas more comfortable. (Read: Outdoor Chairs and Cushions: A Friday Find)
Fire-resistant textiles are a good choice if you also use heat outdoors. If an ember pops or a blanket edge accidentally gets too close to a heater, the fabric will melt or char instead of catching fire. 
Heading into autumn doesn't mean you have to close up your patio or deck. Adding a heat source or two (or three) makes chilly weather more tolerable. Curtains that conserve heat can also extend your outdoor entertaining from day into night. Layer on the fabrics, too. Thick cushions and blankets in cozy fabrics warm up cold seats, and heavy curtains or pergola covers help keep more heat where you want it. 
Autumn is an ideal time for outdoor entertaining. Insects aren't as pesky, the sun isn't as brutal, and there's a freshness in the air that summer's mugginess can't compete with. Extend the use of your outdoor living areas, and autumn might become your favorite season of all. 
What kind of outdoor heat would work best at your home for outdoor entertaining? And please share your experience and tips with us, to help our readers enjoy the outdoors longer.