Once school starts, it's time to decorate for the fall and one of our favorite holidays, Halloween. If you don't have a lot of time, you can pull out what you used last year but time permitting, why not create something new. Here's my family friendly Halloween tablescape that your kids will love … when you let them help put it together.
While I love the results, I have to admit I could have done more planning. Why? The fabric for my table runner took over and I just assumed everything else would fall in place. I learned no matter how great my quilted table runners are, they're just the backdrop!
Tips for Planning Your Tablescapes (Any Holiday, Not Just Halloween)
This is my fourth tablescape and I'm just beginning to realize there are steps you can take to insure everything comes together for maximum value.
Start by picking a theme for your tablescape! That's what I forgot to do with this tablescape until the end and I love where things ended up (you'll see). For my first tablescape, I found some really fun bunny rabbit and carrots, so my theme became carrots. For Mother's Day I used teddy bears from a bookcase and for graduation it took me a while until the lightbulb went off … books!
Use your theme to pick the main color for your holiday tablescape. Part of my mistake might have been assuming Halloween = orange or black? In fact I discovered you can find lots of blue and green pumpkins at Home Goods.
Next comes the centerpiece which typically screams your theme. Without a theme to guide my search, I ended up with several unrelated items so think of them as a collage that all say … Halloween. If I had it to do over, I'd probably buy the third black house (shorter and wider) and make spooky houses my theme.
The table runner should reinforce the theme and/or compliment the centerpiece. You also want to consider what color placements will work well with the table runner. Surprisingly the orange placements I found blended too well so we switched to the gray placemats which worked perfectly.
Finally the place settings are where you decide on plates, bowls, napkins plus accessories that fit your theme. HomeGoods has nice accessories but I prefer to pick up inexpensive ones at the Dollar stores as I plan to change my themes each year.
So if you want a quick tour of my tablescape, enjoy the video …
My Family Friendly Halloween Tablescape Story
Where did I start? Oops, I started with my table runner which I made using crazy quilting techniques. Like most quilters, I love finding new fabrics so I visited Quilter's Anonymous in Clermont, FL (sorry but she doesn't have a website yet). I bought three new fabrics (lower right in photo below) and found a lot more fabrics (purple, orange and green googly eyes) in my fabric stash.
Crazy quilting is what I love because there's no fussy cutting. You basically play with your fabrics and stich them together any way you want. It also means I can buy less fabric for my table runners (I'll provide measurements in future blog post).
What was different with this tablescape?
Table runners are best when reversible so you want to change the look or hide some spills (kids will be kids). More exciting here, my quilt store told me about Insul-Bright, a material that's perfect batting and turns your table runners into a hot plate! You can find Insul-Bright on Amazon in packages small enough (36 x 45 inches) for one table runner to 40 yard bolts.
Halloween Table Centerpieces
While you typically would have one big centerpiece surrounded by a few complimentary items, this table shows it's also possible to put together a collage of several accessories you love. Here are several ideas you can use for your Halloween tablescapes.
Which Halloween Place Setting Do You Like Best?
Unless you're going to collect lots of dishes in different colors, you can decorate your table with placemats, napkins and holiday decor like pumpkins, leaves, flowers and more. You can scroll through the different place settings we tried … and leave a comment below to tell me which you like best.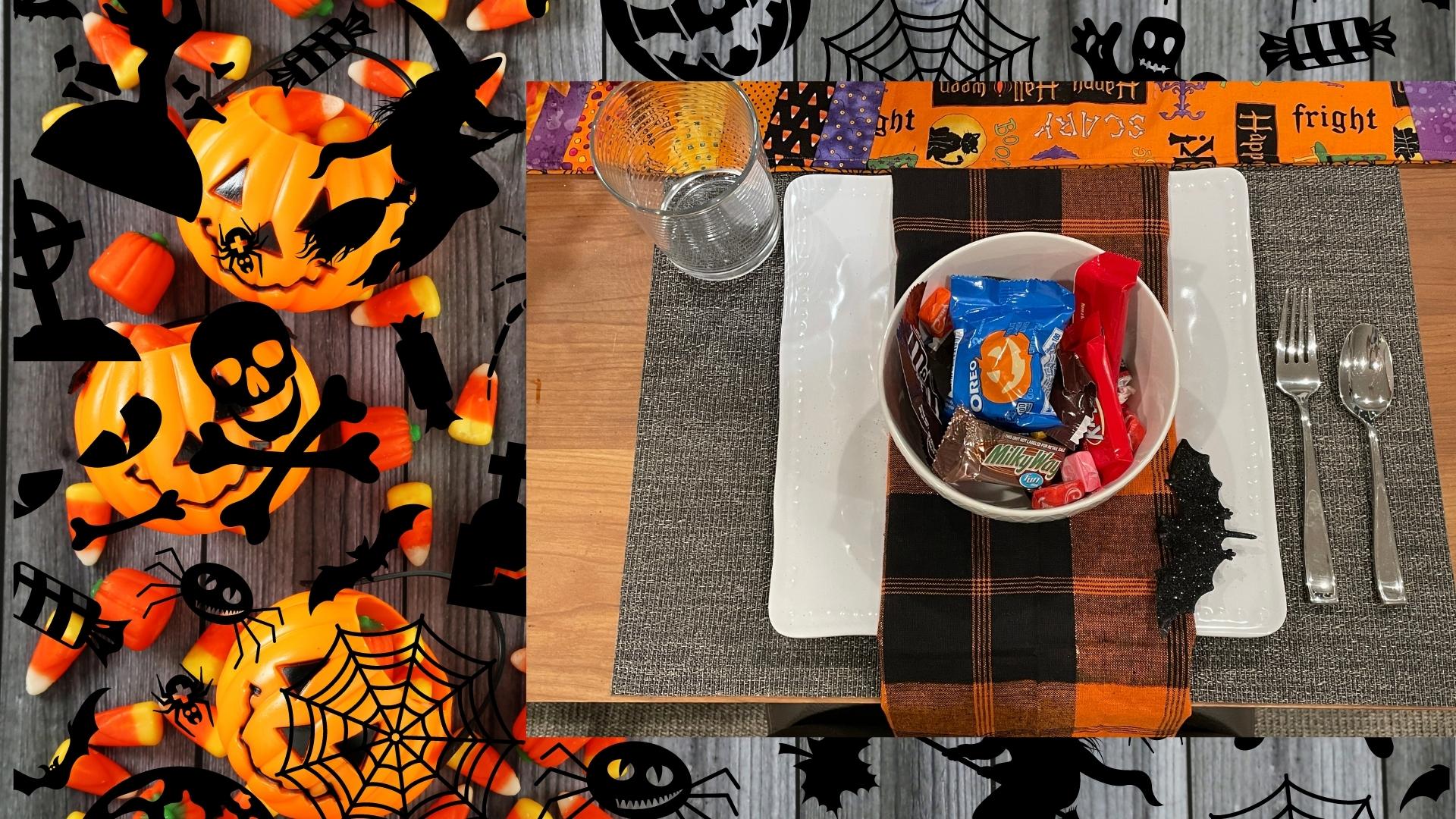 A mistake that created a winner. When I realized pinecones and pumpkins didn't add to the festive spirit, I realized candy would work much better. The result is magical. By involving your kids in holiday decorating, you're able to create family memories!
More Table Runners at HomeGoods for Your Halloween Tablescapes
Have you guessed that HomeGoods is my go to store for holiday decorating ideas and of course, some of my favorite purchases. While I've learned to shop online, there's something about picking items up and see how they feel and look in person.
Here are some more table runner ideas I collected to save for future Halloween tablescapes … as that's my promise to myself, to make one every month. It's a nice change from working on my computer.
---
Wishing you more treats than tricks this Halloween!