After Thanksgiving and Christmas, family gatherings for Easter are popular. There's always a special meal and the only real question is whether the Easter egg hunt take place before or after you eat. Setting the table for dinner should start with an Easter table centerpiece which may be a family heirloom or something fun like this year's gnomes or carrots … yes, carrots which I picked as I fell in love with a carrot tree (scroll to the bottom for a peek).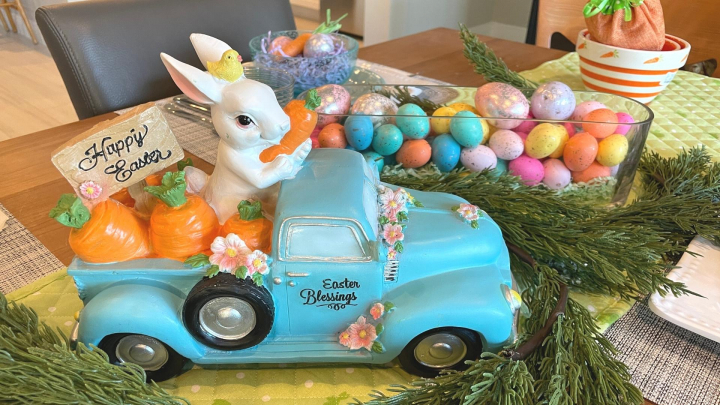 So here's my story about how I picked out my Easter decorations. From the Easter table centerpiece (I auditioned three of them) to the table runner and Easter table settings … and of course, every front door needs a holiday wreath.
You know how you sometimes fall in love with a dress, new towels and flowers in a bright peach color, or in this case I couldn't forget this carrot tree … so it became the theme for my Easter table.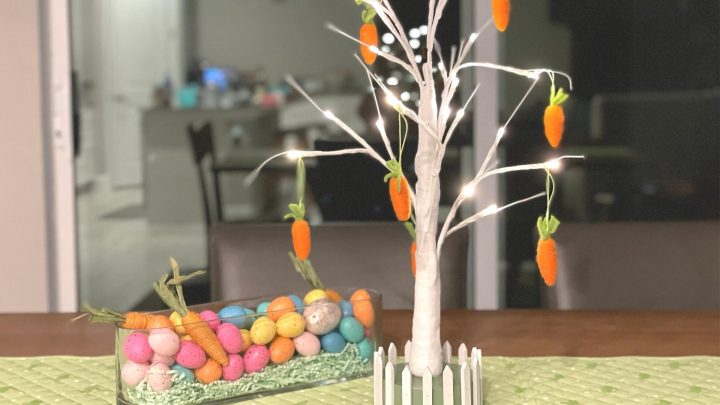 Have a Theme for Easter Decorations
What were your family's Easter traditions when you were young?
My memories are of decorating eggs and a new dress for church. When we got home we got Easter baskets with a chocolate bunny, followed by a hunt around the yard for Easter eggs scattered by my parents. Today I have my granddaughters over to decorate eggs and everyone comes to my house for dinner. Baskets and the egg hunt are left to their parents.
So I decided to focus my decorating on the dinner table. and began searching for a theme and/or centerpiece. There were several Easter table centerpieces to pick from and they all supported a "carrot" theme, yeah! My carrot tree is tall and I prefer shorter centerpieces so you can see everyone at the table.
Which centerpiece would you pick?
Carrot Tablecloth or Easter Table Runner?
What fun these decisions were compared to finding the right hardware for my kitchen cabinets, a decision I will live with for years. It was amazing how many choices there were sporting carrot designs … just in two, maybe three Home Goods stores.
Which centerpiece do you think I picked?
See the tape measure in the center photo? As a quilter, I simply wanted to know how big the carrots were as I'd rather make them out of fabric that's more fun …
Easter Table Settings Came Next
This was lots of fun once I got over the fact that Easter basket grass is no longer shiny green … am I dating myself? I like that it's made from paper so it can be recycled but pink, blue, purple and green grass all in one bag, really.
So I used Easter eggs left over from my front door wreath, and experimented with different combinations of bowls, grass, eggs and carrots. How silly does that sound? Still not sure which I like best and honestly, they work well together so maybe it doesn't matter which bowls are clean when it's time to set the table.
Where to Start Decorating
If you're like me, you might overthink what type of Easter table centerpieces, table runners (my preference over tablecloths so I can leave them out), table settings and more.
My advice for your Easter decorating journey, have fun because there aren't any rules!
There are some practical tips though, to save you time and money shopping for things. Being an organizing fanatic, you should also consider how much room and where you'll store any new decorations you buy. So here are my recommendations and please share your suggestions below …
Use decorating pieces you already own … for other holidays. For example, in the photo below I've reused three white trees from my Christmas/winter collection.
Pick decorating pieces that can be used for multiple holidays and/or seasons. Maybe I bought my carrot tree because I know I can remove the carrots and use the tree for other holidays?
Buy decorating pieces that are easy to store and non-breakable. That means I'll be returning the cute little bunny in the carrot truck because it's ceramic and I'm afraid it won't last through the years. The bunny couple below though, I'll keep!
What about the decorations you bought that didn't fit into your Easter tablescape. When I moved into my Florida house, the first one I've owned without a fireplace … I needed a substitute for the fireplace mantel. It turned out to be the dining room hutch. It worked perfectly for the Easter decorations that didn't fit on the table. It's the perfect place to keep the holiday spirit alive for several weeks leading up to that special family dinner.
Common Decorating Q&As Beyond Easter Table Centerpieces
My goal in sharing this story is to encourage those who have shied away from decorating their homes for the holidays, to get started. So here are a few of the most common Q&As that might be just the nudge you need.
What decorations are used for Easter?
Bunny rabbits and brightly decorated eggs are the most common Easter decorations but they're not required. Probably the most important feature for Easter decorations is color, mostly pastels. You can use spring flowers, flowering branches like magnolias or forsythias, candles, garlands (mine were from my Christmas stash), glassware (flower vases, water pitchers, etc.) painted with flowers, butterflies and anything else that makes you think "spring".
How do you set a table for Easter?
Don't assume you have to buy an Easter table covering (remember my reuse rule). Pick a tablecloth, table runner or placemats that go with your color scheme. If you like to sew or quilt (here's
my quilt room
), these are easy projects. Try using the plates, flatware and glasses you already have or buy inexpensive white ones you can use for lots of holidays.
How do you decorate an Easter tablescape?
A tablescape always starts with an idea or theme that you pick. Tablescapes always feature a centerpiece so that's the next step. I've seen lots of holiday tablescapes where the centerpiece is tall or elevated (fancy word for "sitting on a box") but I like them short so everyone at the table can see others. You can buy an Easter centerpiece or create one, like arranging flowers with a bunny tucked in somewhere. Then add a garland and some small holiday decorations, maybe foil wrapped bunnies and jelly beans. My theme was carrots but I mixed things up with pastel colored grass, Easter eggs and of course, carrots.
Funny thing happened when I loaded up my cute little carrot dish with veggies. Found this dish at the same time I found my carrot tree. What I never realized is when you fill it up with veggies (carrots, tomatoes and celery below), you can't tell it's a carrot … boo!
Hope you enjoyed my story. Have fun picking your theme, finding your Easter table centerpiece and setting the table for Easter dinner.
---
For more Easter tablescape ideas, here are a few with some great ideas: