When you think of leather, you probably think about leather seats in your car or the living room sofa. Do you go to your closet where your favorite leather jacket, boots, or purse are sitting? But you probably never imagined using recycled leather in your bathroom, or any other part of your home.
The green movement is motivating manufacturers to get more creative about what materials they use in their products. Recycling materials is important, and with leather's upscale image, finding ways to use recycled leather in home decor products is gaining momentum. So it wasn't surprising to find bathroom countertops made from recycled leather at this year's Kitchen and Bath Industry Show (KBIS).
Recycled Leather in the Bathroom
The bathroom is probably one place you don't expect to find leather. In fact I didn't realize the countertop material was leather when I first looked at the sink and vanity below. Is wasn't until I reached out to see what the copper sink felt like, that I realized the countertop was made of something soft to the touch, and learned it was recycled leather.
Fortunately I stopped to talk to Theresa Lake who was working in the booth. She explained more about the bathroom countertops made of recycled leather and how the backsplashes matched the vanity door and drawer styles, to integrate all the elements of the vanities.

Recycled Leather Tiles Throughout Your House
What was equally fascinating was learning about all the different ways that recycled leather can be used in your home. EcoDomo.com's first product was recycled leather tiles. They've honed their skills and now apply new (hides) and recycled leather to a wide array of materials from ceiling to the floors and almost anything in between.
Starting with EcoDomo's original leather tiles, they can be used as flooring. The herringbone floor in this closet gives depth, with a warm touch. The dark mudroom floor just below, is amazing in it's richness and simplicity.
Ceilings are taking on a new importance as walls disappear to create open concept living spaces. We're seeing ceilings with more color, more texture and if you want a unique touch, here's a ceiling with recycled leather tiles. (Read: Ceiling Colors and Textures to Replace Missing Walls)
But wait, here are some more intriguing ways in which leather is being used in our homes. If leather countertops work in the bathroom, then it makes sense that some homeowners will also want them in their kitchens (seating/eating counter below). If you like the look of open stair treads but want more warmth, you can join the chocolate lab as he rests on these stairs.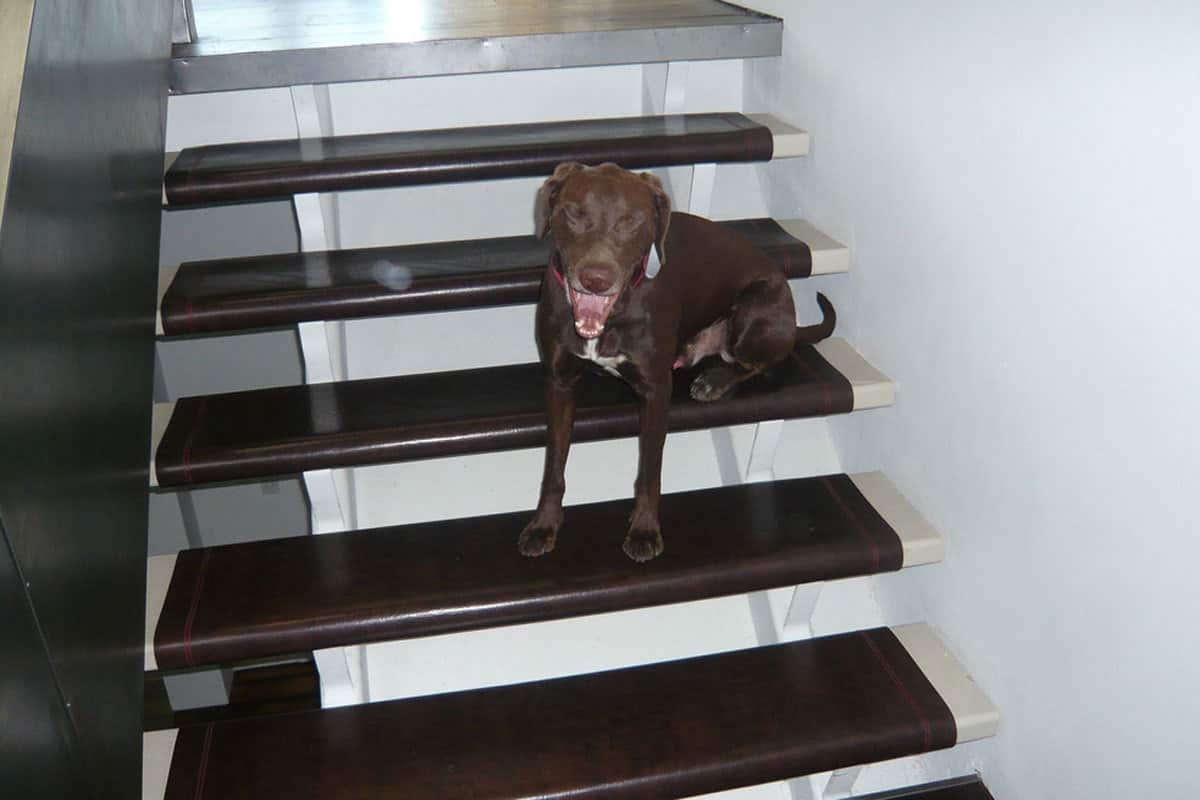 You needn't shy away from leather because of color. With any type of leather application, you can pick almost any color … because it's a matter of dying the leather. Costs will vary depending on whether you use a stock color and pattern (see the alligator texture below) or custom color.
Hope you're as amazed as I was to discover all these new ways to use leather in your home. If you like using non-traditional materials, we hope you enjoy seeing how recycled leather can be used to "finish" your home's interior. We wish you much success in finding the best ideas and materials to make your home match you personality and lifestyle.
Which of these recycled leather solutions do you like best?
Note: Thanks to EcoDomo.com for letting me share their photos.
---