If you've got a lawn, chances are you also have an irrigation system. Your irrigation or sprinkler system might keep your lawn green but here are some sobering facts about the amounts of water they use (data from the EPA's WaterSense website):
Average American household uses 320 gallons of water each day.
30% of household water gets used outdoors.
More than 50% of outdoor water goes to watering lawns and gardens.
… adding up to almost 9 billion gallons of water for irrigation each day.

Are You Wasting Water with Irrigation?
How much water gets used outdoors depends on where you live. In California we had irrigation while in New York and New Hampshire, we got enough rain that we didn't need any irrigation.
 How much rain a region gets each summer isn't predictable. Case in point: in the north east, where they typically receive a lot of snow, and rainy spring seasons have been experiencing drought conditions for the past two summers.
Now that we've moved to Arizona, it's a bit different – we've got "pretend grass". While I don't love the idea, it's truly the best solution for a green backyard. The alternative is using even more water (up to 60% in the southwest) for irrigation that's wasted due to evaporation, runoff and wind. And as you can see, the "pretend grass" looks great, all year round.
Technology for Saving Water With Your Irrigation System
So you can forgo your green lawn, spend a lot of time monitoring the weather to turn your irrigation system off after it rains … or you can invest in a cool new product called Rachio Smart Sprinkler. It's smart technology that can monitor the weather for you, and automatically adjust for changes in weather and seasonality. Why not make the best use of your ability to water your lawn with a gizmo that monitors the weather versus predicting like the meteorologists do? It's smart and under $200.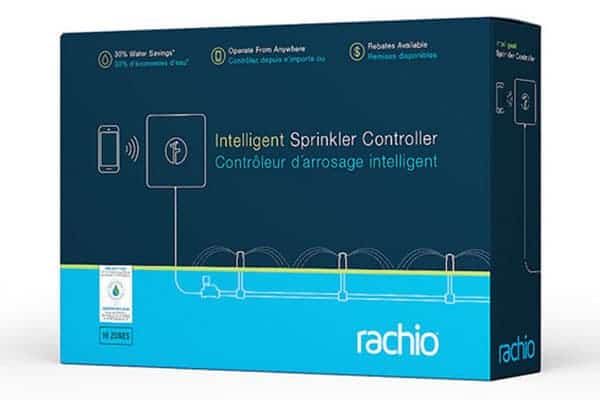 Some of the exciting features offered by the Rachio devices can help you save as much as 30% of your current irrigation systems water use:
Internet smart – connecting to the Internet to research and adjust for changes in weather.
Irrigation smart – supporting a "cycle and soak" irrigation strategy that helps with saving water, making sure it ends up where you want it and not in the drain.
Made in the USA (Colorado) – creating jobs that change lives, and protect the environment.
Easy to install – remove your old controller and replace it with the Rachio.
Latest models even work with Alexa and can control 8 to 16 zones depending on your needs.
Many of you – like me – are also mothers and grand mothers. It's wise to invest in the technologies that not only save us money but can help preserve the natural resources for children and grand children. After all, water scarcity is something everyone should be aware of.
---