Everyone loves a fireplace so here are some fireplace ideas to fire you up! After all there's a saying that home is where the heart is and when it's cold outside, it's also true that home is where the hearth is?
Maybe that's not exactly right, but there is some truth to it. A beautiful fireplace can serve as a gathering place for your family. These fireplaces also provide the ideal entertainment spot for guests, especially on a cold winter night. So if you're not satisfied with how your current fireplace looks, here are a half dozen fireplace ideas to inspire you to update your fireplace.
Fireplace Ideas from the Old World
These fireplaces add to the classic elegance of my Victorian house (100 year old house built in the 1890s). The brick fireplace (left) greets those entering the house with hallways that once allowed the fire's heat to move into the adjoining rooms (living room, dining room and kitchen) and up the stairs to the bedrooms.
The more elegant fireplace is located in the dining room. The rich wood trim matches the doors in the room, including dual pocket doors that open up into the living room.
Use your imagination to rethink what goes next to the fireplace as I always head to the fireplace at Panera's to get toasty warm on a cold, winter night.
Red Brick or Painted White
Let's say you've got an old brick fireplace painted in a color you don't like, maybe a dull red, gray or brown brick. Why not paint the brick white? You can also dress it up with wood trim or a railroad tie to complete the look?
Finding and reusing old building materials is becoming more popular. You might find the perfect fireplace mantel for your home at a Habitat ReStore (for recycling gently used house fixtures) or an architectural salvage company.
These are simple updates you can make to a room that is casually furnished in neutral tones. The right fireplace mantel will give your room some sizzle while leaving you to pick any accent colors you want.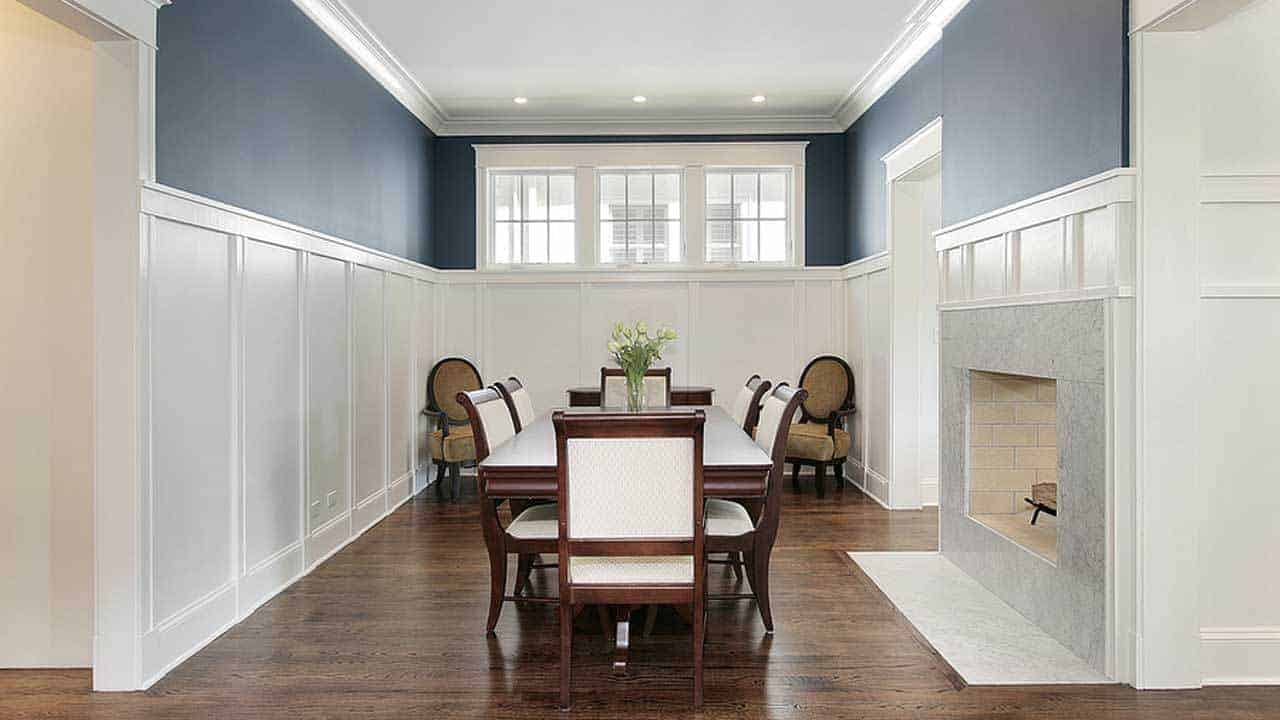 Fireplace Ideas For the Dining Room
Some people love the idea of eating by the fire. For them, a simple modern gas fireplace can be placed almost anywhere (and what I love about mine, is being able to turn the timer on and not worry about shutting it off). For the perfect romantic setting, a fireplace provides a visual focal point for the room along with the ambiance to enhance the time you spend there.
What's fun here is that people are starting to recognize that fireplaces can go in any room. It doesn't matter what type of home you have because there are so many fireplace choices today. You can stick to a traditional raised heath like the white and blue dining room above or a stone facade below.
Rustic Fireplace Ideas
Now this is a centerpiece fireplace! You've got to have the right room for this type of fireplace but it certainly works here, and adds so much character to this room.
The wrought iron chimney and trim with round, whimsical designs provides a nice contrast to the adobe fireplace. The functional-yet-fashionable wood box in front is another nice touch, making it easy to keep the fire burning.
Metal is the New Fireplace Trend
Where there once was a bare wall with a boring fireplace, fireplaces now include an attractive floor-to-ceiling space with accents and mirrors. You no longer have to stick to the traditional brick, stucco or wood trimmed fireplace. There are new sheet metal fireplace surrounds in an amazing array of colors. Combined with a horizontal fireplace, these will fit nicely in a home with an elaborate entertainment area.
There are many other ways to renovate your existing fireplaces, or add a fireplace to  other rooms to make them cozier and more inviting. For more fireplace ideas to inspire you, check out our fireplace collection on Pinterest.
Not sure where you ought to put a new fireplace? Read our article, Fireplaces That Fire Up Your Imagination, and you'll see that fireplaces work well anywhere in your home.
Which of these fireplace ideas do you like best?
---