Springtime. It's the season for airing out the house, washing windows, scrubbing floors and all-around general cleaning to clear off the last bits of winter. But home maintenance means more than cleaning the inside of your home. Spring cleaning should also address your home's exterior. Your home's siding has more square footage than any other feature so we're sharing the basics on how to clean siding.
Siding is the face that your home shows to the world. It takes a lot of abuse, too. When you clean the siding, you're freshening up its appearance and getting ready for a new season. We cover the six most common siding materials – aluminum, vinyl, wood, stucco, brick and the new composite siding materials.
How to Clean Siding Starts with Some Basic Rules
There are a few rules you'll want to follow for any type of siding, and then you need to learn how to clean your specific type of siding. These tips help prevent any cleaners from drying on the surface before you can rinse them off.
Wait to clean your siding when the sun is not shining directly on the house.
Work in one small area at a time, scrubbing and rinsing each section before going on to the next one.
Wet down plants near the house and/or cover them with plastic sheeting to protect them. Remove the plastic as soon as possible to avoid overheating them.
When scrubbing with a cleaner first, start scrubbing at the bottom and rinse from the top down to avoid streaks.
Follow specific directions for your type of siding, including manufacturer guidelines.
Using the right tools to clean your siding will make the job go faster and produce better results, as few homeowners are used to working from a ladder. If you already have a favorite brush and pail to hang from your ladder, great. If not, you might want to try the Pivot Pro Water Wand shown below.
Because there are different types of siding and not all need the same approach, the cleaning tips below cover the most common siding materials.

How to Clean Siding: Aluminum or Vinyl
Aluminum and vinyl siding share similarities, but there are also differences with their care and maintenance. Aluminum is metal that's been painted while vinyl is not coated and the color runs throughout the material.
Aluminum siding has a common issue with chalky residue. If you wipe your hand across the surface, you may look like you've wiped down a blackboard. This residue is the result of degradation from pollution and exposure to the elements.
Vinyl siding's main issue is dirt, and mold or mildew buildup. The color can't wear off, like aluminum but vinyl can fade if the climate is very hot and sunny.
Cleaning solution = 1 gallon water, 1/3 cup powder laundry detergent and 2/3 cup TSP.
To clean either aluminum or vinyl, a gentle scrubbing with a soft-bristle scrub brush and trisodium phosphate, also known as TSP, can loosen the grime.
Be sure to wear protective goggles and long rubber gloves, as TSP is harsh and can hurt skin your skin and eyes. Rinse off TSP using plain water from a garden hose.
You can also use bleach or a mold and mildew solution like Wet & Forget Outdoor, to get rid of mold and mildew. Use a spray pump and leave the solution on the siding for about 10 minutes before scrubbing, working from the bottom up to the top.
If the siding is extremely dirty, you might consider pressure washing. A word of caution: Pressure washers are just what they say. Water is under very high pressure, even on a low setting. It can permanently dent the siding if you hold the nozzle too close. Hold the sprayer slightly sideways and at a moderately downward angle. The helps avoid spraying water up under the siding panels, causing water to infiltrate.

How to Clean Siding: Wood Clapboard, Shingles & More
Wood siding, whether it's painted, sealed with a clear sealer or left to weather naturally, will benefit from a gentle scrubbing with a very soft brush and a cleaner made for wood. As with aluminum or vinyl, just rinse off the cleaner using a hose.
Power washing is a controversial subject when it comes to wood. It can be done safely, but it takes a steady and careful hand. Many a home owner has become disappointed when seeing permanent scars across the wood that a power washer can create. Based on my experience running a handyman business, I don't recommend pressure washing to homeowners unless you're getting the house ready to be painted. That's because the pressure washer will find paint chips that are loose and strip them off the house requiring you to touch up the paint.
Plain water is your best bet with power washing. You may hear recommendations that say bleach is a good addition to power washing. But bleach can completely alter the wood's appearance, making it look gray, so take that into consideration. The power of the sprayer alone is enough to lift out dirt, mold, and mildew stains.
Never use a narrow stream when power washing wood. This can cut through the surface, leaving a deep scratch. Use the lightest setting that lifts out grime, and hold the nozzle the same as you would for aluminum or vinyl. Instead of pointing it directly at the siding, turn the nozzle slightly to the side and hold it at a moderately downward angle.

How to Clean Siding: Stucco & Stone
Stucco has a rough surface that can collect a lot of dust, dirt and other grime. It's also slightly absorbent, so some stains may be deeper than they appear.
Scrubbing stucco is the best first step. Soak the wall using a garden hose first, then scrub with a mild detergent and water solution and a soft scrub brush. Although stucco feels quite hard, the material is not very thick. So avoid using too much pressure while you scrub. A garden hose is all you need to rinse.
Power washing is another option. As with any other siding, be careful not to point the sprayer directly at the wall. This can puncture stucco, leaving a hole that requires patching.
Unlike lapped siding, such as wood, aluminum, or vinyl, you don't need to hold the sprayer at a downward angle. There are no overlapping seams where a pressure washer could force water into the wall behind the siding.

How to Clean Siding: Brick
Brick is a classic, and its rugged durability has made it a favorite siding for generations. To clean brick, you'll need a slightly coarser scrub brush than for other siding materials. This helps you lift out debris that's embedded in the texture. Detergent and water is a simple solution for cleaning.
Power washing is also an option for brick. Like with all other siding, the nozzle should be held slightly sideways to avoid forcing water directly at the wall. This can not only scar the brick, but also dislodge the mortar between bricks.
As with stucco, you don't need to hold the sprayer at a downward angle. Use the lowest pressure setting that gets the dirt-lifting results you need. Because of the deep texture of brick, some home owners prefer to scrub on detergent and then rinse using a power washer instead of a garden hose. This can leave your brick home sparking clean.
How to Clean Siding: Fiber Cement Siding
Fiber cement is a composite material made of cement reinforced with cellulose fibers starting around 1980 (prior to this, asbestos was used as the reinforcing material). It is popular because it's resistant to rot, termites, fire and most storm damage.
Fiber cement has to be repainted periodically and it has to be cleaned, especially when you have moss and/or mildew. Here are James Hardie's recommendations (chart above) showing how the cleaning solution will vary based on what you need to remove. It's also a great example of why you want to check with your siding manufacturer's recommendations as everyone has a different idea on how to clean siding.

Consider Safety When Cleaning Your Home's Siding
A word of caution about ladders. If your home is taller than one story, you will likely need a ladder to reach the upper areas. Use extreme caution, and wear good shoes with a gripping tread. Wet feet and a ladder rung are not a good combination, and slip-and-fall accidents are one of the most common causes of injury in and around the home.
Also, unlike the subject in our photo here, don't wear flip flops or other sandals while pressure washing. Not only are they slippery, but the pressurized water can cut through your skin if it comes in contact.
A clean house that sparkles inside and out is one of life's real joys. Cleaning the siding isn't an easy job, but it's so rewarding once it's done. Take your time, use the right equipment, and don't be shy about asking for help. Once the job is done, the bright, clean siding will be motivation enough to do it again when the time comes.
Are you planning to clean the siding on your home? Have any tips you'd like to share? We love learning how our readers handle home maintenance and repair jobs!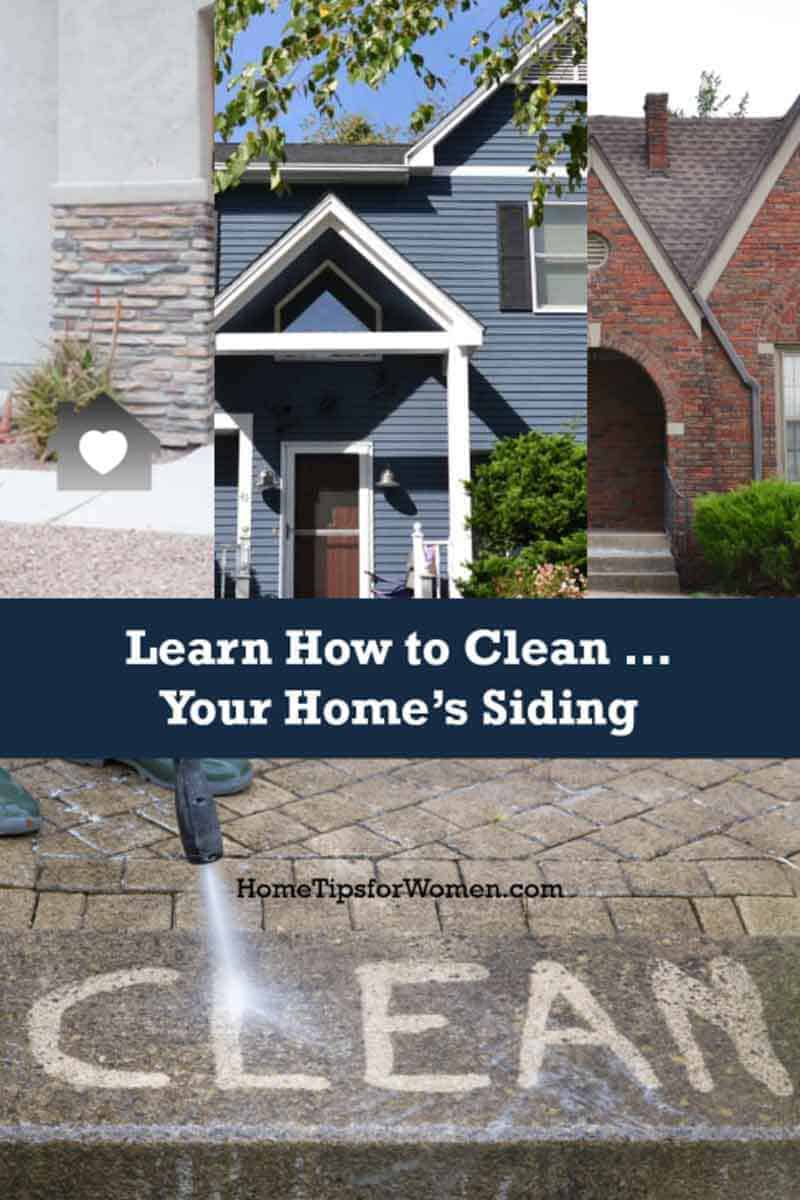 PS Remember that while you can find many low maintenance building materials, there really isn't anything that's no maintenance! So if you want to do some more research about the best materials to use for your home's exterior, here are a few more articles on siding.
---