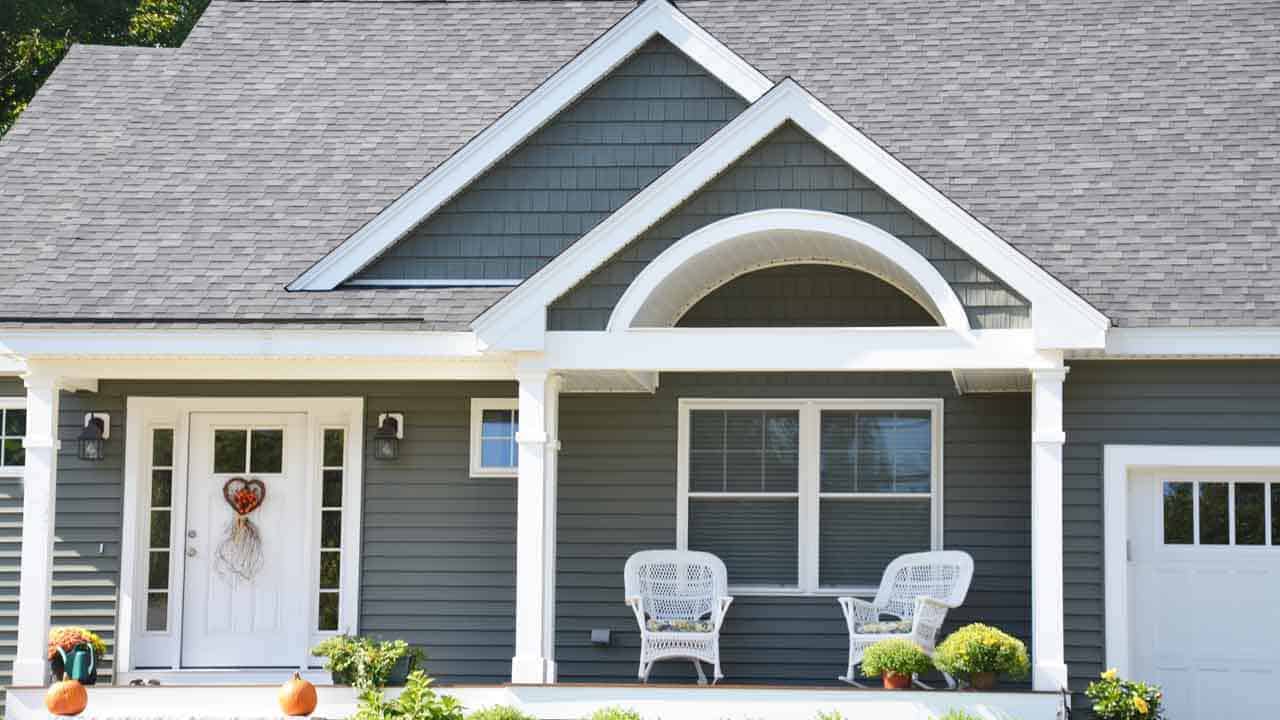 Advances in building materials mean homeowners have more choices in low maintenance siding that needs minimal care. Siding is what protects your home from the elements – the hot sun, howling winds, water in many forms plus extreme temperature changes. We can't change the weather but you can pick a siding material that requires less care and that's important to busy homeowners today.
When selecting the right siding for your home, you'll want to consider:
How does the siding suit the style of your house and neighborhood?
How does the siding hold up to weather where you live, e.g. temperature, rain and humidity, wind and proximity to salty ocean air which causes materials to wear faster?
How does the siding look after installation and long term, e.g. for resale?
The cost of the siding but don't just look at the initial product cost.
Consider the cost of materials, installation and ongoing maintenance as that's where you'll see that low maintenance siding may be cheaper compared to painting your house every 5 or 6 years.
This article reviews the pros and cons of low maintenance siding so you can narrow down your search. And don't assume what these siding materials look like because manufacturers are able to make one material look like another, like vinyl siding that looks like wood until you get up close.
But wait. This review is about stepping back and looking at the best siding options when low maintenance is a priority. That's because some of the older, traditional types of siding get lost in Remodeling.com's annual Cost versus Value survey, which only covers vinyl and fiber cement siding. And that's pretty easy to figure out. Given the nature of the materials, there aren't any national brands selling brick or stucco siding!
Note: Don't confuse synthetic stucco, also known as an exterior insulation finishing system (EIFS) with the real thing. It's not and it doesn't wear as well as real stucco.
Stucco, the Oldest Low Maintenance Siding
Stucco siding dates back to the wall frescoes painted by the Romans and Greeks on walls of fine-grained plaster made of gypsum, marble dust and glue. Their techniques were improved on the Europeans, and arrived in the US in the twentieth century.
A common misconception is that stucco is only available in white but in fact, stucco is available in many textures and colors. Stucco breathes so moisture can evaporate quickly. This makes stucco siding a good choice in areas that are dry or have normal amounts of rain. In rainy locations, the framing behind the stucco may suffer wood rot.
Stucco is applied in three coats (here's a great video showing the process). The first "scratch coat" focuses on getting the stucco to adhere (stick) to the house. The next layer, called the "brown coat" is used to create an even surface. The last or "finish coat" is where you pick the appearance of the stucco – the color and the texture. You want to pick the color when you're installing stucco, as paint can lead to moisture problems.
Stucco materials aren't expensive so the cost is in the labor and you want it done right. Stucco typically lasts 50 years or longer, depending on weather. Maintaining stucco involves cleaning off dirt and debris, and here's an article from a Philadelphia realtor, with great tips for cleaning and protecting stucco as they've got both new and historic stucco homes there.
Brick Siding, A Low Maintenance Siding Option
Brick is popular in areas of the US where there's lots of clay and trees aren't plentiful, like the midwest. Brick works well with many house styles and it's durability makes it a popular siding choice.
Under normal conditions, brick siding will last for the life of a building. You'll find brick dominates many cities where it was used for historic buildings after fires destroyed the original structures, like Portsmouth NH and Newburyport MA (Market Square, Newburyport shown here).
You may want to wash your brick house with a hose occasionally and maintenance involves replacing mortar where it deteriorates, e.g. cracks, as that's where water can get into your home.
Masonry veneer walls (brick or stone) are used as a protective layer, not to support the structure of houses. There is an air space between the brick and the next layer of your home's exterior envelope, to allow your home to breathe and water to evaporate or exit through weep holes built into the siding. The weight of the brick requires added support in the foundation and the brick must be tied to the building structure to withstand movement due to high winds and earthquakes.
Low Maintenance Vinyl Siding That Looks Like … ?
Vinyl siding is one of the cheapest materials to install. This low maintenance siding is popular because it is almost indestructible under normal circumstances, holds up to weather, is insect proof and fade resistant.
There are times when you've got to replace a piece of vinyl siding so be sure to buy extra, and leave it outside so it can fade with the rest of the siding. Maintenance means pressure washing when the vinyl gets dirty and occasional repairs. My handyman business had calls when a baseball hit the house, someone drove the riding lawn mower into the side of the house and other fun stories.
What's fun with vinyl is the range of colors and styles available, with most of them looking like wood including a wood grain. This house shows 3 different styles from Certainteed – horizontal clapboard, shakes and the decorative gingerbread trim made popular by Victorian style houses.
Fiber Cement, Another Low Maintenance Siding Product
There are many manufacturers offering fiber cement products, with James Hardie (photo below) and their HardiePlank the most known. It's made from Portland cement, sand and some products do include wood fibers to help prevent cracking. Fiber cement siding has the durability of cement. It's also impact resistant, impervious to wood boring insects, doesn't rot and it resists deterioration form ultraviolet rays and salt in the air.
Fiber cement is a low maintenance siding material because you don't have to worry about wood rot like you do with wood siding. Some manufacturers offer fiber cement products with factory paint (baked on, Satin finish) which can last 15 years. Lighter colors hold up better to sunlight, and it's the quality of the paint and painter that will determine how long each painting job will last.
Like vinyl siding, fiber cement comes in many different colors, styles and textures, giving you tremendous flexibility to create the home of your dreams. In addition to resembling wood, there are fiber cement products that mimic natural fieldstone, stacked flagstone and brick. The challenge then is deciding what you want.
For more tips on buying, installing and maintaining your home's siding:
---