You can watch HGTV … or you can visit one of the fabulous designer showcases in your local area. There are many great reasons for visiting a show like Boston's North Shore Design Show at the Wenham Museum, in Wenham, Massachusetts.
There's something for everyone as each of us is an individual and we like different things – colors, texture, lighting and flooring, furniture and accessories. Most of the furnishings are for sale although what I liked the most was the variety of wall treatments and attention to detail with wonderful wood trims so here are the details so you too can visit the show …
North Shore Design Show at the Wenham Museum
Saturday, May 12 to Sunday, May 20, 2012 (details here)
When visiting a designer show, you first want to consider it's location as it's space, location and mission will influence the designs. The North Shore Design Show is held each year at the Wenham Museum which celebrates the history of childhood and domestic life on Boston's North Shore and I loved the doll houses! The 13 designers were asked to transform an 8-by-8 area into a favorite space inspired by the museum's mission of North Shore life past and present.
The variety of rooms is amazing and one thing that struck me was how many books and bookcases there were in contrast to our lives today, full of electronics and far fewer books than lives lived just a generation back. Pause … as I sit back and reflect on the mood, the feelings of a bygone era where people really lived at home, where people sat and read or painted or puttered in the garden. It really highlights how our lives have changed and I wonder what we're giving up as we move firmly into the electronic world surrounding us.
Rooms for Reading and Relaxing
What's your favorite place to ready, and I'm not including reading at your computer because that means you're sitting at some type of desk like I am right now (writing this has made me more aware of where I am). I'm still a huge fan of holding a real book although I can't ignore the thousands of people who love their Kindles and Nooks, and I have downloaded books to my iPad for traveling. Check out these calm, relaxing rooms meant to create the feeling of a warm, cozy library where you can get lost in a great book …
There are lots of lessons we can take away from this room. At first glance you think it's a dining room but when you look closer, it's also a library with a cozy bench seat for snuggling into a good book.
As we rarely use our dining rooms with families scattered across the US, and the world, it makes a lot more sense to have your dining room take on 1 or 2 more roles that support your lifestyle today.
---
My visit to the Wenham Museum for the North Shore Design Show is thanks to Camille Garro, of Camille Garro Interiors.  Her living room design feels like I've been transported to another era and more important, the room  inspires us to sit and relax with a book, soaking up the warmth of the room.
What's intriguing is how the designs on Camille's website are more contemporary, yet the rich red and earthy tones, coupled with natural materials like the leather chair, are the same.
---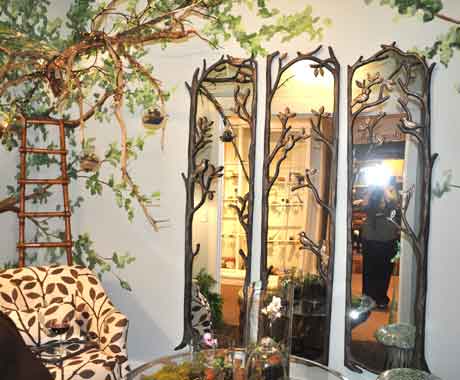 This room is magical bringing the outdoors inside from the trees painted on the walls and ceiling, to the chair with a leaf print design.
In the northeast (the North Shore is north of Boston), winters are long and cold so we're indoors for many months and tend to get cabin fever. The room comes alive with green, real (terrariums on the trees) and imagined, so we feel like we're outside. This is especially nice when outside the windows, there's a white snowy landscape.
---
We've got more photos to share – rooms for hobbies, home offices and more, so check back soon. For now we want to acknowledge all the interior designers and the people who helped create this wonderful show.
Camille Garro Interiors
Carpenter & MacNeille
Eric M. Haydel Design
Finn-Martens Design
Honey Collins Interiors
Mary O'Neill Interior Design
Nightingale Arts of Salem
Sacris Design
The Drawing Room Interior Design
The Walsingham Gallery
Timeless Interiors
Wilson Kelsey Design
Yvonne Blacker Interiors