Buying a new house is exciting and the real work starts after you move in. Few home owners are experts in all facets of home ownership so we've created checklists to help you learn what your home needs. You want to keep your home in top shape to save money, to stay healthy and like the Girl Scout motto," be prepared" as life happens. That's why we created home maintenance checklists to help you.
Our checklists are organized to focus on your most important home maintenance priorities starting with safety. We've prepared maintenance checklists in several formats. There's a one page, check off what's done worksheet to a detailed description of what to inspect, how to maintain and tips for updating your home. You get to pick the format that fit's your approach to home maintenance.
Seasonal Home Maintenance Checklists
You decide when to do home maintenance and what you'll do yourself versus hiring a home professional. We've organized the chores into 4 seasonal checklists. At the beginning of your prime heating/cooling season, it's important to inspect and improve your home's envelope so the money you spend heating or cooling your home isn't wasted. After winter storms, inspecting your home and making timely repairs avoids higher repair bills as hidden moisture continues to eat away at your home's infrastructure.
Home Maintenance Priorities
Regardless of the season, these are the priorities for all your home maintenance activities. These chores will help you get the maximum useful life from your home components, from your roof to the furnace, hot water heater and more. For more information on the projected lifetime for home systems, you'll find Budgeting to Replace/Upgrade Interior Home Components and Home Components: How to Plan and Budget for Exterior Home Updates very helpful.
Start with the safety of those living in your home.
Minimize water damage inside and outside your home.
Make ongoing improvements to improve your home's energy efficiency to save you money and reduce your family's impact on the environment.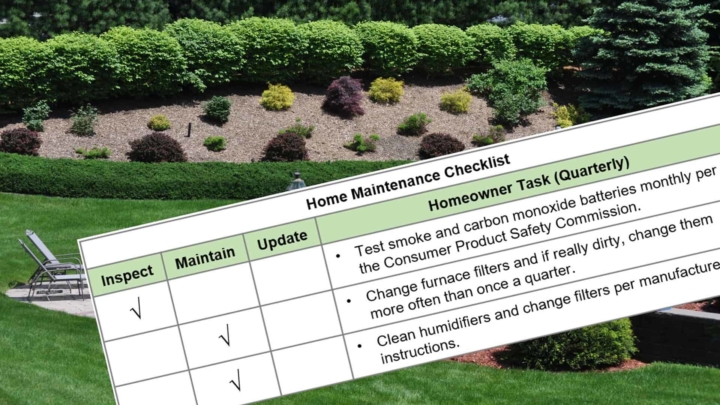 Tips for Using Our Homeowner Checklists
Don't confuse getting the work done … and doing the work yourself. Most of us don't do our own car repairs anymore and we don't expect most home owners to do all their own home maintenance. The best way to use our checklist is to scan the list and decide on a strategy for getting everything done. You get to pick the items you want to do yourself, i.e. maybe you like painting? For those items you don't like doing (or lack the skills, tools or time for larger projects), you'll want to find reliable home professionals you can call each year.
We realize everyone approaches their home maintenance differently. Our goal is to help you get everything on the list done eventually. That's why we've included 3 columns to help you keep track of all the home maintenance activities. If you don't have any experience with home maintenance and repairs, find a very experienced home owner, home inspector or other home professional to "inspect" your home with you one or more times, until you get comfortable with what to look for. The inspection helps you identify the maintenance and repairs or updates needed, i.e. some houses only need their gutters cleaned once a year while others need it done 2 or more times.
Inspect – if you've only got an hour to spare, pick one exterior side of the house or room inside to inspect. Note when you did this and flag items needing maintenance or repairs, to help you schedule time or build a punch list for your handyman.
Maintain – are tasks to keep your home safe (smoke detector batteries), energy efficient (furnace air filters) and prolong the useful life of many home features (caulking tile). Write down when you complete a task and when you plan to do it again.
Update – is about taking advantage of improved materials, upgrading to new building codes and evaluating when it makes more sense to replace a bathroom floor versus grout repairs.
---