While we're able to control the environment (temperature, humidity, lighting) inside our homes, but we have very little control over the weather buffeting our homes outside. That's why our exterior home maintenance checklist is so important. It's meant to help you inspect and make repairs to your home to prevent water damage, reduce the loss of heated/cooled air and we can't forget items to the safety of your loved ones.
Some of you will enjoy getting outdoors and soaking up the sunlight while tacking spring home maintenance chores. Others will focus on getting their hands in the dirt and preparing the yard and gardens for another growing season. It doesn't matter which tasks you handle yourself or delegate to a home professional like a handyman, window cleaner or landscaper.
Your first role as a homeowner is to make sure preventive maintenance is done and needed repairs are made in a timely manner. That's how you'll minimize the cost of home repairs, so you can make invest in more home improvements. And the first step to good home maintenance is inspecting your house, so here's a simple exterior home maintenance checklist for your house and yard.

Exterior Home Maintenance On Top of Your House
We're not asking you to get up on your roof and dance like they do in Mary Poppins, to Step in Time (watch on YouTube). Nor do we think you, or your kids, should be on your roof at night.
In fact you shouldn't go climbing up there unless you're very athletic and have good balance. And even then you ought to stay on the ladder. Why? Owning a handyman business, we get two or three calls each year to build ramps for wheelchairs or finish jobs that homeowners tried to do … you get the idea.
So here's what I like to tell homeowners. Use technology to inspect your roof, it's that simple.
If you've got a good pair of binoculars use them or my preference is a digital camera. I like the camera because it allows me to zoom in and look at the details when I'm more relaxed in front of my computer. Photos will also help you compare the roof to what it looked like last year, and you'll begin to see changes as the granules wear off the asphalt shingles or a crack appears in the lead flashing around the chimney that wasn't there last year.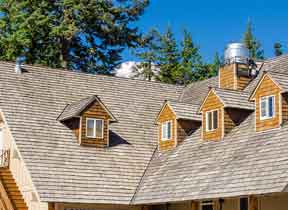 Here's what you want to look at on/around your roof, with the biggest roofproblems coming where there are seams between different materials.
Roof shingles to see if any are missing or not lined up properly which happens with severe winds.
Flashing around the chimney and anything else that sticks out from the roof. In addition to the chimney, this means dormers (photo here), plumbing vent stacks, skylights and even and antennas attached to the roof.
Valleys where different sections, sloped at different angles, meet. That's where everything collects from leaves to pine needles to snow and of course, water.
Homeowner Tip: Another way to check for roof leaks is to inspect unfinished attic's for sagging or black lines. They show where water has gotten under the roof and inside your home. Black lines show the path the water takes as it travels down.

Exterior Home Maintenance For the Sides of Your House
Again the focus is on keeping water from entering your home so here are the things you want to check and yes, please check all sides of your home or your exterior home maintenance check isn't done. Eventually you'll discover which of the 4 sides takes the worst beating from the weather – wind, rain and sunlight, all of which wear down the materials that make up your home's exterior walls or envelope.
Fascia (vertical facing out) boards and soffits (horizontal underneath overhang) – are just below the roof line. If the flashing installed under the lowest row of shingles wasn't installed correctly, water will get under the shingles. When fascia and soffits are made of wood, painting promptly will prevent the wood from absorbing water which causes wood rot.
Gutters and downspouts – may need cleaning and/or repairs in late spring after the trees are green.
Siding and trim like corner boards, must be secure and in good condition. Wood siding and/trim needs to be painted to prevent water damage and other materials may need special care like power washing vinyl siding. Learn about wood rot repairs if you don't keep exterior wood protected.
Windows and doors – may need maintenance, especially when made of wood (remember painting is about protecting the wood). More often though, you need to check the caulking that seals gaps where they meet your home's siding. And most wood rot occurs where there's water … on window sills, door thresholds & the vertical kick plate just below a door.
Foundation – is where water can get into your basement, crawlspace or slab. The point is concrete is porous and water does come through unless you direct the water away from your house.
Decks, porches and stairs – need different maintenance depending on the materials they're made from, with wood requiring the most consistent care to reach it's estimated lifetime of 20 years.

What Else is On the Exterior Home Maintenance Checklist?
Sidewalks and driveways – may have holes and cracks which could cause accidents.
Windows – might need a cleaning and again, you might want to hire someone to do the second floor if your windows don't tilt.
Mailboxes – often taking a beating where there's snow, so it's one more item on our exterior home maintenance.
Lawn care – might mean getting your lawn mower serviced or arranging for professional lawn care.
Irrigation systems – need to be tested to make sure they're ready for the growing season.
Yard clean-up – includes cleaning up fallen branches and/or trimming trees and bushes, and adding mulch.
Pool and air conditioning systems – aren't needed yet so beat the summer rush and take care of these early.
What else is on your exterior home maintenance checklist?

---