First there was black Friday, then Cyber Monday and now we have Small Business Saturday (day after Black Friday). That's why I wanted to showcase a local small business on the NH seacoast. We're all creatures of habit and it might be easier driving to a mall and parking once, but it won't be as calm and relaxing as shopping some of your local, small businesses. When you buy local, you get to interact with the business owner, and they truly are committed to great customer service.
Amy Dutton Home in Kittery, Maine is one of these small businesses, owned by Amy Dutton. She's an interior designer with 15+ years of experience. You are invited to visit her store at 9 Walker Street in Kittery, and you'll be surprised at the variety of products she carries. She does a fantastic job of blending the work of local artisans, with the best the world has to offer for your home. Think of her as your eyes on interior decorating around the world. That's because she goes to High Point Market, the world's biggest and most important home furnishings show with more than 11.5 million square feet of exhibit space (equivalent of 4,600 single family homes).
Buying from Small Businesses Means More Help
When you enter Amy's shop, you're immediately struck by the intimacy – it feels more like a home, than a store. There's inspiration from the moment you enter the house – the stairs say it all, unique, inspire, original, … you get the idea. When I visited Amy Dutton Home (and she didn't ask me to write this article), she excitedly shared stories about where her products come from. She's especially proud of the relationships she's built with local artisans who will custom make anything from cabinets that fit your space, to a lovely barn door like the one on display at her shop.
You might be looking for a special mirror, a throw blanket to snuggle under this winter or some new light fixtures. You're free to browse the shop or Amy will help you find what you want. Amy works with homeowners like you and me, and also supports other home professionals including architects, interior designers and builders.
So let's take a tour of Amy Dutton Home, and it truly feels like a home … which the building once was. We'll start by walking through the living room and head over to the kitchen. The room feels a lot like a living room but instead of personal artwork, Amy has on display many different accessories and finishes. I especially like that she's covered one side of the brick column with recycled wood which is very popular today.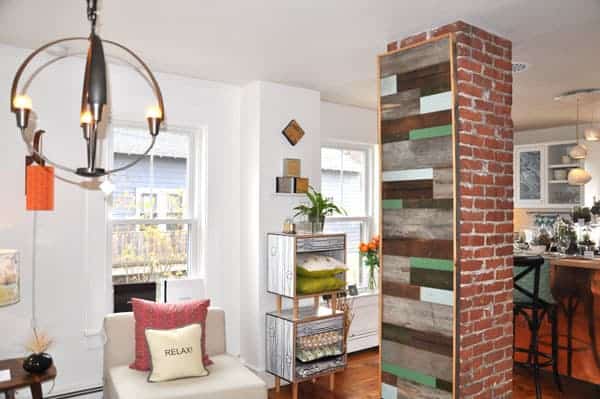 The cabinets aren't anything like those at Lowe's, or even a kitchen and bath store. There are different styles, custom crafted by local artists and here you've got not only the cabinet, you've got some wonderful glass too. It's actually a lot of fun looking at all the items displayed in the kitchen, and you begin to wonder if you could (should?) leave more of your cabinet shelving open. Love the window seat as I love mine because it's the perfect way to store all your over-sized pots and pans.
Now if you've got to use the bathroom, just slide the barn door over to the right. Barn doors are the perfect solution for small spaces where there isn't enough room for doors to swing open. The bathroom truly was the bathroom once upon a time, so now it displays all the things you would expect to find (oops, no toilet) in a half bath.
Now it's time to head into the dining room which has a beautiful, glass table top so you can see the craftsmanship that went into creating this beautiful piece of art, that also happens to be a table. Just below the table, are my 2 favorite products – a kitchen bar stool like none you've seen before, and a precious, light weight light fixture made from cork. 
Working with an Interior Designer Isn't Difficult
Many homeowners don't realize how working with an interior designer can save them time and money. They're able to translate your ideas into floor plans, color palettes and furnishings much faster than you. They can also work with your budget, and find the best products to give you the home you want. So here's how Amy can help you and it's wise to meet with several designers, to find someone who understands what you want.
Architecture – including new construction, additions and renovations. She offers in-person consultations and online home design packages.
Interiors – cover all aspects of interior design, from planning & purchasing, to consultation on what's going to work for you and your home.
Gallery – showcases many unique artisan products for the home, and there are new products arriving every week.
Landscapes – from creating a landscape plan to helping manage land before/after new construction.
So Amy and I truly hope you stop by when you're shopping the NH seacoast and/or the outlet shops in Kittery. Once you meet Amy, you'll learn that she's someone you'd enjoy working with for any remodeling or landscaping project. You'll also find some special products and enjoy the shopping experience too.