Building on your lot is both challenging and rewarding. You're probably don't realize half the things that go into developing a piece of land before you can build. That's why most homeowners who want to build a house, do so in a development where  they want to live, although often this means you can't pick your builder.
Building on an "improved" city lot is cheaper as you'll get to tap into city water and sewer systems, utilities, etc. If you're building in the country,  you'll probably spend 50% or more drilling for a well, septic, running utility lines and more.  
Building on Your Lot: Can You Build the House You've Dreamed Of?
Before you start building on your lot, you've got to make sure you have a buildable lot and hopefully you did this research before you bought your land. You'll want to start at your town's Building & Planning Department. Approach them with respect and ask for their advice learning the rules.
Get a copy of your town's zoning map and regulations, and schedule an appointment with a building inspector to review where you're planning to build, including well and septic, and ask if they anticipate any problems. It's better to get answers and opinions in writing in case there are any disagreements later, like if the person you talked to moves to a new job when it's time to apply for your building permit.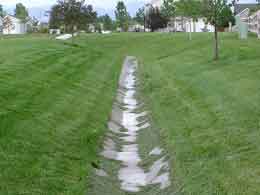 When building on your lot, you can find yourself facing lots of restrictions similar to these. Visit BuildingAdvisor.com for a more comprehensive land buying checklist.
Are there any easements for things like power lines or access for emergency vehicles?
Do you have the required road frontage and/or deeded access (may require a right of way) to reach your land? 
Are you in a flood zone requiring drainage or maybe part of your property includes wetlands that can't be built on? Learn more about drainage solutions.

Do you have the right zoning for building on your lot, e.g. you might be able to build a single family house that's two stories but have to get a variance for a third story?

 

Are you able to place your home where you want, and satisfy all the setback requirements? 
Do you need to adhere to any architectural guidelines if you're in a historic district or development?
Building on Your Lot Involves Lots of Site Work
Often after you've purchased your lot, you'll need to modify the house design to leverage the best features building on your lot. When we built our home, we had to reverse the plans so we could have a walk-out basement. We also wanted to nestle the house in-between the trees and carefully marked where the house would go to minimize the number of trees that had to be cut down.
You'll want to budget for site development so you don't find yourself having to cut back on your dream home because of budget overruns early in the project. You might love the views from ridge-top land but once you understand the expense of running power lines to your lot, you might find that idea location isn't really feasible.
Here's a checklist of the most common site work preparation needing when building on your lot: 
You need an updated survey to show that marked boundaries are accurate, and typically this will show driveways, house placement along with well and leach fields for septic system.

Bringing utility lines onto your land – electricity, natural gas, cable, Internet and some homeowners might still want telephone service.

Water will require hooking up to the city or putting in a well.
Sewage will involve hooking up to the city's sewer system or putting in a septic field.
Testing like a percolation or "perc" test will determine the absorption rate of your soil and what the design requirements are for a septic system.  
Putting in a driveway to reach the house and digging trenches to run utility lines underground.
Thinning out trees and other ground cover to match the landscaping plans
For example, one site may require a foundation for your home supported by below-ground piers. Another site may require extensive excavation work, which can run into thousands of dollars. And there are other considerations as well, including a complete understanding of the easements, zoning laws, property line restrictions, and architecture guidelines and review processes.