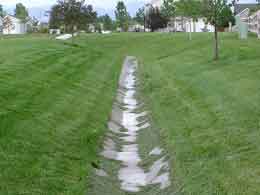 Water drainage is a challenge for many homeowners, so we weren't surprised to get this question from a Savvy Homeowner Club member.
Question: What is the best way to direct water from a basement sump pump away from the foundations? Today it flows from a 1 1/2″ diameter PVC pipe protruding from the foundation about 2 ft above grade, hidden under our deck. When there is a risk of flooding, we add temporary PVC pipes (connections not secured) to the point where the ground slopes away from the house, about 6 feet from the edge of the deck.
Answer: You said the ground starts to slope away from your home about 6 feet from your deck which means you can use what's known as a French drain. If your land was flat, you would need a dry well to hold the water until it could slowly drain into the surrounding soil.  
Your temporary solution to move the sump pump water is perfect and needed to keep the water from pooling around your home's foundation where it would ultimately find it's way back into your basement. 
Why We Have Water Drainage Problems
Before fixing problems around your home, it's wise to uncover the source of the problem as that may influence your choice of a solution. There are many reasons for the water drainage problems that affect about half the homes in the US. 
Building on land with poor drainage from natural wetlands, clay soil, ledge, etc. 
The ground around the house isn't graded (sloped) properly to move water away from the foundation.
Determining the need and installing a required drainage system when building a house, because of the added cost. 

When building my house in New York, we wanted only 1 or 2 steps at the front door. Our builder said we'd create water problems in the basement so we compromised with 8 steps from the driveway up to the front door. 

Too much ground cover around houses to support drainage requirements including streets, driveway, paved walkways, patios and more. This puts more pressure on the remaining ground to absorb higher water volumes.
Development in your community may alter underground water and impact your house. With my handyman business, we had many homeowners with basement water issues where none had occurred for more than 20 years. Note how the community water catchment area is paved instead of gravel, slowing needed water drainage. 
Water Drainage Solutions
The best (and least expensive) time to add water drainage solutions to your house is when it's built. Installing a French drain around the perimeter of your home might cost more but there's no extra excavation, which is a huge cost if you have to install this system later.
Alternatively homeowners end up jack hammering the interior perimeter of their basement and installing a sump pump to avoid excavation but you run the risk of the sump pump failing due to lack of power or battery failure.
BioGreen, a lawn care company in Virginia offers some simple, cost effective solutions to address water runoff around your home (diagram here and some great before and after photos of these solutions on the BioGreen website).
Water drainage solutions are needed wherever you have heavy water flow from downspouts or a sump pump. If the water table rises above your basement slab, you need a French drain below slab level to draw water away from your foundation and if your ground is level you might need a dry well (called a Flo-well in diagram below) to hold the water until the surrounding ground can absorb it.
For more tips on keeping your basement dry, read Tips for Keeping Your Basement Dry.