For great painting results, make sure you use the best paint brushes and paint you can afford. It will make the time you spend painting worth it and you'll get to enjoy the results for years.
Painting is one of the most popular decorating projects used by homeowners to give their home a new look. Painting just one room or sometimes an accent wall, can totally change the look of a room. To make sure you love the results, we want to give you tips on the brushes that will give you the best results for any homeowner DIY project.
What's Important When Picking Paint Brushes
It would be nice if all brushes were created equal but they're not, so you're smart to do some research before buying new painting tools. The perfect paint brush for a professional painter might not be ideal for a novice but women's hands are smaller, so I've included "how comfortable" a brush is to hold for women.
Here are the key factors to consider. Once you've read this article, you can continue your research at one of your local paint stores as they're the experts. It's also the only way you'll learn how a brush feels in your hand. Make sure to ask for advice on how to hold the brush.
Why are paint store employees experts? They talk to professional painters every day. You can too if you go early, when the store opens as that's when painters pick up the day's supplies.
Right paint brush bristles for the type of paint you're using. This article focuses on brushes for oil versus latex paints so if you're using stains and clear coats like shellac, varnish, lacquer or polyurethane, you'll want to do more research.
Right paint brush size and shape which varies for the painting you'll be doing.
Better paint brush construction will make the job go faster and give you a brush that lasts a lot longer. Yes, talk to a painter and don't be surprised when they tell you they've had their favorite brush for more than 10, sometimes 20 years.
How comfortable the brush is to hold when painting, so you don't get tired too quickly. Watch a few videos and you'll see most painters hold their brush at the base of the handle bottom of the handle with their fingers
Preference for a soft or firm paint brush is often a personal preference. Painting pros seem to like a firm brush for more control.
How easy it is to clean the paint brush. Especially important for homeowners who want to paint 1 to 2 hours at night, so here's what I learned talking to professional painters – How to Clean Paint Brushes (Part 1) and Cleaning Paint Brushes (Part 2).
Need to buy a paint brush now and don't have enough time to read and research? If you only want to buy one paint brush to get started, the one recommended by most painters is a 2 and ½ inch, angle brush that works with oil and latex paints. You can find theses brushes on Amazon (Purdy, Wooster or Corona).
Wooster 2 1/2 Chinex Angled Brush
Corona Chinex 2.5 Angled Brush
Purdy Chinex 2-1/2 Angled Brush
Anatomy of a Paint Brush
You're at the right place if you've never bought paint brushes. Or maybe you struggled with a painting project because you weren't using the right type of paint brush and threw the darn brush out? You're not alone. So let's start with the terminology used when talking about brushes, so you're comfortable talking to a painter or the people at your paint store.
Learning home construction terminology is a lot like learning a new language, so let's have fun with simple ways to remember the words. Don't be too hard on yourself. When I started my handyman business I understood most of the language when I heard it … but not well enough to use the right words myself. It took me about six months running my handyman business fulltime before I could remember and use words like ferrule and flashing comfortably.
Belly – is the fattest part of the brush, and like your stomach, the belly holds paint to reduce the number of times you need to get more paint.
Bristles –hold the paint and the tips lay the paint down on the object being painted.
Ferrule – is the metal band that connects the bristles to the brush handle.
Handle – is the part of the brush you hold when painting, and typically there's a hole to help store your paint brushes.
Toe and Heel – remain confusing to me so my best idea is you apply paint from the tips of your toes? And the heel is the other end (of your foot) of the bristles you see.
And surprisingly, these same terms are the same ones used for the artist paint brush. They have one extra word, the crimp to describe where/how the ferrule is attached to the handle.
Different Paint Bristles for Different Types of Paint
Most novice painters don't realize you need different paint bristles depending on the type of paint you're using. This also means you may need two sets of brushes, one for oil based paints and a second set of brushes for water base paints. Here's an easy guide to make sure you're buying and using the right brushes. (hint: you might want to leave a note where you store your brushes or color code them).
Paint brushes with natural bristles are best for oil based paint. Made from animal hair, China so the bristles are softer and stiffer so they can push the paint around better, for a nice uniform painted surface. However, you can't use these bristles with water based paints because the bristles will absorb the water and go limp, and you'll have to buy new brushes.
Synthetic brushes made from nylon and polyester should be used for water based, latex paints. They can also be used for oil based paint but you should never use the same brush for both types of paint.
The best synthetic paint brushes have these features:

Distressed tips (called flagging) to give the painted surface a nice, smooth finish. Usually the flagged tips are a different color than the rest of the bristle (white in paint brush above).
More bristles so you can't see the bottom of the ferrel where the bristles are attached to the paint brush handle.
Stiffer synthetic bristles, similar to natural China bristles. This is a new feature that's been created by adding a third fiber to the brush.
Best Paint Brush Shapes & Sizes for Walls, Trim & More
So it shouldn't come as a surprise that what you're painting will influence the paint brush you need to use. It makes sense when we break paint brushes down by the following categories:
Brush Sizes range from smaller brushes that give you more control to larger brushes. If you have a choice, remember that a higher quality brush will always give you better results than a smaller, inexpensive brush.
Larger paint brushes (3 to 4 inches) – hold more paint and cover a larger area with each stroke, so you'll finish faster. But don't get a brush that's so big that you tire quickly.
Medium size brushes (2 or 2 ½ inches) – are typically the most popular because they can be used for a variety of painting projects.
Smaller brushes (1 or ½ inches) – give you more control which is important where detail is part of the project, like trim.
Brush styles affect how much paint the brush holds and how easy it is to lay down the paint.
Square trim brushes – will hold more paint, allowing you to apply more paint over flat areas.
Angled (angular) brushes – have their bristles cut at an angle making it easier to paint a straight line on things like window trim. This "cutting-in" is useful where you have edges between surfaces with different paint colors, typical where ceilings and walls meet.
Chisel trim brushes – have tapered bristles for straight lines when trimming corners and edges.
Thin versions of these brushes hold less paint, giving you more control as you lay down the paint.
Brush firmness is getting more focus now that new bristle technologies are able to more options, in response to new types of paint. Borrowing from Wooster's Ultra Pro series of paint brushes:
Soft brushes – are able to create a smoother, mirror like finish. Nylon brushes are soft and …
Firm (medium stiff) – brushes have medium flex. They're typically made with a blend of nylon and polyester bristles (soft nylon and stiff polyester).
Extra firm – brushes are needed for "high-build" paints that are thicker and more flexible, for one coat application.
Tips on Buying the Best Brushes
For those who want a quick reference chart, here are the paint brushes you'll need for specific projects. You should expect to use two or 3 different brushes for one project. For example, when painting the walls and ceiling in a small bathroom, here are the brushes you'll use:
Start with the ceiling (always recommended) and cut-in along the edges around the wall using a 2 or 2 1/2 inch angle edge brush.
Finish the ceiling with a 3 or 4 inch, straight edge brush. For larger rooms you'll probably want to use a roller for the walls and ceiling but with a small bathroom it might not save you much time.
For the walls, you'll want to cut-in along the ceiling edges with the same 2 or 2 1/2 inch angle edge brush. Bathrooms have lots of fixtures to paint behind and around, so again a smaller 2 or 2 1/2 inch straight edge brush is better if you only want to use a single brush. Or you can use a larger flat/straight brush will save time on the walls where you don't have to work around things like a mirror, light fixture of bathtub enclosure.
| | | |
| --- | --- | --- |
| INDOOR Painting Projects | Brush Size | Brush Style |
| Ceilings | 3 to 4 inches | Flat/straight edge |
| Crown molding | 2 or 2 1/2 inch | Angle sash edge |
| Walls | 3 to 4 inches | Flat/straight edge |
| Doors | 3 to 4 inches | Flat/straight edge |
| Window frames & casings | 2 or 2 1/2 inch | Angle sash edge |
| Window mullions | 1 to 1 1/2 inch | Angle sash or flat edge |
| Stairs & railings | 2 or 2 1/2 inch | Flat/straight edge |
| Baseboards | 2 or 2 1/2 inch | Flat/straight edge |
| Cabinets | 2 or 2 1/2 inch | Flat/straight edge |
| Furniture | 2 or 2 1/2 inch | Flat/straight edge |
| Floors | 3 to 4 inches | Flat/straight edge |
| Tight corners | 1 to 1 1/2 inch | Angle sash or flat edge |
| Cutting-in walls & ceilings | 2 or 2 1/2 inch | Angle sash edge |
… and don't forget those outdoor projects
| | | |
| --- | --- | --- |
| OUTDOOR Painting Projects | Brush Size | Brush Style |
| Exterior siding | 3 to 4 inches | Flat/straight edge |
| Gutters & downspouts | 2 to 2 1/2 inches | Flat/straight edge |
| Exterior doors (6 sides to paint) | 3 to 4 inches | Flat/straight edge |
| Window frames & casings | 2 to 2 1/2 inches | Angled sash edge |
| Shutters | 2 to 2 1/2 inches | Flat/straight edge |
| Masonry | 3 to 4 inches | Flat/straight edge |
| Decks | 3 to 4 inches | Flat/straight edge |
| Fences | 3 to 4 inches | Flat/straight edge |
Which are the Best Paint Brush Brands?
When you buy peanut butter you probably buy the same brand your mother bought as that's what you know and trust. Your parents probably had a few paint brushes around the house but it's unlikely that you know the brand. So how do you know which brand is best?
There are three places where you can find painting experts:
Manufacturers of paint and painting tools like brushes.
Paint stores who have worked as a painter and/or learned about all things painting by talking to their suppliers and customers.
Professional painters who hold a brush in their hand 30 or more hours each week.
Online research but without Consumer Reports testing (they focus on the paint), the most reliable reviews are probably those on Amazon, from people who've bought the brushes being sold.
So which brushes do professional painters use? And where do they buy them?
… One painter said it best, "I used Purdy my whole life, exclusively, stubbornly refusing all others, and I still do keep one or two hanging about BUT Purdy is not the same today as it was a few years ago. Disappointment with new brushes not performing as well as older brushes led me straight into the arms of Corona as my first love, Wooster and Picasso as my two beautiful mistresses and Purdy as a past and tired old flame which I take out on odd occasions to celebrate past happy times."
My handyman business did a lot of punch list work for builders. It was easier for the builder to have us handle issues with siding, interior trim, caulking, painting and more. We made lots of trips to our local stores which had the paint colors for each house. It was fascinating to learn how each painter had personal brand preferences and they'd switch for interior and exterior paint.
Painters use a combination of brushes including Purdy, Wooster and Corona … but Corona is clearly the top paint brush based on comments on several painters forums. Of course the price of Corona paint brushes reflects the quality, so if you're not willing to make that type of investment you can buy a Wooster brush, or Purdy but there are concerns that Purdy's quality has dropped since the company was bought by Sherwin Williams.
Note: I've also seen comments about Benjamin Moore buying Corona which tells you the industry is changing, hopefully for the benefit of all.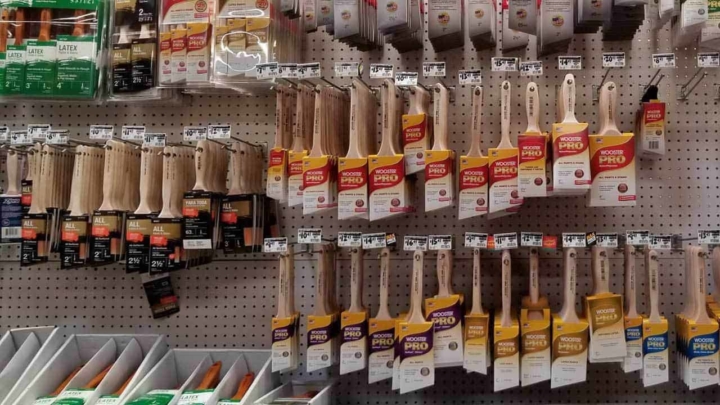 Tips on Buying Your Brushes
Going shopping for paint brushes can be overwhelming, especially when you have no idea how to interpret the names and the limited information you'll find on the packaging. So I thought it would be helpful to explore buying brushes on Amazon and that was even more confusing than my visit to a box store (photo above). That's because paint brush manufactures have created multiple versions of each bristle material, size, style and firmness … often multiples at different price points to win your business.
While I like visiting a paint store so I can ask questions and get reliable answers, there's also bias in which paint brushes they sell. Here's what I found:
Home Depot is selling Purdy brushes in central Florida, along with lower priced brushes which probably include a store brand which I didn't research.
Lowes is selling Wooster paint brushes and I learned that Sherwin Williams just bought Valspar (paint) as they expand their business, so Lowe's is revamping their inventory.
Sherwin Williams is selling Purdy brushes which isn't surprising as they bought Purdy back in 2004.
Picking the right paint brush online is challenging at best. As I haven't grown up in the painting industry where I would have learned various paint brush names gradually, I found all the different product names confusing. By searching angled 2 ½ angular paint brushes on Amazon, I'm able to share the following buying tips:
Search for the paint brush brand you want … and the size. Don't include angular or flat because these words aren't always included in the product name.
Be aware that Amazon injects other "sponsored" brands into the results, like 6 Purdy brushes when I specifically searched for "Wooster paint brushes 2 ½"
Look at the shape of the brush and ferrule (straight or sloped) because it's hard to tell from the packaging ferrule if the brush is flat or angled.
Look at the bristle materials and most often, you'll only find that on the packaging in the photo as most of the Purdy brushes simply said "use with all paints" which isn't helpful.
Confirm that the paint brush you pick has a wood handle (only included wood), ferrule attached with nails and stainless steel or brass ferrule so you know it won't rust.
After building tables for Purdy, Wooster and Corona showing the brushes I found on Amazon, I came to the conclusion that:
3 Quick Tips for Buying Paint Burshes
Your first decision should be to pick your paint brush brand.
Then use the manufacturer's product table to determine which brushes you want to buy!
Finally search on Amazon or a brick and mortar store to buy your paint brushes.
Purdy Paint Brushes
Here is a Purdy paint brush selection table that is much more helpful than the table I created from Amazon (one brush, angled 2 2 ½). It makes it easy to understand which brushes you can use for oil based paints and illustrates that all the synthetic brushes used for water based paints, can also be used for oil based paints. For those who want more detail, here's a link to Purdy's catalog.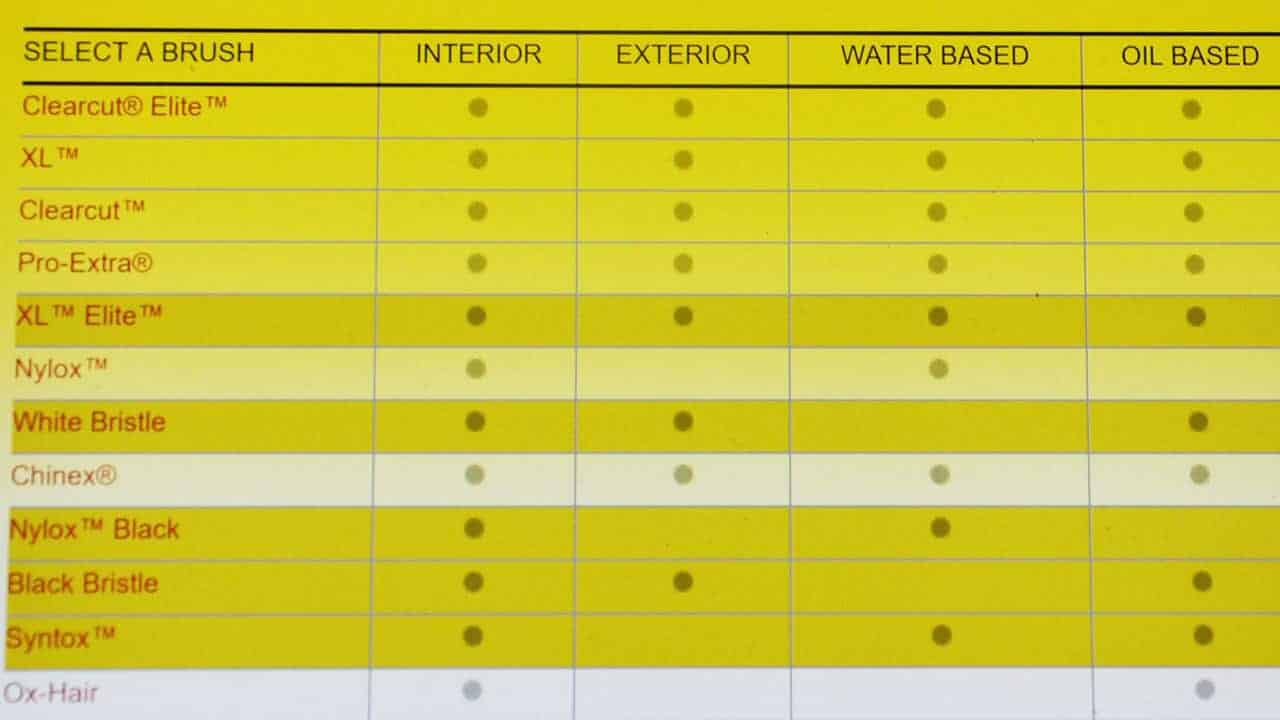 And here is a summary of the original Purdy product table I created with 12 results found on page 1 of my Amazon search. It was difficult to decipher, so I started searching for a better way to pick which brushes to buy … and found the two graphics above.
Purdy Brushes on Amazon
Searched for "purdy paint brushes 2 ½"
Prices for Purdy brushes on Amazon started at $13.39 and went up to $17.93
… 12 results found on page 1 of Amazon, with more results for packages of 6 brushes
Wooster Paint Brushes
Wooster has a paint brush selection table as well. It matches the types of paint or other coats (left hand column) to each of their brushes. The Wooster paint brush catalog is online so once you've picked a brush line, you can then select the size, handle and brush style you want (example below).
Wooster Paint Brushes on Amazon
Searched for "wooster paint brushes 2 ½"
Prices for Wooster brushes on Amazon went from $8.50 to $17.22
… 13 results found on first 2 (total of 7) pages of Amazon
Corona Paint Brushes
There's a lot less sales information for corona brushes so it's not possible to give you a paint brush selection table.What surprised was the Corona website organized their brushes for:
Professional versus
Home Maintenance
The home maintenance section only has two series of synthetic brushes (Gold Standard and Black Nylon/Polyester) and three for oil based paints (White China, Black China and thinner brown China). They state these are to "help the non-professional achieve a professional looking paint job." There are 10 paint lines under the professional category.
But I've decided after all this research, I want to try a Chinex brush but it's not included in Corona's home maintenance section? So that's when the Amazon reviews some in handy because the Corona 2.5" Excalibur Chinex Paint Brush for $18,94, made the top rated painting tools list with 67 reviews (64 with rating of 4 or 5).
Corona Paint Brushes on Amazon
Searched for "corona brushes 2 ½"
Prices for Coronar brushes on Amazon went from $13.69 to $35.75
14 results found on 2 (of 2) pages on Amazon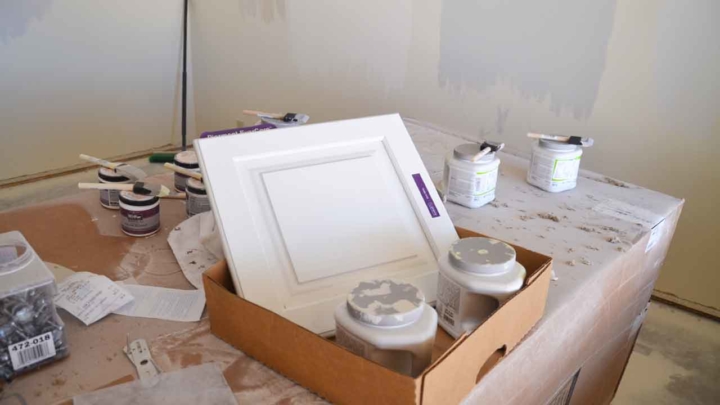 Making Your Brushes Last Longer
Pros recommend cleaning brushes more frequently, especially when painting upside down or the paint reach 3/4 of the way up the bristles.
Professional painters take care of their brushes so they last for years and years. That makes it practical for them to invest in lots of different brushes that are better at one particular thing. Most of the time you'll want the best paint brush for painting project, to save time and get the best results possible. That's when it makes sense to use one or more of these tools to clean and protect your paint brushes.
Paint Brush & Roller Cleaning Tool
Paint Brush Cover
Paint Brush & Roller
Spinner Cleaning Tool
For more tips on cleaning your paint brushes, we've got the following articles for you:
For some projects like testing like testing out different paint colors (my friend Maria testing paint colors above), it's fine to use inexpensive brushes you can throw away when you're done painting. These include foam brushes that cost less than a dollar or what are called chip brushes found on the bottom shelf of your big box stores.
50-Piece Assorted Foam Brushes
for Acrylics, Stains, Varnishes, Crafts
20 Pack Assorted Chip Brushes for Paint, Stains, Varnishes, Glues
---