School is in, and that means a lot of things. In busy families, it means several people sharing bathroom space, and that can make already busy mornings downright hectic. If this sounds like your family, a bathroom remodel could be one of the best ideas you've ever had. 
Remodeling doesn't have to mean tearing out your existing bathroom down to the studs and building it back out again from scratch. Sometimes it just means upgrading some of the things you've got with others that work better. (Read: Signs a Bathroom Remodel is Coming to Your House Soon)
Efficiency on school mornings can make the whole day better for everyone, so here are a few ways to help you get there and we've got lots more bathroom remodel ideas for you on Pinterest.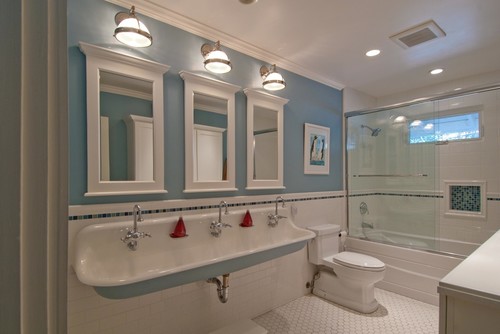 A Bathroom Remodel Can Add More Basin Space
Sharing bathroom space when there are several kids in the house gets easier when the more common double sink gets expanded into three. There's elbow room for brushing teeth and combing hair. There's also more chance that everyone can have his or her own dedicated spot in front of a mirror.
A vintage or antique three-person sink stands out as an exceptional design element in a bathroom, but you don't need to scour shops and pay a fortune for one. Separate sinks will do the same job, and give more people the space they need on busy school mornings.
Bathrooms with No Shower Curtain Make Life Simpler
The fewer details there are to clean and fuss with, the easier your life will be. (Read: Bathroom Basics: Space, Function, and Design) A deep, alcove-style shower gives plenty of privacy without the need for a shower curtain. Designed the right way, it also keeps all of the water contained.
Tiles and open space are what make this kind of shower easy care. There is no rod or hooks, and you'll never have to take down the curtain to wash or replace it. Just clean the shower walls and floor, and you're done.
Bathroom Hooks Help Keep Floors Tidy
Simplicity is critical in busy, shared bathrooms. When each person has his or her own hook for a robe and bath towel, there's less mess on the floor and no one has to wonder which towel is which.
Hooks are as smart as they are simple, and you'd be hard pressed to find a less expensive bathroom remodel element that makes as big a difference. They help you and your kids keep the room tidy, and they do it without anyone needing to stop and fold a towel neatly over a bar.
Additional Storage is a Smart Bathroom Remodel Element
The more people who share a bathroom, the more you need built-ins. Sharing a medicine cabinet and drawers for hair brushes and other items can be frustrating. When everyone has at least one personal cabinet, each person's things are right where they left them. 
If you don't have the space or budget for built in cabinets, prefabricated cubbies that bolt to the wall work just as nicely. They are available 10-inches or 12-inches deep, and they can be tall and skinny or short and wide.
The bathroom is often the first stop of the day. With efficiency upgrades, a little or a lot can make a big difference. Think about how the space is used now and which areas need improvement. Whether it's as elaborate as a new shower or as simple as hooks to keep clothes and towels off the floor, every measure you take toward keeping the traffic flowing can make everyone's lives simpler.
Thinking about a bathroom remodel for the kids? We'd love for you to share your ideas for an efficient, easy-to-maintain space.