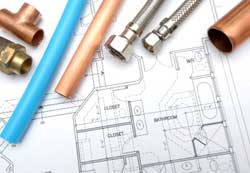 Bathroom design starts with a blueprint or floor plan. You need to layout where key features like the sinks, toilet, bathtub and/or shower will go, with enough space for doors to open and people to access everything safely. In new home construction, careful consideration is also given to which walls the plumbing and vents will run through, and ideally plumbing will go on interior walls when you live in a cold climate location.
Remodeling a bathroom must address similar needs when adding space or moving the plumbing. The cost of a bathroom remodel goes up significantly when walls, doors and/or plumbing get moved so the benefits need to outweigh the added cost.
As home sizes get smaller, bathrooms may be scaled back a little but there's more focus on getting added function in less space. For example, a relatively new concept is the body-bath convenience center, which adds more storage in the form of cabinets and shelves between 2 bathroom sinks.
Scope of Bathroom Remodels
Your existing bathroom, its size and features along with new requirements, will determine the scope of your bathroom renovation.
Least expensive is updating your bathroom with new fixtures while maintaining the existing floor layout.
More expensive is a remodel that works within the existing space but involves moving a window, wall or door to make the bathroom more usable and visually appealing.
The most expensive type of bathroom remodel involves adding space from an adjacent closet or bedroom. This type of remodel will typically include moving one/more bathroom fixtures like the bathtub or adding a shower.
The Bathroom Remodeling Design Process
The process of identifying your requirements and priorities gives you the opportunity to get to know your prospective remodeling contractor. There needs to be open communication. You want to work with someone who listens and offers not just answers but alternatives, with the opportunity for you to participate in decisions. Here are the steps to creating a solid bathroom design.
Reviewing what you like, don't like and what's missing in your current bathroom.
Determining project scope in terms of floor space and changes to walls or plumbing.
Prioritizing requirements for the new bathroom.
Evaluating product/material alternatives and making decisions to fit within your budget.
Drawing up a design to reflect product choices and providing you with floor plans and 3D visual presentations.
Your Bathroom Proposal
Once you've approved the design, your remodeler should provide detailed plans and specifications for all products, materials and work to be completed. There should be enough detail (in writing) to insure there are no surprises during the project. Once the contract is signed, change orders should be used to communicate new project costs, with appropriate sign-offs required.
You should know all the different contractors who will be involved in the project, and exactly what they will be doing.
Electrical and plumbing quotes should detail out what fixtures are being provided and who's supplying what.
Carpentry details should include work being done, both visible and added structural support for any changes in placement of the bathtub/shower. Materials should be listed including their resistance to water damage and termites, i.e. you want greenboard drywall in your bathroom where the paper is water resistant.
Tile is one of the largest costs in a bathroom remodel, especially when you plan to tile the tub and/or shower surrounds. If tile selection is not complete, the type (porcelain, stone, marble, etc) and size of the tile should be clearly documented. Details like the height of the tile and borders should also be spelled out.
Cabinets and accessories should be listed or an allowance included so you understand the total project cost.
A projected timeline should be provided so you can plan accordingly.
It's natural to take time to review the proposal and clarify any outstanding questions. Once you accept the proposal, you should receive a project schedule outlining work hours, daily procedures and when you'll receive project status reports. When the bathroom renovation is completed, a walkthrough should be scheduled to explain how to operate new fixtures and recommended maintenance.
Good luck with your upcoming bathroom renovation. With proper planning and the right team in place, you should have a positive experience and enjoy your new bathroom for many years.