There's a saying that you can't tell a book by it's cover. The same idea is true for houses. You can't tell the lifestyle of a home by it's exterior. The 2017 New American Home illustrates this point perfectly. It showcases home design trends for an active lifestyle you can't imagine from the outside. You'll simply have to take a tour with me … so hang on to your seat.
Design Blurs Walls Between Inside & Outside
Over the years the traditional patio door has gotten bigger. Today it's not unusual to see rooms and even one side of a house, with glass walls from floor to ceiling. The idea is brilliant because it makes rooms feel larger than they are, for a lot less cost. So you might not realize that the sliding doors (above) when opened up on the five tracks show, create a forty foot wall of glass.
These sliding glass walls enable the homeowner to decide what's inside … and what's outside!
So let's look at the floor plan and see how they've used these glass walls to create an indoor/outdoor house. The home's design theme builds around courtyards highlighted here in green (grass) and blue (water). This might seem like a new concept because it's not common in the US today. However courtyards are as old as the Romans, and the traditional way in which larger homes are built in Europe and South America.
There are a number of features that make this design perfect for a family with an active lifestyle. When the weather is nice – not raining and not too hot/muggy, all operable glass walls (purple) can be left open.
Avid Golfers with An Active Lifestyle
One of the reasons people move to Lake Nona, Florida, is to play golf at the Lake Nona Golf & Country Club. This year's house is part of the gated community surrounding this club, so some days you'll simply jump into your golf cart and head over to the links.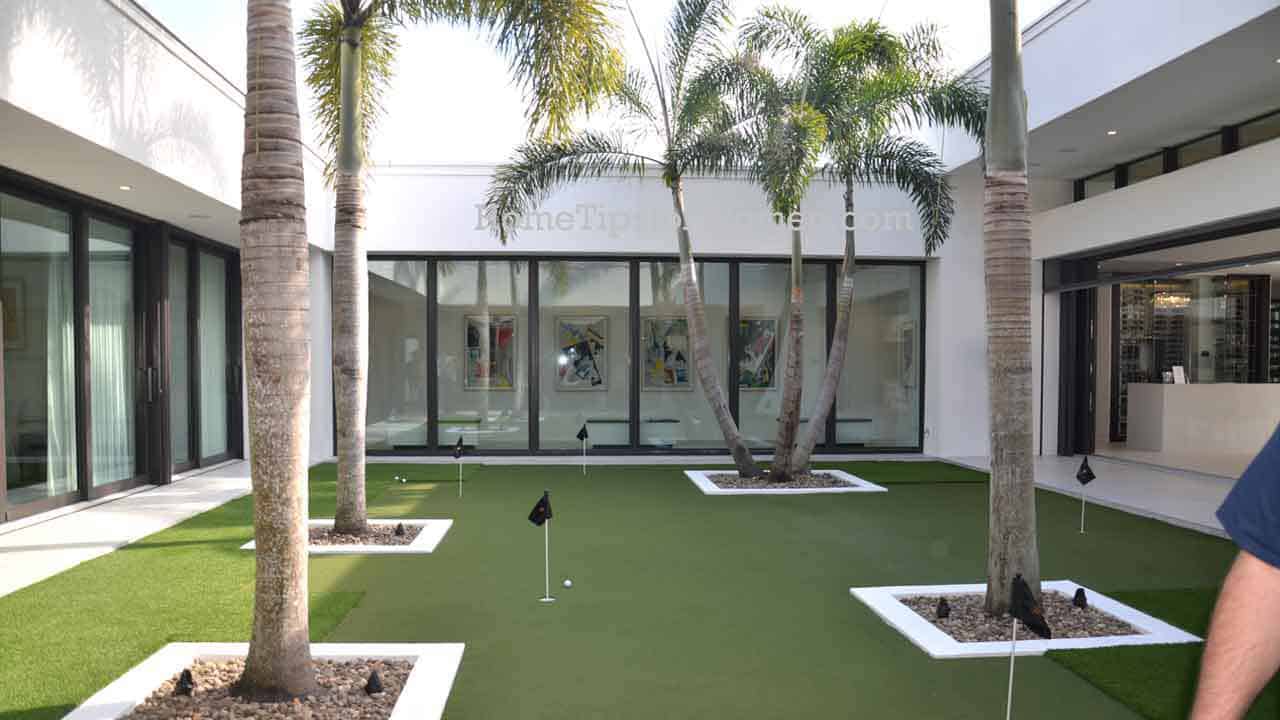 Other days you might have some phone calls or guests visiting but you still want to swing your clubs. That's when you can walk to the next room, which is actually a putting green in the comfort of your own home.
And for those with little patience to wait out the rain (that's me), there's a room indoors with a golf driving range to keep you occupied. You might not get as much exercise as you would walking the golf course, but the stocked wet bar will keep everyone happy.
More Space Dedicated to Lifestyle than Sleeping
When home buyers begin their search for a home, the first questions realtors™ ask are how big, how many bedrooms and how many bathrooms. In fact our homes for many years devoted more space to these functional areas but that's changing.
In this house, there's a lot more space devoted to an active lifestyle from golf to swimming, and a whole lot more. Professional Builder magazine says the house was intended "to feel like a mini-resort built for good times … offer play spaces of every sort. This is a house where you put on Frank Sinatra, have a martini, and feel like you've arrived."
So what's next on our tour of the 2017 New American Home? Here's a peek at the second courtyard, the pool and then we're on to the third article in our series about this years house.
Home Design Trends & The New American Home – provides a quick overview.
New Home Design Trends – is what you've been reading.
Lifestyle Homes You Never Want to Leave – gives you a glimpse of an active lifestyle at home.
Entertaining Informal & Elegant – shows where you'd entertain friends.
Kitchens Galore – answers the question of how many kitchens are there.
Bedrooms, Bathrooms and More –
Green Products & Building Materials
Note: There are lots of great videos on the New American Home website. You can see the house under construction and get more information on specific products.