A few years ago I had trouble finding photos of kitchens with bright, bold colors. That's no longer true as you'll see from the amazing photos captured at the 2017 Kitchen & Bath Show, currently underway in Orlando, Florida. These home color trends are exciting for someone like me loves (really LOVES) color.
If you don't believe me, check out my Victorian kitchen that's red, with red plates, mugs, dish towels and so much more. My only disappointment was I already owned a traditional white KitchenAid mixer, so it's tough justifying buying one of their empire red mixers.
Here's what I find fascinating about this color evolution. With the Internet allowing us to share so much information, and especially gorgeous photos, consumers have lots more options in product features including color. You're no longer limited to what's available at your local retail stores – you're shopping online!
What color KitchenAid mixer do you want?
With more than 40 color choices (you can see them all here), there's a bit of overwhelm too. It means you've got to do more research before you buy, and that's not always easy. Picking colors can be challenging as everyone knows from picking paint colors. Some people love spending time picking out the features they want for their home, their car and more.
So get ready because now you can even design your own range hood versus picking one of the ones above. Remember Build-a-Bear? Now there's Build-a-Hood from VentAHood.com, and the decisions you get to make seem endless. What I like is you get to pick the style of hood you want AND you also get to pick the filter system you need to protect your home's indoor air quality.
But I digress as this article is really about the exciting ways that manufacturers are introducing bold colors into our homes.
Home Color Trends in the Kitchen
You're going to find a lot of choices in kitchen appliances. Here you've got matching stoves and hoods, which can easily be the focal point for any kitchen. Maybe you don't want that much color and that's fine. You can also find kitchen sinks and faucets to tickle your color fancy. For some of us, we want a more subtle approach to color so check out the stove with a blue interior … delicious!
Home Color Trends in the Bathroom
Fortunately I'm writing this post today, as I clearly didn't take enough (any?) photos of bathroom colors. There's still one day left and I just have to find and experience this amazing new shower door that my friend Linda Holt (LindaHoltInteriors.com) shared yesterday. It's lovely and reminds me about taking our young boys to museums in New York City, and Jason fell in love with Mondrian. I even made a red sweathshirt for him that year, with a similar design appliqued on top.
Probably the number one bathroom feature that is used for a pop of color is the sink (or even two of them). There are thousands of sinks on display at the home show, displayed in many creative ways like the red and orange sink I'm hugging here.
How Home Color Trends are Changing Backyards
Gone are the days of boring stainless grills, unless you happened to have a big green egg (what's this … click to find out). Some of the new grills have done an amazing job with color that will withstand the heat of the grill, and the elements from living outdoors. Not ready to buy a luxury grill? Maybe you can start adding color to your backyard with some colorful furniture?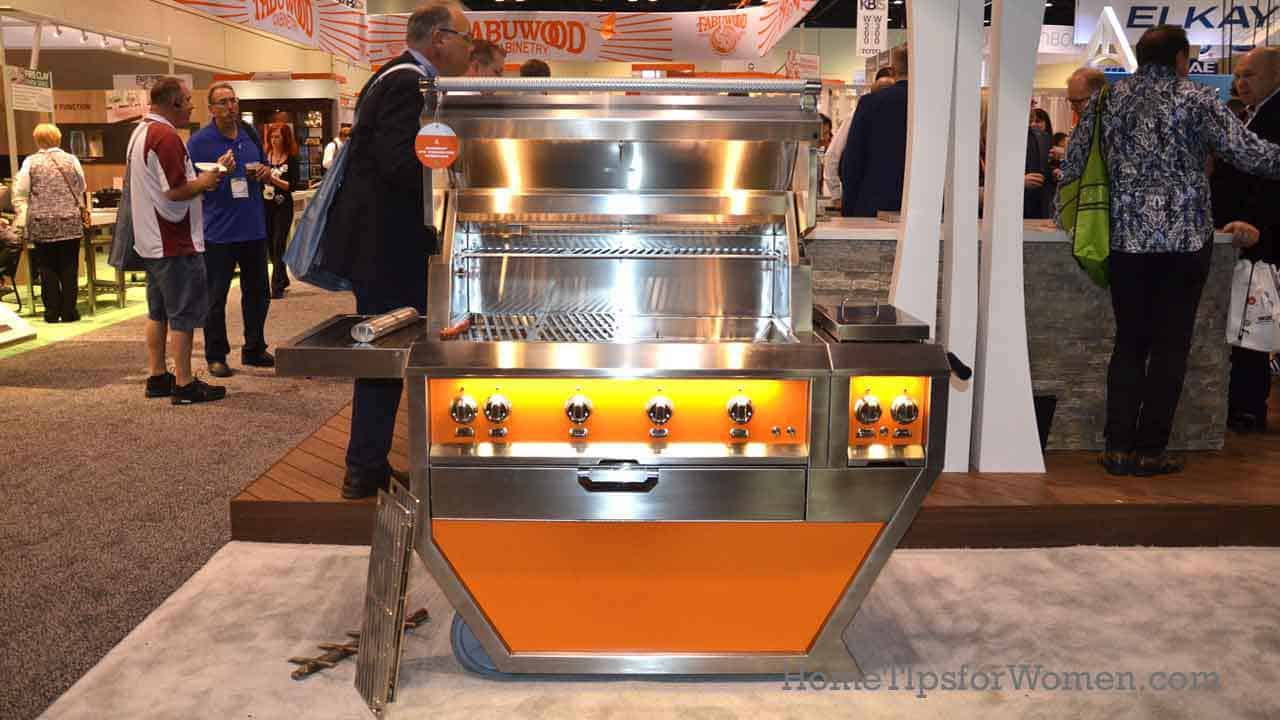 Home Color Trends in Small, Baby Steps
Not everyone is ready to jump into a huge investment like these. But everyone needs a bit of color, so we wanted to assure you that there are smaller and lower cost home improvements you can make to add more color to your home, to your life. Maybe you don't want red cabinets so why not add some red into the backsplash tiles you pick? Or add some extra shelving to your kitchen and paint them your favorite color.
Have fun adding color to your home.
We'd love to see photos and share them here …
---