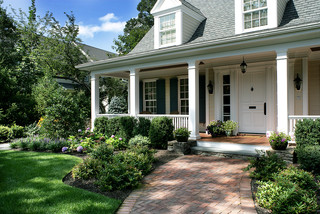 Your home's curb appeal, or lack thereof, affects more than property values and the attractiveness of your street. A well-tended home exterior makes pulling into the drive at the end of the day a welcome respite from the hectic world.
Boosting your home's curb appeal can be as simple as freshening up the exterior or as involved as bringing in landscapers and other pros. You'll need to assess your home and try to see it as others do; then you can form a curb appeal plan to take your house from "blah" to "ahhhh!" 
Take a Picture, it Lasts Longer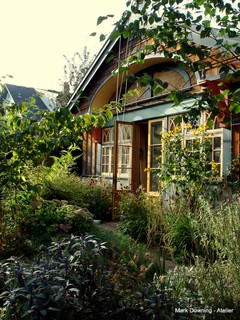 You've seen your home from the outside more times than you can probably count. And over time, certain things don't catch your eye the way they would if the property wasn't familiar to you. For example, an overgrown garden can overtake your home's face a little at a time.
The best way to really assess your curb appeal with fresh eyes is to snap several photos and upload them to your computer. This works with any home remodeling ideas you have. When you view the photos, you'll probably see things you hadn't noticed before. 
Perhaps there's a loose roof shingle, stains on the driveway, a sad and forgotten flower bed, shabby shrubs or a crooked gutter downspout. If you print the photos, you can mark things you'd like to change, and even doodle on them to see how certain changes might look. Maybe it's time to paint your front door red?
Landscaping Adds Life to the Curb Appeal
Landscaping is a year-round concern. In summer, of course you'll get the full benefit. But wintertime doesn't have to mean that your lawn and garden have to look bereft. Planting some evergreens such as juniper can give your property a livelier appearance, even when the flowering plants are sleeping for the winter.
If your grass is patchy or bare, spring and fall are great times for re-seeding. Trimming hedges and shrubs can also take your yard from a shaggy state to something a lot more refined. Mulch is always a good idea, as it helps conserve water, insulate plant roots, and neaten the beds under trees, flowers, and shrubs. 
For planting, always consider what's recommended for your USDA hardy zone. Some plants might look charming in a magazine, but will wither and die when planted in a zone that's not right for them.
A Front Porch Can Become a Welcoming Space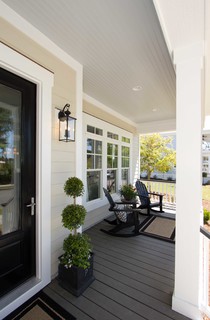 If your home has a front porch, you have a blank canvas to create a spot to relax and welcome guests. Even a small porch lets you remodel and dress up the entry to your home. 
A larger porch is the perfect spot for creating a vignette with a table and chairs, a swing, or any group of seating and tables where you and your guests are comfortable. 
If you'd rather keep things streamlined and tidy, adding a few potted plants, large and small, can transform a bare porch into something a lot more attractive. 
Remodeling Facelifts as Easy as Cleaning & Painting
Homes get dirty and worn on the outside just as easily as on the inside. Freshening up the exterior might be as basic as cleaning and / or painting. And nothing says clean like fresh, white trim. 
A pressure washer cleans off years of grime from siding, sidewalks, driveways, and steps. If your home has vinyl siding, a good cleaning might be all that it needs. 
If the siding is painted, you can still clean using a pressure washer on a low setting, then add a new coat of paint to make the siding look practically new again. Paint the front door a contrasting or complementary color as the icing on the cake. 
Curb appeal is all about making your home look its best from the outside. You'll smile when your arrive home each day, and your neighbors will thank you . 
Have any curb appeal tips that you'd like to share?