When you drive down a residential street, what do you notice? The landscaping, the front door or other decorative trim, toys in the yard or amazing views? Does it motivate you to want to add something special to your home, if only you had the time and money? This article offers you inexpensive ideas to decorate your home's exterior. We'll explore window flower boxes, window trim and other fun projects you can pick from.
Where can you find ideas? To start, you can drive around your neighborhood and take photos of houses that appeal to you. You can also search online at Pinterest, Houzz or sometimes you get more unusual results using Google images. Remember that most homeowners today want low maintenance. That means you want to consider your climate when narrowing down your choices.
So we're going to explore window flower boxes and other decorating ideas to spruce up your home's curb appeal. So let's explore all the ways you can use to add flowers and color to your home.
Window Flower Boxes & Other Flower Containers
The home above is beautiful. The homeowners have obviously spent a lot of time designing and planting a rich mix of shrubs, grasses and flowers. So let's break down the different decorating elements they've used.
Window Flower Boxes
When buying window boxes and other outdoor items, look for ones that won't rot to reduce maintenance.
Flower boxes are ideal for homeowners who love flowers and want to add color to their home's exterior. They're especially good if you don't have a green thumb or lots of time to spend in the garden.
You can place window boxes below any window, as long as you can reach them to water the plants
. These work well on the front of your house. They're also a great way to add color to a deck in your backyard.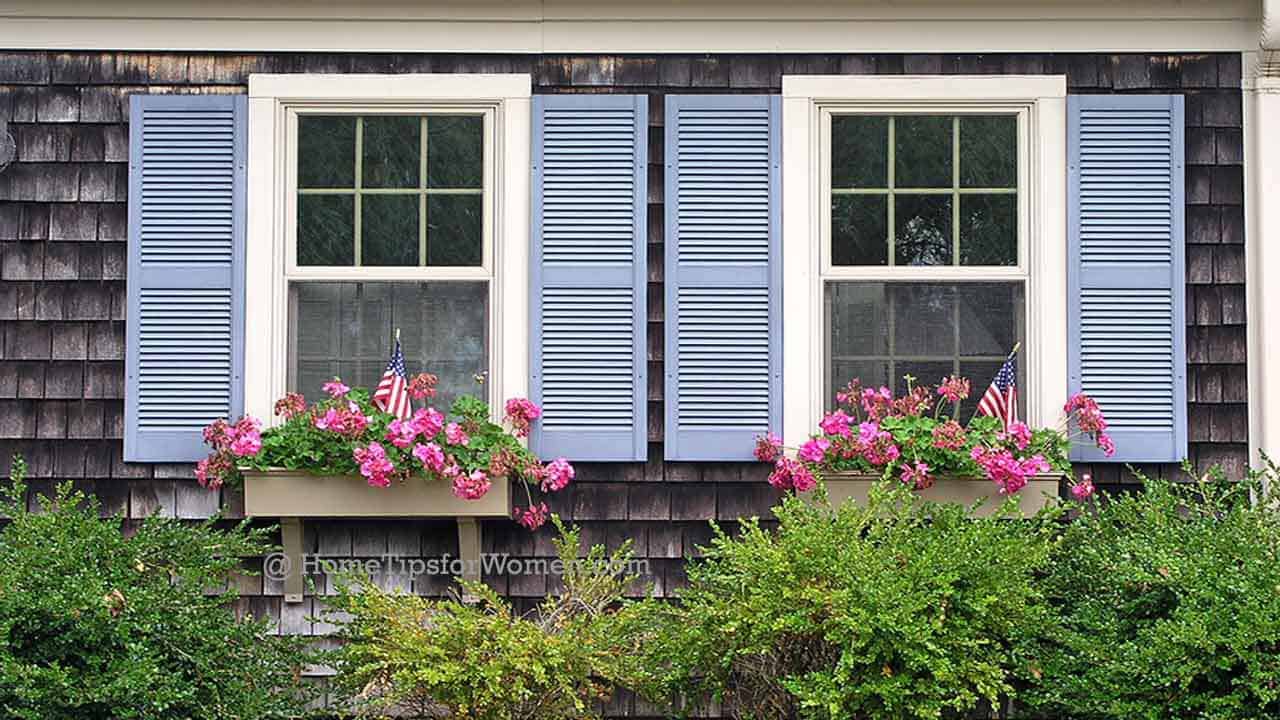 PVC Window Boxes w/Brackets

Window Boxes: Indoors & Out

Adjustable Flower Box Holder

Flower Pots & Baskets Go Anywhere
Not ready to use window flower boxes. You can plant the same flowers in outdoor pots big and small. You have the advantage is using colorful pots too, so consider the colors of your favorite flowers before buying the pots or stick to neutral colors. And wait, another great solution is a series of hanging flower baskets.
Trellises & Arbors Put the Color Where You Want It
The most common plantings around a house are trees and low shrubs. Don't get me wrong, rhododendrons are amazing bushes with lovely flowers that will get quite tall unless you tame them. Trellises are a lot more fun, especially because they come in all different colors, shapes and sizes. They are easier to maintain, as you water them like window flower boxes. That's why they're so popular in the desert.
Curved (Top) Trellis, White

Willow Trellis Sphere

Trellis – Arbor, White

Decorative Fences Provide a Backdrop for Flowers
Remember the earlier photo that was bursting with flowers. They had a white picket fence surrounded by flowers. Flowers look great with any type of fence, mountains of flowers … or just a few. Sometimes homeowners will add a corner fence on either side of the driveway to guide drivers, and plant flowers around them. And if you've got limited space, you can create a garden fence that does it all!

Landscaping Ideas that Work, from the Pros

Lawn Gone: Low-Maintenance Alternatives

Big Impact DIY Landscaping Projects

What's your next outdoor project going to be?
---