Most contractors are honest and want to do a good job yet the stories you hear are often ones about problems. Why? The media focuses on headlines that get the most attention. Human nature is such that stories about problems, plus the way in which they are told, grab more attention. Look at the newspaper headlines or TV and yet, I've often wondered how we would feel if at least half the stories were positive ones.
In much the same way, we share our personal stories with others. Most home owners have heard one or 2 stories about bad experiences with contractors and that's because these are the stories that are shared more often. So what can you do to make sure your experiences are positive ones?
Working With Your Contractor
Owning a handyman business provides insight into what creates a positive experience between homeowners and home professionals. After working with hundreds of customers, often in stressful situations because of a problem, it becomes easier to see differences. Sometimes it's necessary to recognize that you're inheriting the customer's existing anger or frustration with an earlier contractor or possibly the builder. Quite often today's professional is simply the one delivering the news the home owner doesn't want to hear, and so they get blamed for the problem that has existed for years.
One story comes to mind, a situation where the initial phone conversation indicated we would be replacing a few pieces of rotted siding, which typically would take 3 to 4 hours. It was really 20 to 30 pieces, or the entire gable end of the house on a house 20 years old, with Masonite siding that has had significant problems.  There were black spots everywhere. I explained this was a huge job, requiring replacing not just the siding but … the insulation, sheathing, siding and repairs to the wall studs once we saw the underlying wood rot.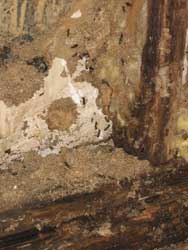 The customer wasn't prepared for this expense so we moved on to a window in even worse shape. We opened up the wall and cleaned out what remained of the insulation and plywood sheathing. We added framing to support the window which she didn't want to replace. Given the amount of damage, I scheduled a more experienced technician to meet the customer and I to assess how far the damage extended into the house, possibly compromising the floor joists.
The customer canceled the meeting and had another contractor close up the opening. Even though I emailed photos showing the damage, she insisted there weren't any ants in her house. Hopefully you can now see that for every problem, there are 2 sides to the story and the contractor isn't always at fault, although I'm certain my company is being blamed for materials that failed and the damage resulting from years of little to no maintenance.
Good Communications and Managing Expectations
When hiring technicians, good communications is an important skill as customers want to understand the work being done in their homes. Communications can be a challenge as construction terminology isn't well understood by most homeowners so the technicians must bridge the gap. Homeowners should participate in the conversation from the perspective of partnering with their home professionals, i.e. teamwork will garner the best results.
Most of our customers are respectful and that's very important to my technicians. At the end of the day when my technicians check out and I ask how a given job went, if I can still feel the anger along with the words "no eye contact," then I know my technician probably didn't do his best work. If you want your contractor to do their best, follow these tips:
Treat contractors respectfully when talking to them. My technicians love it when you offer a cup of coffee. Customers who refuse to make eye contact create tension and most often, the guys will work faster to get out of your home as quickly as possible … and likely this means they won't do their best work.
Recognize that for contractors, time is money. Big jobs that take weeks to complete and cost $1,000s of dollars should have a written estimate. Small jobs needing a few hours can be estimated over the phone. Take cues from your contractor on when a visit to the job site or written estimate is needed.
Add contingency to every project. With 10 to 20% contingency in your budget and schedule , the job will run smoother and the builder/contractor will do their best work. If the end date is critical, check with past customers on schedule and budget performance. Techniques I've found to control costs:

When building a home, arrange financing for what you should pay to avoid overbuilding. Knowing  that additions are coming out of your own pocket will help you scrutinize costly changes.
When a critical change must be made, ask the builder/contractor what he recommends dropping from the plan to hold the bottom line in check.
Too often we make decisions independent of the overall budget. Pick the top 3 to 5 (2-3 per person) features you want in your new home, addition or remodeling project. Tweak the remainder of the plan to fit your budget.

Plan your project and stick to your plan. When plans change, it requires more paperwork, more price negotiations and potential rework which means lost time and materials and more stress for everyone. You and your contractor should review and finalize plans together, as changes found and corrected up front are far cheaper than after it's built.